15 Celebrities Making A Powerful Fashion Statement With Their Natural Hair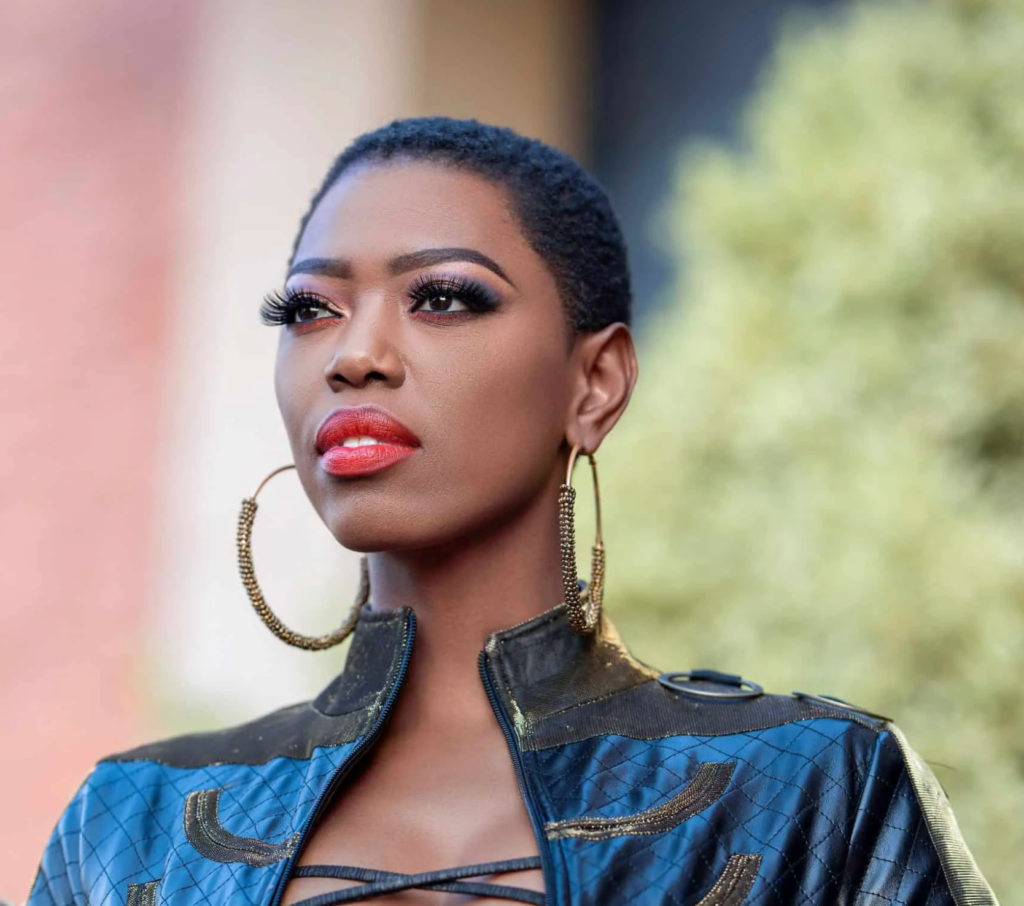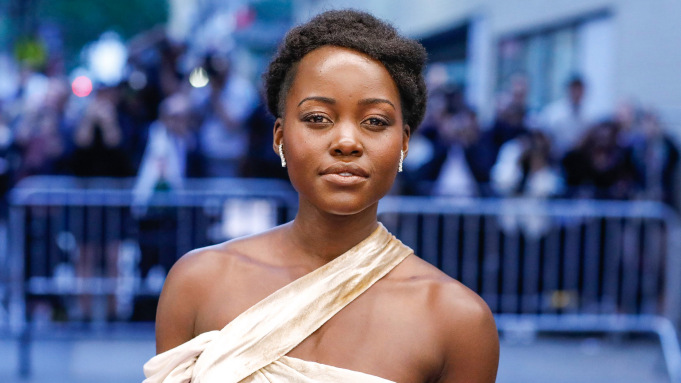 The winner of the Miss Universe Pageant in 2019 was a beautiful black girl with short natural hair. Zozibini Tunzi's win was a triumph and a move towards changing the narrative about the definition of beauty. Also, it demonstrated that hair does not have to be straight to be beautiful. Today, there are prominent personalities in Africa spearheading the love-for-natural-hair movement.
Why is Hair Important in African Culture?
Firstly, in African societies before colonialism, hairstyles were a means to convey messages. That is to say, hair had an important spiritual and cultural significance. One example is the dreadlocks worn by the Himba tribesmen of Northwestern Namibia. They convey the wearer's age, marital and social status. Similarly, in early African civilizations, a woman in mourning would adopt a distinctive style. In most cultures, they will shave their hair. While some will go completely bald, others will keep it low.
What is the Connection Between Natural Hair and Cultural Identity?
According to history, racial discrimination was the reason why African women hid their hair. Consequently, as a result of social oppression, blacks suppressed their cultural identity. Also, negative propaganda drove them to dislike every aspect of themselves, including their hair. Until now, some westerners term traditional African hairstyles unprofessional and primitive.
What Does Natural Hair Symbolize?
Natural hair symbolizes different realities to different people. For those in environments that lack diversity, natural hair can mean having the courage to be different and to face questions and stares. In more accepting creative circles, it provides an opportunity to stand out. However, it will only take the courage and determination of those who wear natural hair to make those who see it as unprofessional have a rethink.
15 Celebrities Changing the Narrative on Natural Hair
The 15 African celebrities below proudly rock natural hair—and it actually looks cute on them. Also, they are proof that natural hair is not only dignified and attractive but also presents a powerful fashion statement.
#1. Her Excellency, Margaret Kenyatta (Kenya)
The first lady of the Republic of Kenya has been instrumental in driving projects that improve the lives of women and children. Her style is one of timeless elegance. Her Excellency Margaret Kenyatta maintains her hair in short naturally grey curls that are chic and sophisticated.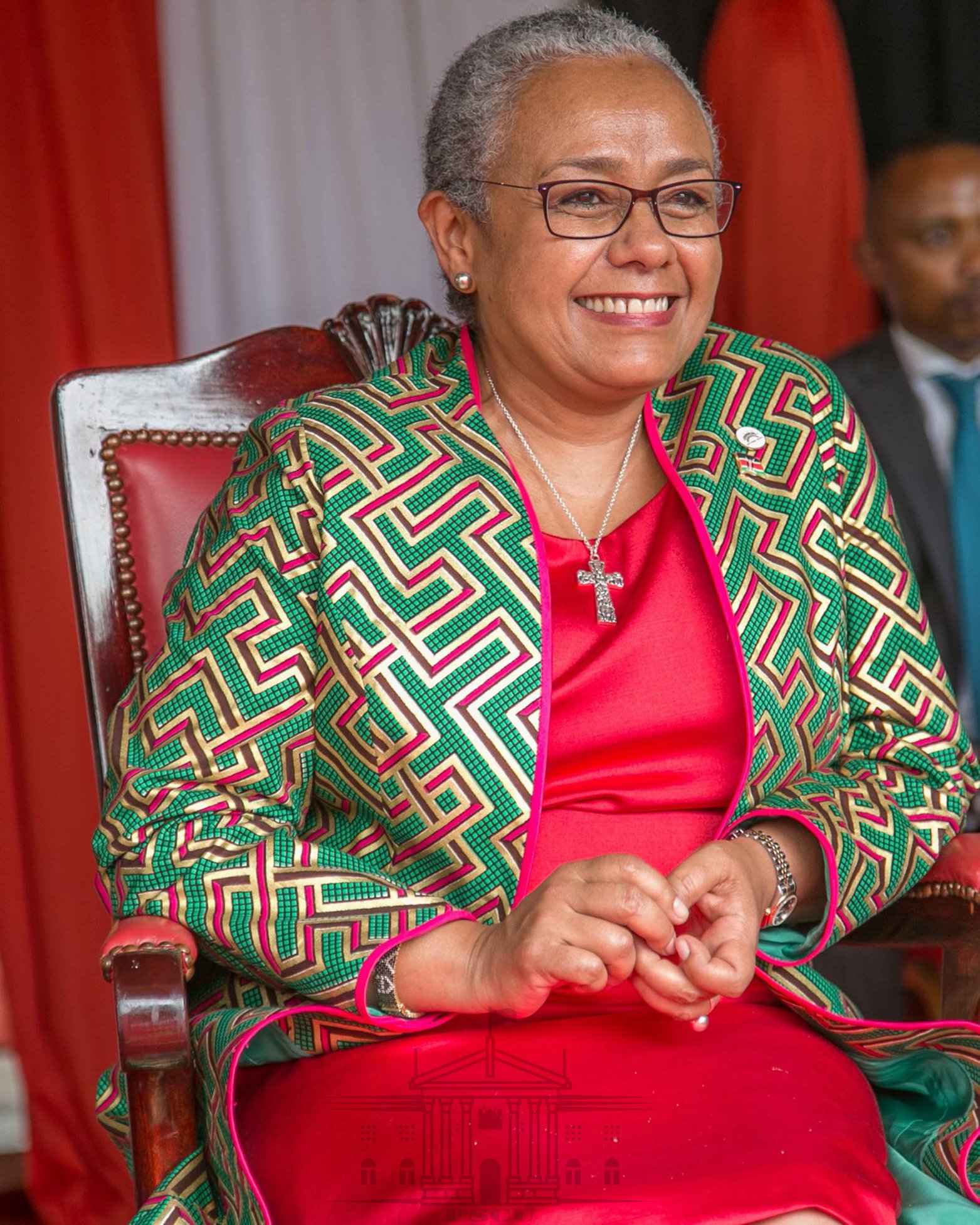 #2. Lupita Nyong'o Rocks her Natural Hair (Kenya)
Nyong'o is a Kenyan actress who is best known for her role in '12 Years a Slave'. She won the Academy Award for Best Supporting Actress for her role in the movie. Lupita Nyongo's updo demonstrates the versatility of natural hair. It can be styled in boho fashion or in an updo fit for the red carpet.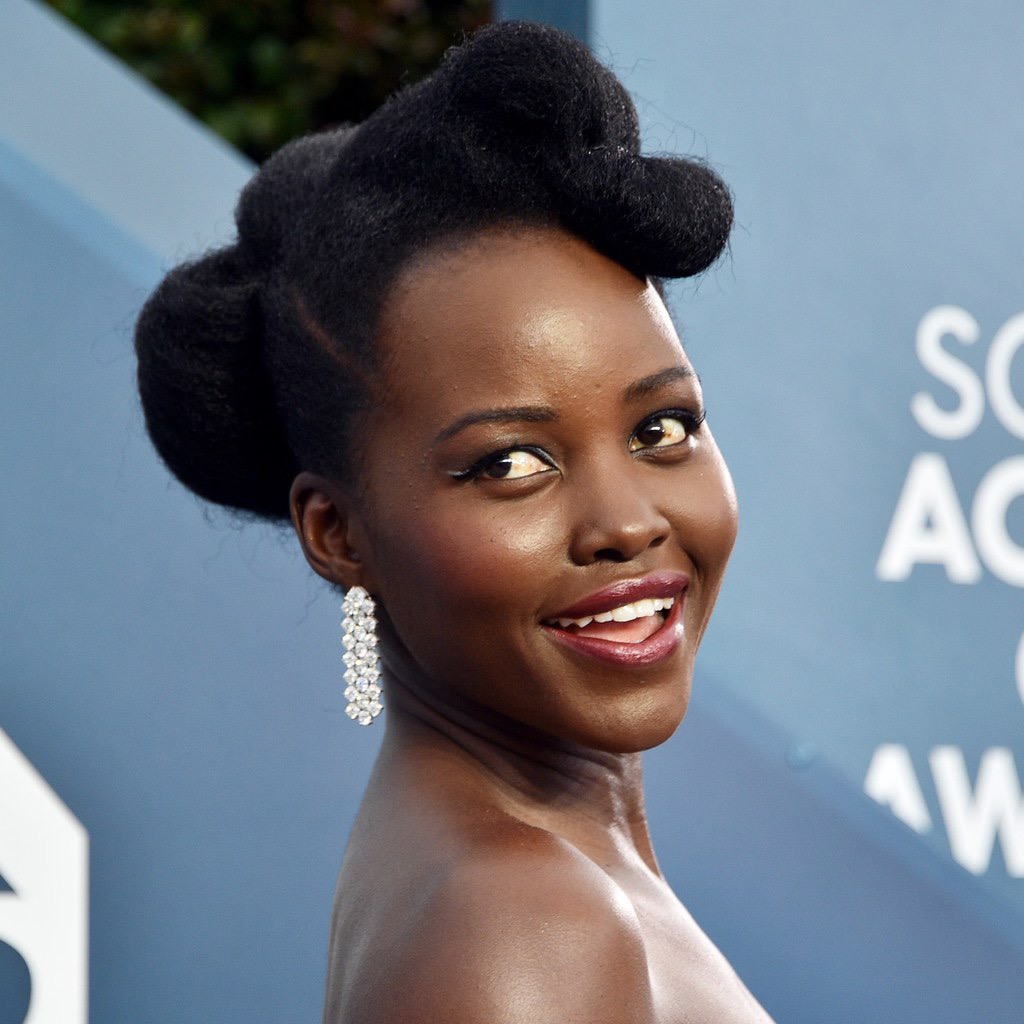 #3. Kambua (Kenya)
Kambua Mathu is an award-winning Gospel singer. She was the television host of the 7-hour show 'Kumbamba' that was aired on the popular Citizen Television in Kenya. Kambua embraces the puff in a sleek version with slicked-back edges. This is a timeless, elegant look.
#4. Wahu (Kenya)
Kenyan singer, songwriter, and wife of the artist 'Nameless', Wahu's real name is Rosemary Wahu Kagwi. She was the recipient of the MTV Africa Music Award in 2008 for Best Female Artist. Wahu combines the best of both worlds in a neat mohawk that has sharp clear-cut edges. The hair at the crown is fashioned into tiny coils.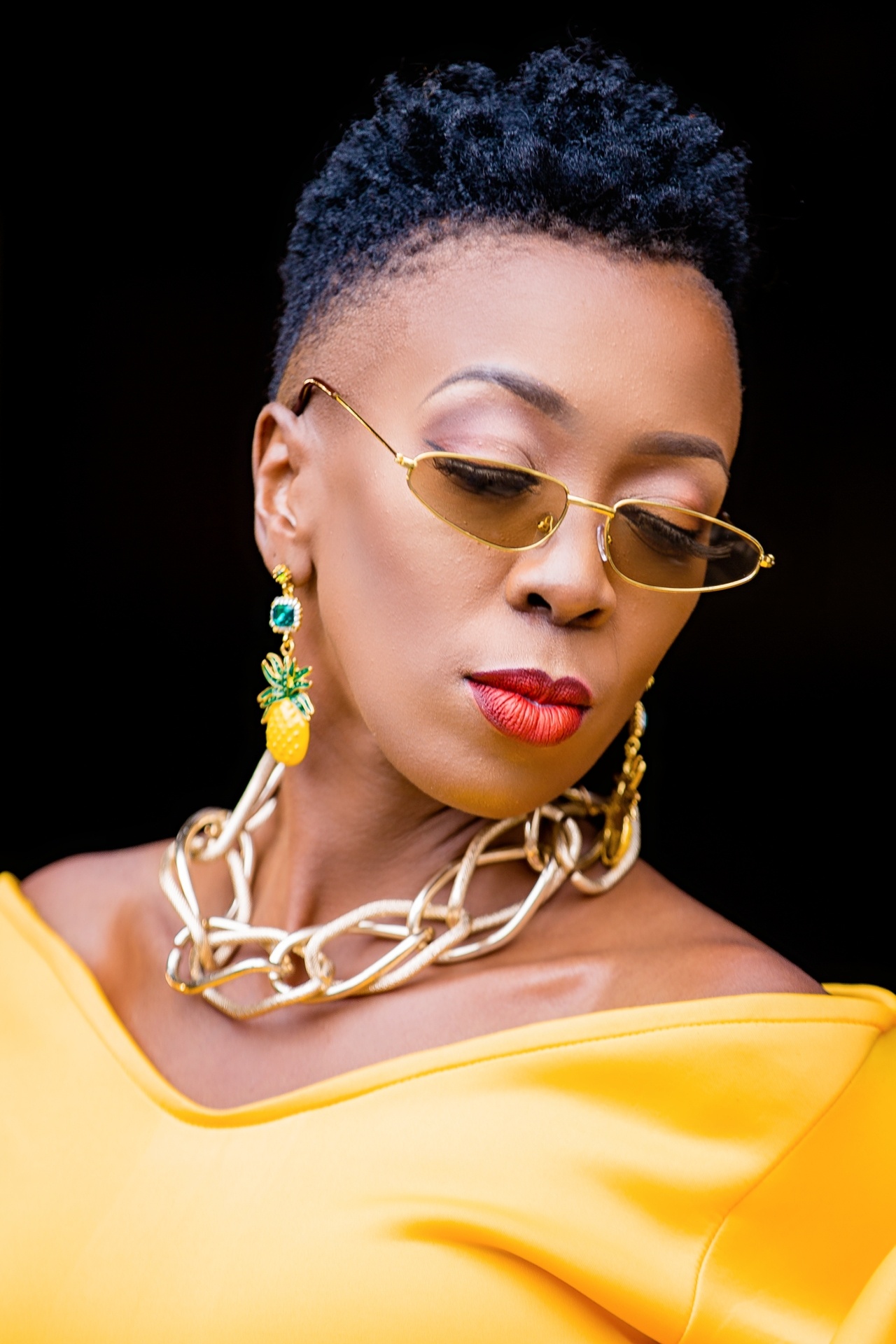 #5. Pearl Thusi (South Africa)
Sithembile Xola Pearl Thusi is a South African actress and media personality who starred in the Netflix drama series 'Queen Sono'. Pearl is rocking her beautiful curls in a youthful, carefree hairdo. The hair shimmers as it ripples down to her shoulders.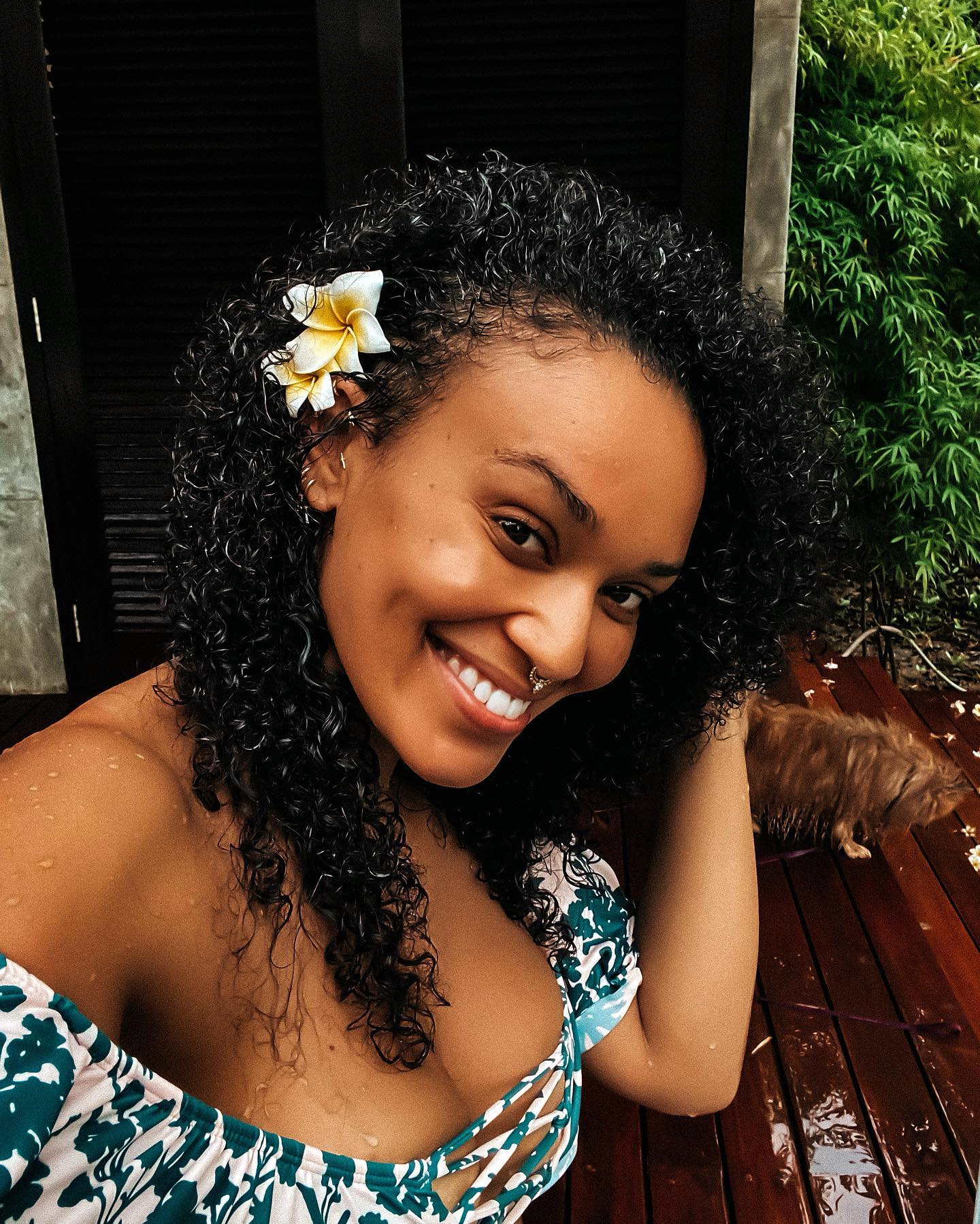 #6. Zozibini Tunzi (South Africa)
Tunzi was catapulted to fame when she won the Miss South Africa title in 2019. Thereafter, she was crowned Miss Universe 2019, a win for advocates of natural hair. Zozibini proved to the world that short hair is beautiful. Here, she rocks a mini mohawk with clean tidy edges.
#7. Nomzamo Mbatha (South Africa)
An actress and human rights activist, Mbatha recently appeared in the Hollywood movie 'Coming 2 America'. Nomzamo is looking regal in voluminous natural curls styled to the side. Natural hair produces a striking effect with minimal effort.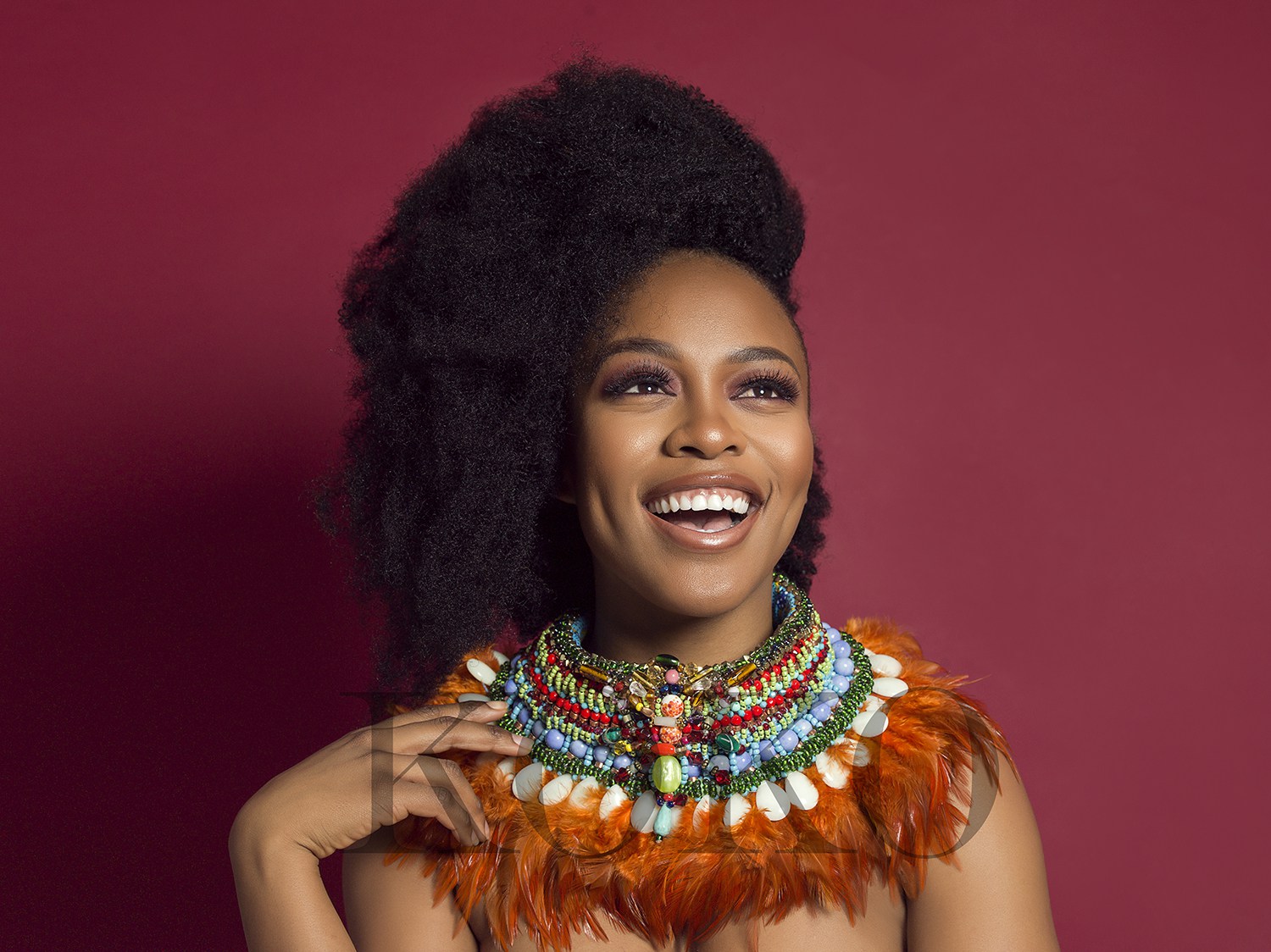 #8. Lira (South Africa)
Lerato Moipone Molapo is an award-winning singer and the foremost female solo artist in South Africa. This talented musician has appeared on over 30 magazine covers worldwide. Lira subscribes to short natural hair free of structure. It is neat and understated, however, she adds a touch of drama with long dangling earrings.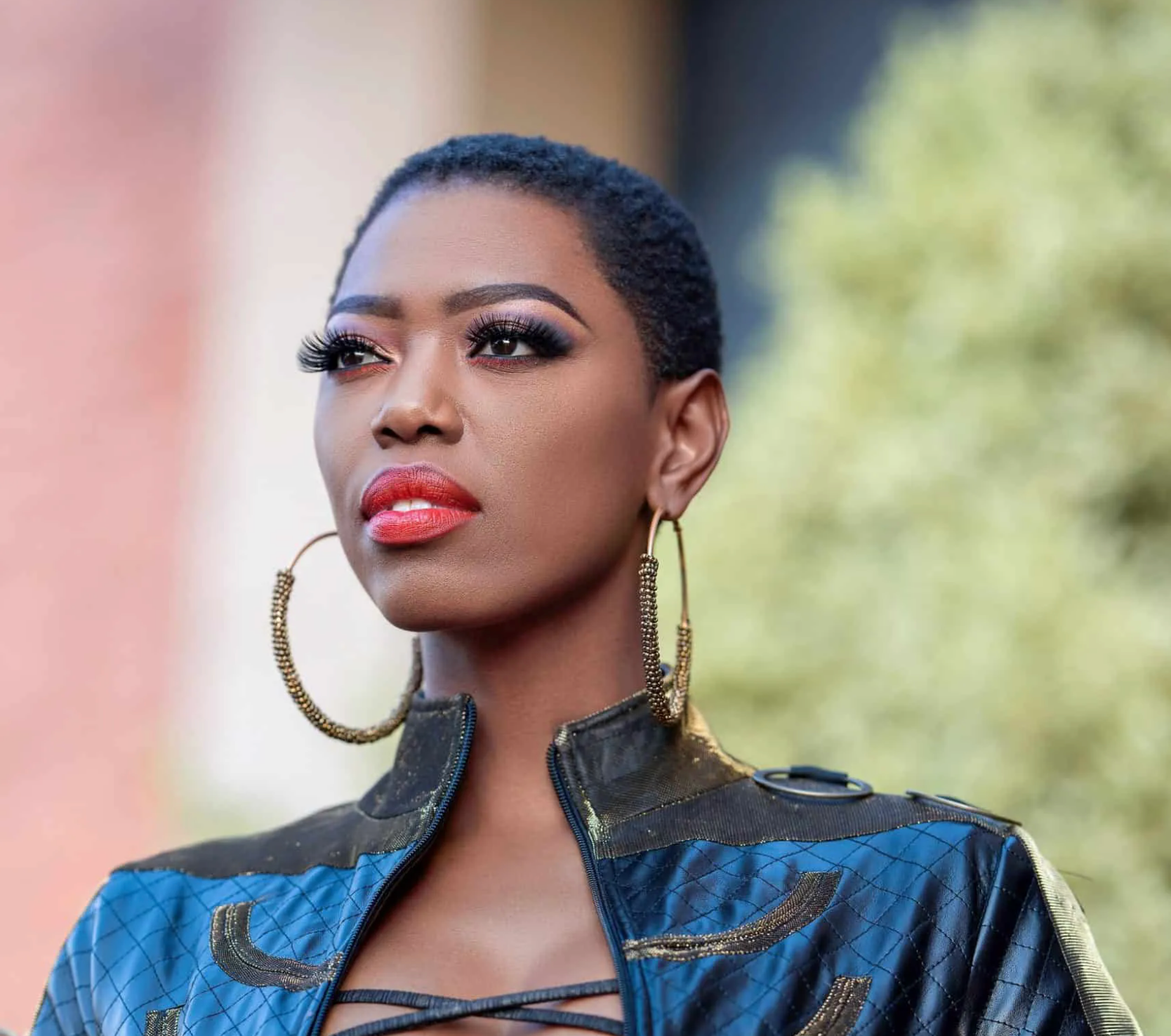 #9. Maame Adjei (Ghana)
This Ghanaian-born actress and producer is the brain behind 'Girl Going Places', a YouTube travel series that showcases undiscovered gems in Ghana. Maame wears her natural hair pinned up away from the neck and face. This look is stylish and dignified, perfect for a corporate event.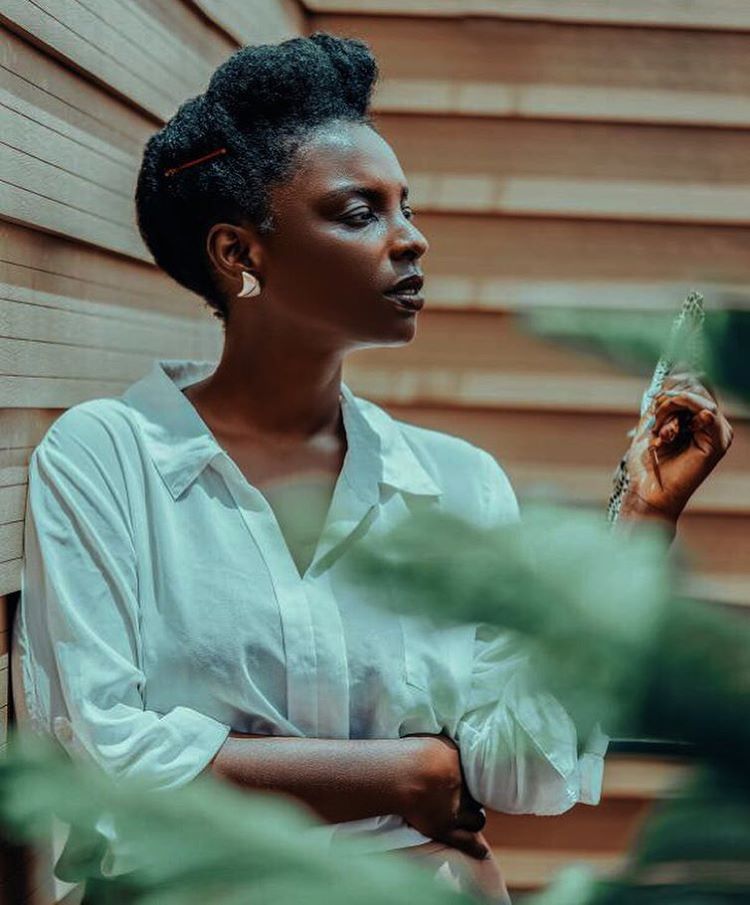 #10. Deborah Vanessa (Ghana)
Popular as Sister Deborah, this sensational musician is also a TV host, an environmentalist, and a model. She is most famous for her hit song 'Uncle Obama'. Deborah's natural curls flow out from a center parting in a bold and powerful way. This is a celebration of her cultural roots.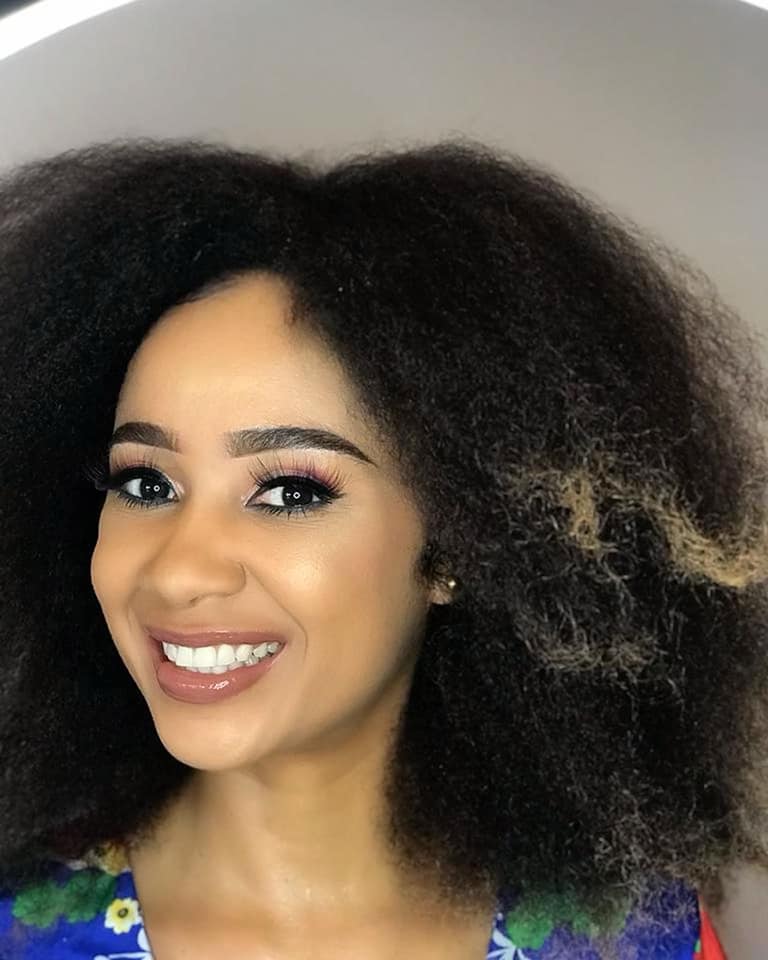 #11 Naa Ashorkor (Ghana)
This talented actress starred in 'The Perfect Picture' and won the award for the Best Actress in 2010 at the African Movie Academy Awards. Naa Ashorkor rocks spirally braided Bantu knots. The hairdo and impeccable make-up make her simply irresistible.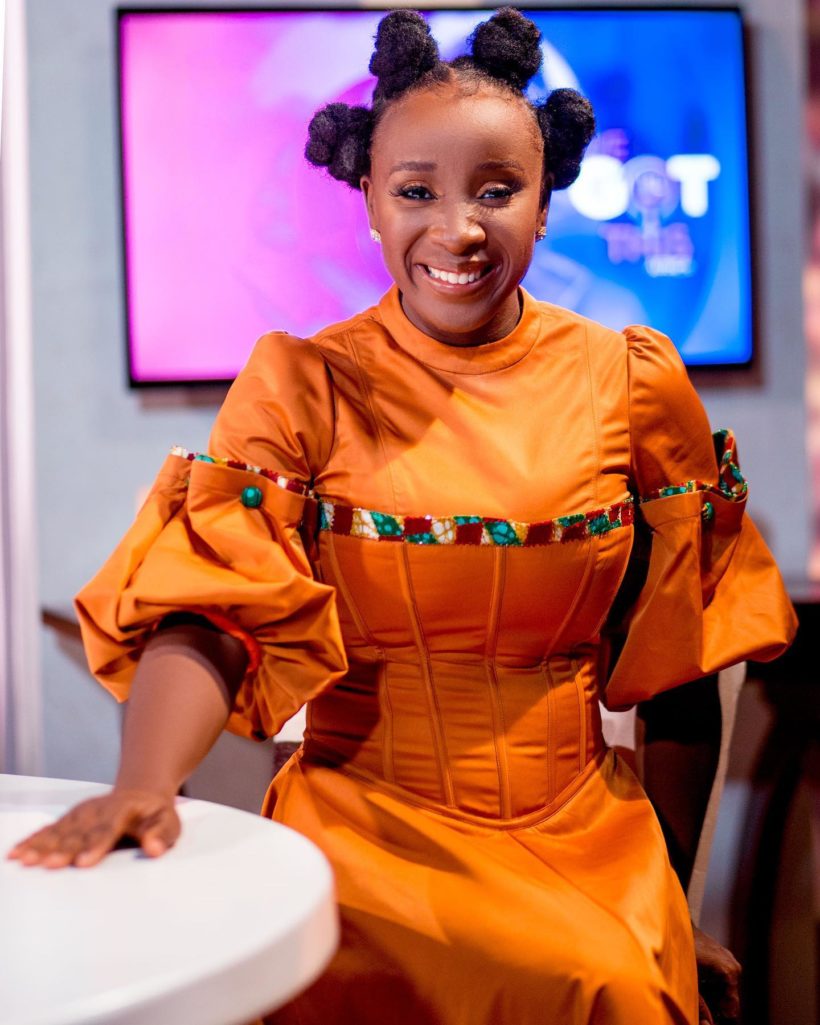 #12 Bettina Tianah Styles Her Natural Hair in a Neat Short Cut (Uganda)
Tianah is a media personality, actress, model, fashionista, and popular TV show host. She has anchored shows such as 'Youth Voice' and 'The Style Project'. Tiana is famous for her natural hair that she keeps close to the skull. The clean sharp cut is perfect for drawing attention to the distinctive contours of her face.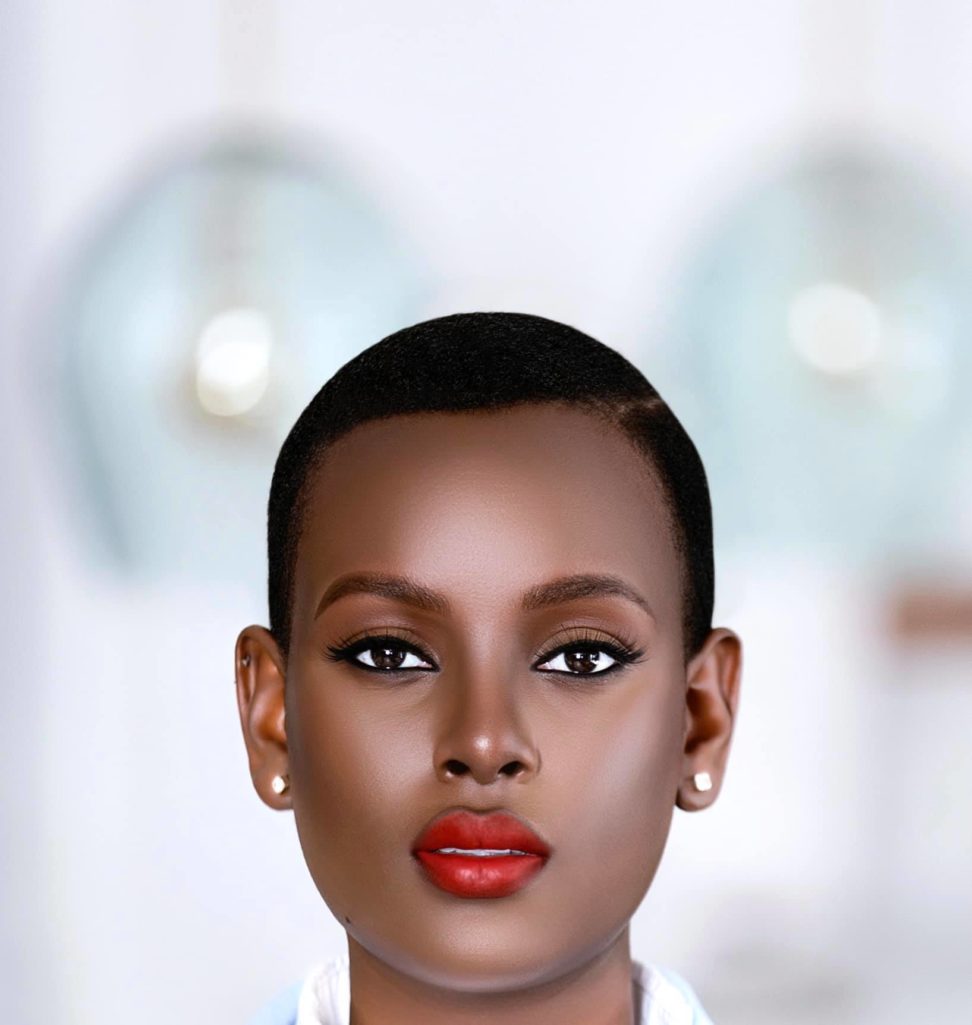 #13 Chimamanda Ngozi Adichie (Nigeria)
This eloquent celebrity is a novelist and feminist campaigner. She is the author of best-selling novels that revolve around Nigerian culture, history, and politics. Chimamanda sweeps her thick healthy hair to the crown of her head and coils it to one side. This is perfect for keeping the hair off her face in a simple but classy manner.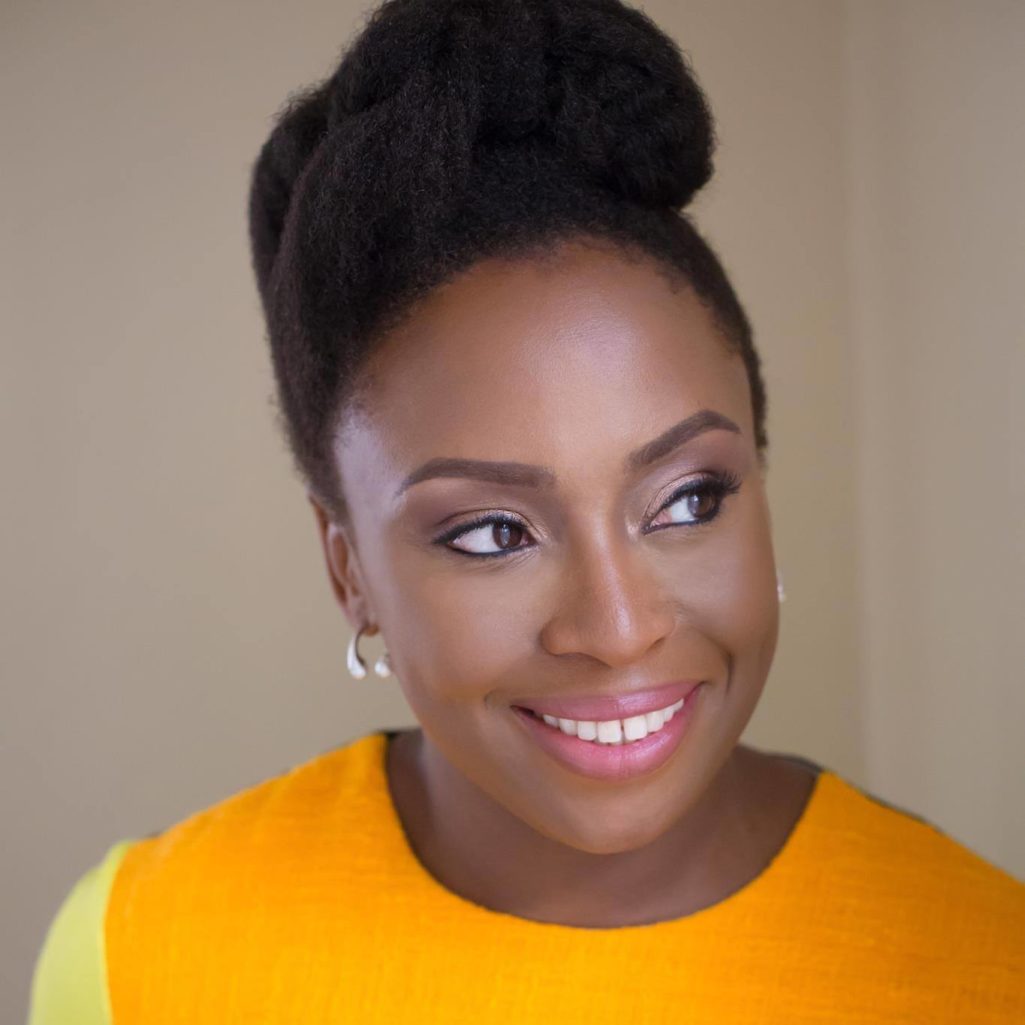 #14 Omoni Oboli (Nigeria)
Oboli is a leading actress in the Nigerian film industry. She is also a scriptwriter, producer, and director. Also, she has starred in over 150 movies. Cornrows are perfect as a natural protective hairstyle that is not only neat but also keeps the hair in good condition. Certainly, Omoni does justice to the look and adds a touch of glamour with the silver hoop earrings and nude makeup.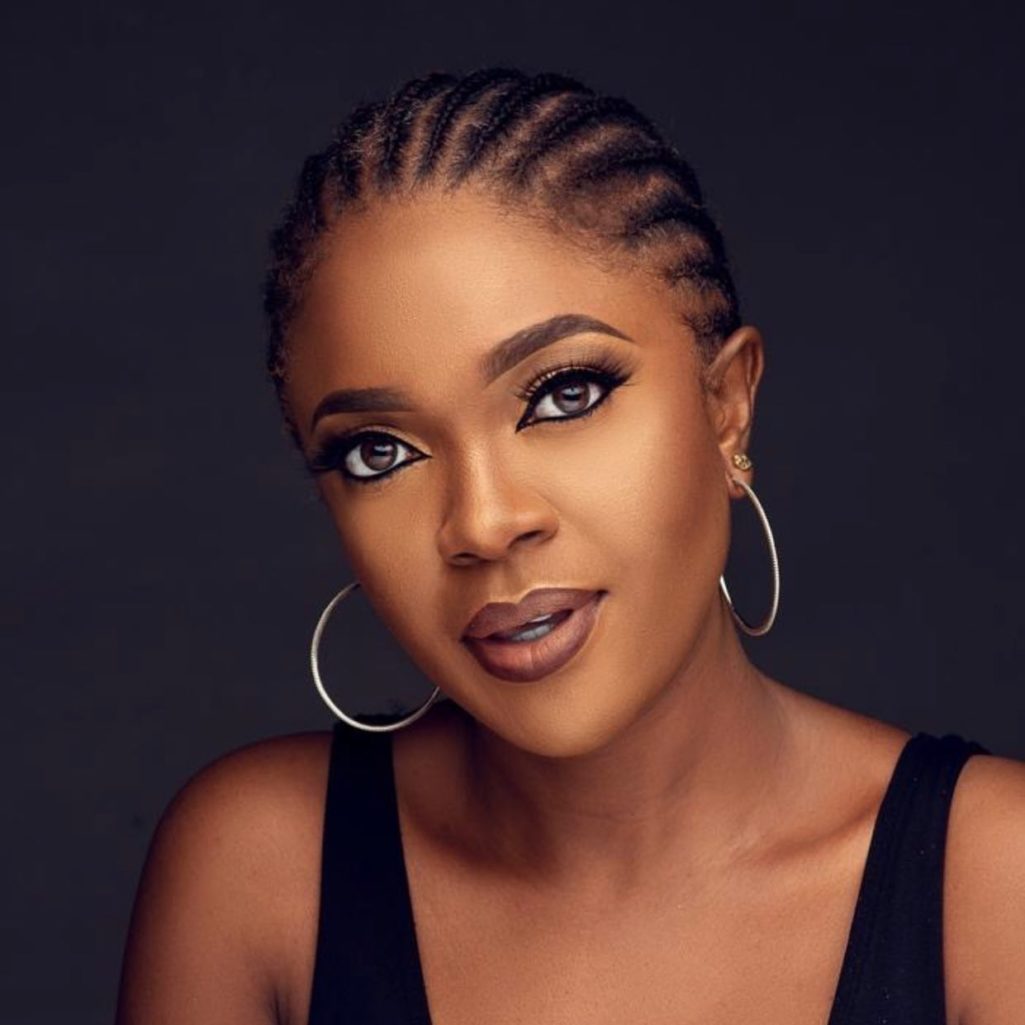 #15 Chioma Chukwuka Akphotha (Nigeria)
The prolific Nollywood actress and film producer hails from eastern Nigeria. In 2007 she won the 'Best Actress in a leading role award at the African Movie Awards for her role in the movie 'Sins of the Flesh'. Fluffy afros never go out of fashion—especially not ones with beautiful coils that spiral into fringes. This is a lovely celebration of natural hair.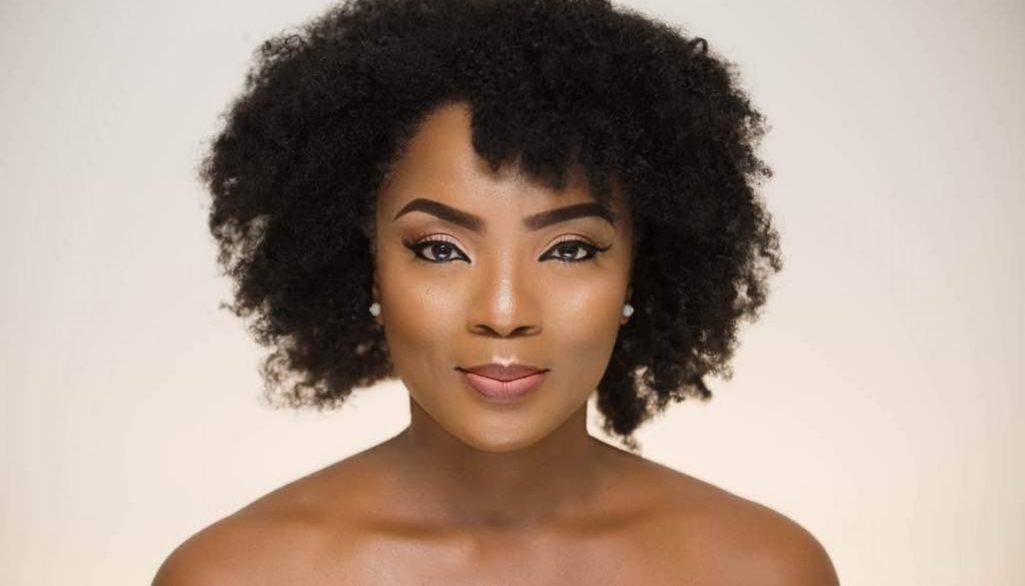 Conclusion
When Zozibini Tunzi became Miss Universe in 2019,  she made a statement sums this up perfectly. She was quoted by BBC as saying,
"I grew up in a world where a woman who looks like me, with my kind of skin and my kind of hair, was never considered to be beautiful. I think that it is time that that stops today. May every little girl who witnessed this moment forever believe in the power of her dreams and may they see their faces reflected in mine. I proudly state my name Zozibini Tunzi, Miss Universe 2019!"