20 Kids Hairstyles Perfect For School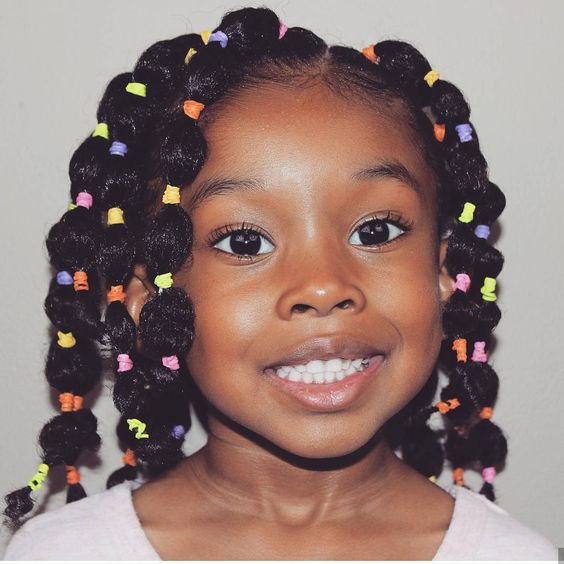 For most parents, back to school is one of the most stressful times of the year.  Everything screams newness from the kids hairstyles to a new environment, new school supplies, and a new wardrobe.
With the COVID-19 pandemic contained and schools opening their doors to pupils again, this is the perfect time for parents to showcase their mastery of African-inspired hairstyles. It is also a way for Africans in the diaspora to connect to their roots.
We always want to introduce our readers to the trending hairstyles in Africa. Today, we will highlight kids hairstyles for girls that are both fashionable and acceptable in schools. We want to take that stress out of your plate.
ALSO READ: 9 Game-Changing Natural Hair Products For Black Hair
Which kids hairstyle for girls is best for school?
From box braids to bobby pins, and the top knot, there are numerous girl braids you can introduce to your kids. However, you have to make sure that they are ideal for back-to-school pupils. Preferably, you should choose a hairstyle that will be out of their faces to minimize distractions in class.
Inasmuch as you want hair that will make your girl look pretty, excessive flamboyance may be counterproductive. Some schools may not allow it. Even if they do allow it, it can draw too much attention to your kid or arouse mockery from her peers.
Kids are emotionally fragile. At that tender age of 6 to 12, they are better off blending in with their peers rather than standing out. In other words, it is highly advised that you go for popular kids hairstyles for girls rather than trying to be fancy.
Which kids hairstyle is best for the first day in school
When visiting a school for the first time, you don't want to draw too much attention to yourself. Therefore, it is best to keep things simple. Simple box braids or cornrows will be just fine for African American girls.
Many people argue that the best hairstyle for the first day at school is the bubble twist. This is because the style is easy to achieve and protects your kid's hair from damage. Well, it's all a matter of preference and the amount of time you have on your hands.
What is the most attractive hairstyle for a girl?
"Beauty is in the eyes of the beholder", is one popular saying that remains relevant to date. Inasmuch as many say the most attractive kids hairstyle is the bubble twist, you need to choose a hairstyle that matches your kid's face.
A bubble twist is achieved by sectioning the hair into small parts and adorning them with different colored elastic bands. Perhaps, this is a great kids hairstyle to wear in-between braids to give your girl's scalp enough time to heal.
20 Kids Hairstyles Perfect For School
Some of the kid's hairstyles on our list may have their origin traced to Africa. However, they have so many variations now that their real origin has been lost. We are certain that you will find the perfect hairstyle for your little angel as she heads to school.
ALSO READ: 15 Fascinating Crochet Braid Hairstyles For Hair Growth
In describing some of the hairstyles, we will suggest products that may contain African Vibes affiliate links. That means African Vibes may earn a commission from qualifying sales without you paying any extra for the product.
However, we want to emphasize that all the products that we recommended have been tested by us or members of the African Vibes community and come highly recommended.
#1. Bubble twist
We couldn't think of any kid hairstyle for girls as adorable as this bubble twist. This style is easy to achieve. All you need are a comb, moisturizer, and colored rubber bands.
Section the hair using a long tail comb and hold each section with rubber bands along the length. Smoothen the edges with a hair gel for a neat and professional finish. This kid's hairstyle is ideal for children with a diamond face shape.
Bonus tip: When using moisturizer for kids hair, make sure that it is organic. Avoid moisturizers that contain synthetic chemicals because of the potential long-term damaging impact.
#2. Mickey buns
If is safe to say that Mickey Mouse is one of the characters that every African American child get to know. One feature that stands out in the character is its round black ears. You can style your kid's hair to look like Mickey Mouse's ears.
Like every good kids hairstyles should be, this one doesn't require your child to spend long hours sitting on a spot. You will be done in less than 5 minutes if you know how to work around different hairstyles.
To achieve the mickey buns, you need to section the hair into two parts and make a bun on each section. Use hair scrunchies or ribbons to keep the buns in place. The advantage of this hairstyle is that it doesn't strain the scalp which can lead to pain or boils. If your little girl doesn't tolerate pain, this is your best bet.
#3. Classic gelled bun
Just like the name suggests, this style is classic, and you can achieve it in less than 10 minutes. A ponytail will always make your child steal the show. You can go for the pompom look if your kid has voluminous hair.
Start by parting the hair in the middle. Pack each half of the hair into a bun. Lay down the hair to the scalp using a good styling gel. The downside is that you may have to redo this kids hairstyle for girls every morning.
Bonus tip: when choosing a styling gel, always go for the ones that are free from alcohol.
#4. Braids
Braids are adaptable and never go out of style. Braiding is great for kids since it's a protective style. It can last up to 6 weeks with proper maintenance. One of the most interesting thing about braid is that it can be styled in dozens of ways.
From box braids to cornrows, your options are limitless. Also, braids are suitable for every environment. You can add further glow to your kid's hairstyle by styling her frontal.
ALSO READ: 20 Stunning Braided Updo Hairstyles For Black Women In 2022
Bonus tip: When choosing braid as your kid's hairstyle, make sure they are not too tight to the point where she feels unbearable pain or migraine.
#5. Chunky twists
Senegalese twist is one of the most popular hairstyle in West Africa. If you don't feel like working on natural hairstyles now and then, you can try chunky twists. Visit a talented stylist who will work some magic on your kid's hair.
This style can last up to 4 weeks with proper managment. Additionally, any child with a round, oval, or diamond face can rock it. Make sure your child is bold and can handle attention because she will get a lot of them.
Bonus tip: To cut down the time that your child spends in the salon, purchase the twists and have the stylist crochet it to your kid's hair.
#6. Ponytail with a bow
Kids hairstyles for African Amrican girls don't need to be too complex. It also doesn't need to involve a lot of braiding and twisting. A simple ponytail can bring an infectious glow to the face of your little one.
Simply use wide-tooth comb to bring all the hair hair to the top of the head. Apply lightweight to moisturize and give the hair a bit of a shine. Hold the high ponytail in place with hair bow or other hair accessories. It is a wise idea to give your kid's hair a break in-between twists with this hairstyle.
#7. French braid
African American kids are not always blessed with long voluminous hair. So, it can be hard to get that ideal style. However, if your child is an exception, you can go the braided route. Braid two long french braids that go all the way to the back.
This kids hairstyle is cute and will also prevent the hair from getting all up on her face. This style is suitable for all face shapes. Since French braids are loosely done, your child will most likely feel little or no pain.
This kids hairstyle for girls pop on its own. However, you can take it a notch with the right hair accessories.
#8. Luscious long curls
If there is any day when kids are allowed to have their hair over their face, that would be the open day. You can create big luscious curls on her hair that will make her look like a little princess.
For African American hair, the curls will hold well. All you need is a good styling mousse and a hair iron. Add some spritz with hair spray to give it that shiny look.
Bonus tip: When using hair iron to style kids hair, always make sure that it is set on the lowest heat.
#9. Side bun from twists
Thinking of giving your kid a bold look that is not overly flattery? This is one of the kid hairstyles that will give you the spark. For this style, you need to section the hair and twist it in a sideways manner.
Repeat this till you are done with the rest of the hair, then tie it in a side bun. You can try out different patterns as long as it ends in a side bun, you are right.
ALSO READ: 25 Gorgeous Natural Hairstyles for Work
#10. Braid and bun
When it comes to kids hairstyles, you can get as creative as you want. This includes mixing two simple styles. For this style, you need to braid the front part of the hair into an arc that runs along the hairline.
The rest of the hair is parted and noted into two small buns. This is one of the kids hairstyles that is more suitable for African American girls with medium to long hair. Your child can rock this look for a week before it gets undone.
#11. Half twist bun
Girls braid, box braid, and twists are among the kids hairstyles that are easy to maintain. With this style, you will only need to visit the salon once or twice per month. To achieve the style, the hairstylist will partition the hair horizontally into front nd back.
Braid the front part into twists and hold it in a bun. Do the same for the back and let them flow freely downward. This style is ideal for kids who have an oval face shape. Like every other braid or twist, make sure that they are not too tight to the point of causing undue discomfort.
#12. Twisted pigtails
Let's admit it, simple African American girls hairstyles are just the best. Nothing looks adorable, like a little girl's hair styled in beautiful pigtail twists. With the right accessories, your girl will be admired by her peers and may even gain new friends.
To achieve the style, you section your child's mane into parts and tie each part with pigtails. Afterward, twist the hair to the bottom and lay the edges for a sleek look. Would you want to try this style on your child? Tell us in the comment box below.
#13. Braided bun
A braided bun is one of the prettiest and easiest kids hairstyles for girls. To achieve the style, you braid small cornrows going upwards. Afterward, secure a braided bun at the top.
ALSO READ: Easy Natural Short Hair Faux Afro Bun For The Beginner Naturalista
You can accessorize the hair with a pink bow at the back for a more girlish look. Your child can rock this kid's hairstyle for about four weeks. Ensure you apply lightweight hair oil to keep the hair and scalp moisturized and shiny.
#14. Braided ponytail
This is one effortless style you can achieve by braiding your child's hair into cornrows going upwards. If the hair is short, you can add extensions. Interestingly, this style will work for all face shapes.
Most ponytails form fluff right after they are clipped at the top of the hair. This one continues as a braid all the way and ending with wave-like curls. Therefore, this will be a refreshing variation that will attract commendation.
#15. Shuku twists
Shuku twist is a popular hairstyle, especially for school kids in Nigeria. The style is easy to put on and take down—definitely a plus for any kids hairstyle for girls. This hairstyle is ideal for African American girls with medium or short hair.
To achieve the style, section the hair into two parts. Create twists going across the head from left to right on the front part of the hair. The back part is braided into cornrows and tied in a small bun. You may need perm rods to get the curls at the front.
#16. Kids lemonade braids
Lemonade braids became popular after songstress Beyonce rocked them. Your kid can also look like a superstar with this style. For this style, your hairstylist needs to braid your child's mane into cornrows going sideways.
The stylist can make artistic partitions to give the style a unique appearance. This style can last up to 6 weeks with the right care. Also, you can accessorize it with braid rings or hair strings—if her school permits it.
#17. Afro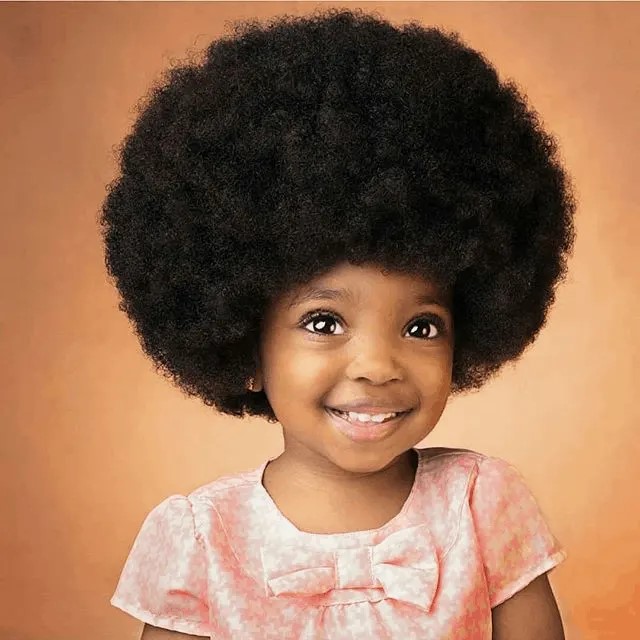 Thanks to legislative interventions, African American girls can now wear Afro to school or work without intimidation. The Afro doesn't require styling of any sort. All you need is a wide-tooth comb to lift your hair from the scalp and you have an afro.
This kids haistyle is most suitable for girls with medium or full hair. However, if your child has really short hair but you desperately want her to wear this look, simply purchase one of the afro wigs and secure it over her head.
ALSO READ: Five Halloween Hairstyles To Bring Your Costume To Life
18. Frohawk
The frohawk style is cool and perfect for that first day at school. The style will look fabulous with any hair length. The style is also versatile, and you can play around with different variations. This frohawk is ideal for kids with a chiseled and diamond face shape.
#19. Crisscross updo
If you have a four-year-old in your house, you know they can get themselves in messy situations really fast. That is why you need to give them a hairstyle that can withstand any ordeal.
This crisscross style is perfect for such occasions. Style the locks in a beautiful sleek bun with crisscrossing Bantu knots at the back. This will definitely cause a stir wherever she goes.
#20. High bun
The high bun is perfect for those days when your child is running late for school. The style is easy to achieve and maintain. You can also change the style to low bun at will. Use a gel that dries fast to cut down on the time it takes to make this hair.
Conclusion
After a long summer holiday, it is always nice for kids to show up at school looking their best. Your hair is one of the first things that anyone will notice about you. Wearing gorgeous hair doesn't have to cause your child excessive pain.
With the above kids hairstyles for African American girls, you have no excuse not to make your daughter glow. Remember, a confident child learns and associates better with their peers—and it all starts from the hair.