25 Gorgeous Natural Hairstyles for Work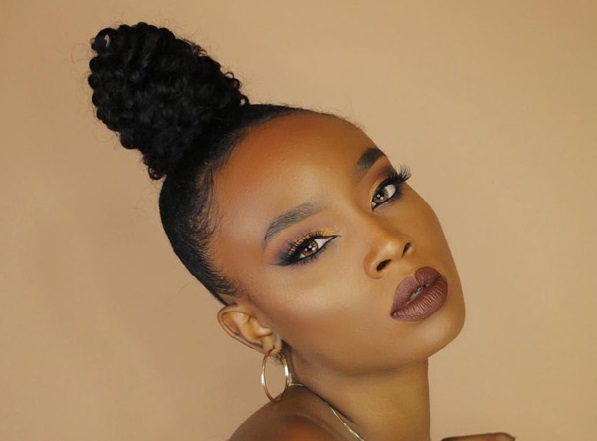 There is a popular saying that the way you dress is the way you are addressed. That saying remains true to this day. Keeping natural hair is fun and rewarding, especially because you don't have to bother about chemicals ruining the texture of your hair. However, trouble usually starts when you have to think of creative ways to wear your natural hairstyles for work. The last thing you want is to be described as that staff that comes to work with a particular type of hairstyle.
Who says grooming natural hair should equate to looking shabby? Whether you want to rock an afro updo, a faux hawk, a twist, a bun, or any classy but creative look for work, we have gorgeous natural hairstyles for work. For best results on some of these hairstyles, you may need to start out with blown-out hair.
A Peek at our 25 Favorite Natural Hairstyles for Work
Changing the appearance of your natural hairstyles every week or two will quickly make you the center of attraction in your workplace. Interestingly, humans want to associate with people they perceive as successful. A neat appearance to your workplace easily creates the impression of being successful—and it often begins with your choice of work hairstyle.
Have you hit the brick wall on how to style your natural hair for work? We have got you covered. Take a look at our 25 gorgeous work hairstyles for inspiration. Also, if at the end you have a unique style that we missed, feel free to share with us in the comment box below.
Style#1 – Princess Mohawk
The princess mohawk is a work hairstyle you should wear only if you work in an informal or tech setting. Some corporate organizations often frown at exaggerated hairstyles. Also, this hairstyle takes time but it is also highly rewarding. It is the type of natural hairstyle that will make you stand out at work. See the step-by-step guide in the video.
Style#2 – Natural Updo Hairstyle
With just a styling comb, you can craft this hairstyle in a matter of minutes depending on the level of your hairstyling skill. Interestingly, you can always loosen the hair at the end of every work day and redo it the next morning to keep it fresh. Use the appropriate hair oil to give it a shine.
Style#3 – French Braid Updo
French braid updo may look a little complex on the surface but it is definitely an easy natural hairstyle to pull off as soon as you learn the trick. After sectioning the hair into two halves, the back section feeds into the front section and ends in a flamboyant twist. It is a work hairstyle that your colleagues will definitely love.
Style#4 – Twisted Faux Hawk Updo
Looking similar to a mohawk, this twisted faux hawk updo is another stunner you should only wear if your organization allows it. Nevertheless, a combination of oiling and gelling is what brings out the beauty of this work hairstyle.
Style#5 – Twisted Updo on Short Natural Hair
We know that long hair is easier to style than short hair. However, that should not make you feel bad if you fall into the latter category. simply oft for the twisted updo and you will still turn up for work looking elegant. Interestingly, the hair looks complex but should not take you more than 30 minutes to accomplish if you learn the tricks. The video below will show you how.
Style#6 – Halo Goddess
This is one of the kinkiest natural hairstyles for work. However, what we love most about this hairstyle is how it can fit into any work environment. Also, it is one of the fastest work hairstyles you can rely on when you are running late. See the video for directions.
Style#7 – Natural Hawk
Mohawk is one of the most versatile natural hairstyles you can ever wear. There is always something new to do with your mohawk. When it is not a twist, it is short Afropop. Like we pointed out earlier, make sure your organization allows it before giving it a try.
Style#8 – Crisscross Braid Puff
If you are a fan of braids, the crisscross braids should give your coworkers something to talk about. This is one of the ways you should style your natural hair when you want to carry it for over two weeks. This is particularly useful for anyone that hates visiting the salon regularly or doesn't have the time to learn how to style their hair. accessorize it with colored rubber bands to make it pop.
Style#9 – Chunky Flat Twist
Chunky flat twists take time to complete but it is totally worth it. It is the type of natural hairstyle for work that is most suitable for medium hair. However, you can achieve a shorter version of it with short hair. It is definitely not for you if you have long hair—unless you don't mind having a trim. If you can't get a trim, try another hairstyle.
Style#10 – Sleek Realistic Faux Bun
You don't have to be a professional hairstylist to pull off a faux bun. A quick tutorial will get you underway. Here all you need is to neatly brush your hair backward and knot it into a low bun. Give it a shine with a gel and you are good to go. Want a fast natural hairstyle for work? This is should definitely be one of your picks.
Style#11 – Easy Twist Protective Style
The twist is versatile and accepted in all working spaces. It also doubles as a protective hairstyle. if you are suffering from thinning hair, this should be one of your choices. This work hairstyle also gives you a break from visiting the salon all the time. Just one try and it easily becomes an addiction.
Style#12 – Three Step Bun
The three-step bun is definitely the kind of natural hairstyle you should aim for if you are a sucker for attention. Well, seeking attention in the workplace is not bad except that it can earn you more work. On the flip side, if you do the work well, it can make you indispensable too.
Style#13 – Braid Pomp Updo
Pomp Updo is another variation of the mohawk too except that in this case the emphasis on the center is balanced by the big braids on the side. This is the more acceptable form of mohawk in corporate organizations. This work hairstyle takes time but is totally worth it.
Style#14 – Mature Protective Style
Protective hairstyles always come in handy for those trying to avoid hair breakage. This one crosses the t's and dots the i's while still giving you an elegant look. The only downside is that you should not plan to wear this for too long because it frays easily.
Style#15 – Twisted Pompadour
You can get this done in as little as 15 minutes—and we are not exaggerating about that. This is another natural hairstyle for work that will cover your back on the days you are running late. Use appropriate hair spray to give it an oily sheen—of course, it is not compulsory. You will still look good regardless.
Style#16 – Quick Bun
The twisted bun is strictly for those with really long hair—so sorry if you are not in this category. However, one of the most striking characteristics of this hair is how fast you can get it done. Also, it is a natural hairstyle you can wear to any organization without raising an eyebrow.
Style#17 – Easy Classy Protective Style
Natural hair must not always be worn bland. Add a little pop and flair to your natural hair with this classy protective style. Focus on giving your frontal an exciting curl and use hair gel to carve out wave patterns on it.
Style#18 – Natural Flat Twist Updo
Perhaps, you don't like to keep things simple, this flat twist updo will definitely catch your attention at a glance. While this is one of the natural hairstyles for work that requires hours of your time, it is also one of the few hairstyles you can rock for up to a month without losing the glamor.
Style#19 – All-Natural Updo combo
Here is another complex natural hairstyle for work. Just like the mohawk, some organizations have a slim taste for complex hairstyles. However, if you work in an organization that lets you wear whatever hairstyle you want, this one should be the hit. See the video below for a step-by-step guide.
Style#20 – Twisted Mohawk Updo
If you are a fan of mohawks, then, there is no need to wear it the same way all the time. Changing the styling all the time will make it hard for anyone to notice that you are a mohawk addict. This is another variation that also doubles as a protective hairstyle.
Style#21 – Sleek Natural hair bun
Life can still be simple and beautiful. Whenever you want to keep things simple, this is one of the hairstyles that you should oft for. Accessorize it with a bow head tie and your coworkers will be drooling all over you.
Style#22 – Twisted Updo on Medium Natural Hairstyle
Here is another hairstyle that is suitable for people with medium or long hair. What we love most about this natural work hairstyle is how easily it can be done. It is easy to fall in love with this hairstyle and it never goes out of style.
Style#23 – Twisted Bun
A simple twisted bun can look even more elegant if you decide to add some accessories to it. The major advantage of the twisted bun over other buns is that the twists create loops where you can easily attach your accessories. You should use it to break up between heavy hairstyles to keep your hair healthy.
Style#24 – Triple Twisted Updo
This is a hairstyle that is most suitable for people with long hair. Also, it should be your go-to natural hairstyle if you are battling any form of hair problem. It keeps your hair loose and tangle-free as well as free from breakage.
Style#25 – Double Twisted Bun Updo
This is another cool variation of your twisted bun. We always recommend that you vary the design or finish of your hairstyle even if you are addicted to a particular style. Monotony kills interest. You always want to maintain how much people are interested in you in your workplace.
Conclusion
We cannot claim that these are all the natural hairstyles for work that you can wear. However, we limited our selection to those that are really simple with a few sprinkles of the really complex ones. We want to give you a variety of choices to make it easier for you to come to a conclusion. We also have a list of products you should try if you have an itchy scalp—which is often common among people that keep natural hair. You will find it here. Do you know other natural work hairstyles? Feel free to share with us in the comment box below.