8 Yemi Alade Music Video Hair Styles That We Are Totally Crushing On
There is everything to love and very little to hate about Yemi Alade. Those who don't like her genre or style of music still get to savor her unique hairstyles. Consequently, Yemi Alade hairstyles have either inspired new fashion trends or promoted cultures we knew little about. Yemi Alade is one of the few female artists that are always eager to show off her African heritage. Perhaps, this is why she refers to herself as 'Mama Africa'.
Born Yemi Eberechi Alade to a Yoruba father and an Igbo mother, the Afropop singer goes by the stage name Yemi Alade. She first came under the spotlight during the 2009 Peak Talent Show—which she won. Many fans are eager to know Yemi Alade's age. Well, that is not a secret. Born March 13, 1989, Yemi Alade just clocked 30 years.
We are a huge fan—a fact we cannot keep under the shadows anymore. For a while now, we have been admiring Yemi Alade hairstyles. She thrills us with a different kind of hairstyle in almost all her music videos. Rarely will you spot her with the same hairstyle in two different music videos. However, we have selected 8 of her hairstyles that got us gaping. Some of them look pretty simple while others left us scratching our heads. Take a look at our list and share your views in the comment box.
[mailmunch-form id="865080"]
A peek into 8 Yemi Alade Hair Styles that has inspired the world
#1. Double Puff (Bounce)
In her Bounce music video, we saw Yemi Alade rocking the double puff hairstyle. Unlike the double puffs that stand on the center of the head, this one is on the front and back of her head. Whatever was left was braided and locked in a pearl giving it a teasing finish.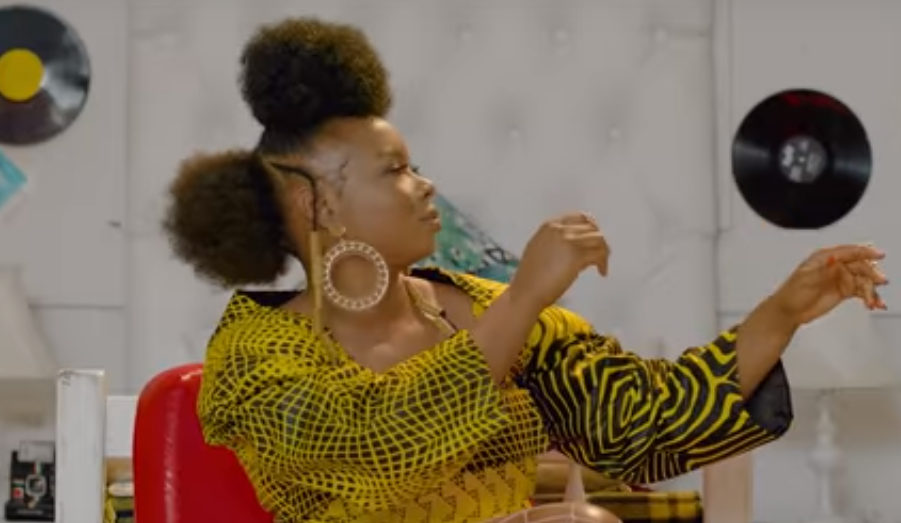 This is one of Yemi Alade hairstyles that can be classified as authentic African. This is because it is more popular in this part of the world than anywhere else. Check out her look while rocking this hair in the video.
#2. Tribal Ring (Home)
Eastern Africans love to adorn their bodies with rings. Yemi Alade succeeded in replicating this beautiful culture with her hair. In this hairstyle, her hair is divided into four portions and rolled into four separate wheels—three in the front and one behind. You must have really long hair to be able to attempt this hairstyle.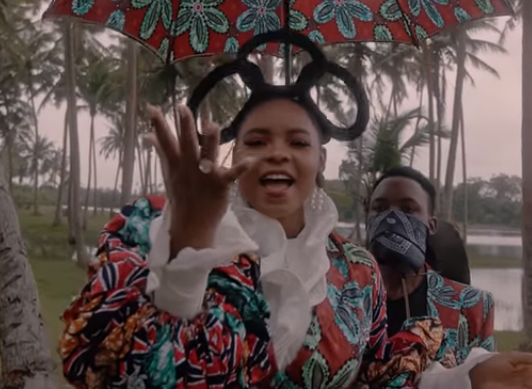 Thanks to hair extensions, anyone can wear this hairstyle. This is another of Yemi Alade hairstyles that you may not likely find outside the shores of Africa. Those that succeed in pulling this off will instantly become the center of attention. Wondering how it will look on you? Yemi Alade has the answer in the video below.
#3. Wave With Tone (Johnny)
Her most successful music so far is Johnny. There are lots of reasons why anyone would love this song. The story is relatable among promiscuous men, the video is comic, and her hairstyle is off to the races. In this hairstyle, the hair is braided into one large wavy lock while the sides are gelled to keep them down.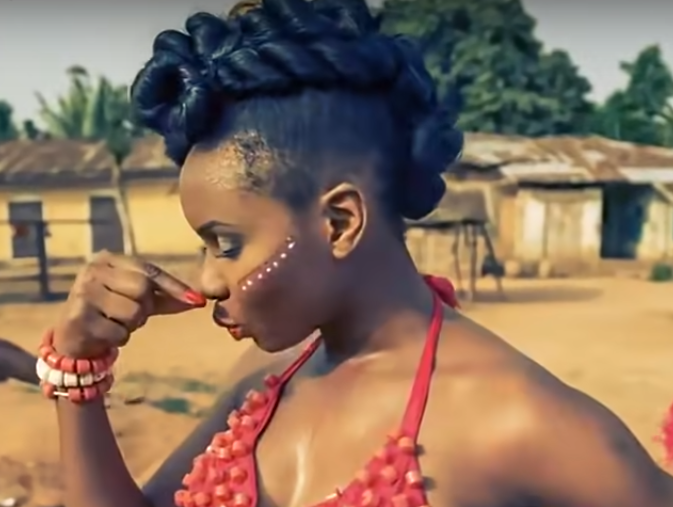 The long wavy lock is then neatly laid and pinned to the head. In her usual manner, Yemi Alade adds a twist to this hairstyle by introducing a golden tone. Only a few people can wear this hairstyle as gorgeously as Yemi Alade did.
#4. Bold Twist (Kissing)
In recent times, the Afropop sensation has upped the game. In recent videos, you will find her rocking more than one hairstyle. Kissing, for example, we were able to see two versions of hair. However, this hairstyle closely resembles the hairstyle she wore in Johnny. In the first version, the long bold twist was left hanging loose while she cordons off the entire base with her scarf.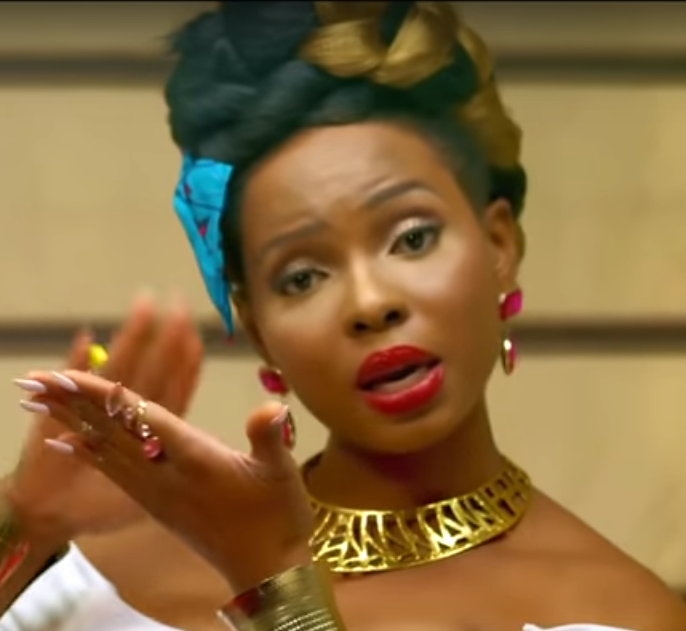 In the second version, the bold twist was laid on her head, slightly tilting to one side of her head. This is one of the Yemi Alade hair styles that any woman around the world should love. We can keep explaining but it will be easier if you see it yourself in the video below.
#5. Front Bun (Knack Am)
Unlike in 'Kissing' where the hairs are related, in 'Knack Am', Yemi Alade wears two distinct hairstyles. The first was just a large twist held up by rings. However, the second was not so simple. Characteristic of a few other Yemi Alade hairstyles, this one had two elements.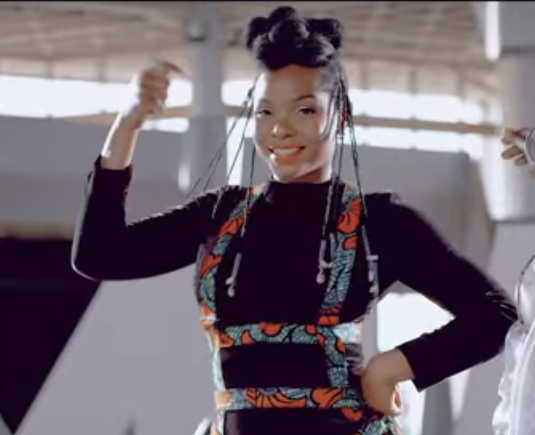 The first element and most prominent is a short bun in front of her head, slightly draping over her forehead. The sides are weaved into tiny braids and adorned at the top. This hairstyle will be perfect for those with an oval face. Have a better feel of these hairstyles in the video below.
#6. Braid (Number One)
You will rarely see Yemi Alade on braids—albeit they look nice on her. One of the rare times she rocked a braid was in 'Number One'. The gold-colored braids were patterned in a cyclic manner and all converged at the top of her head. In a section of the video, she allowed the braid to flow freely.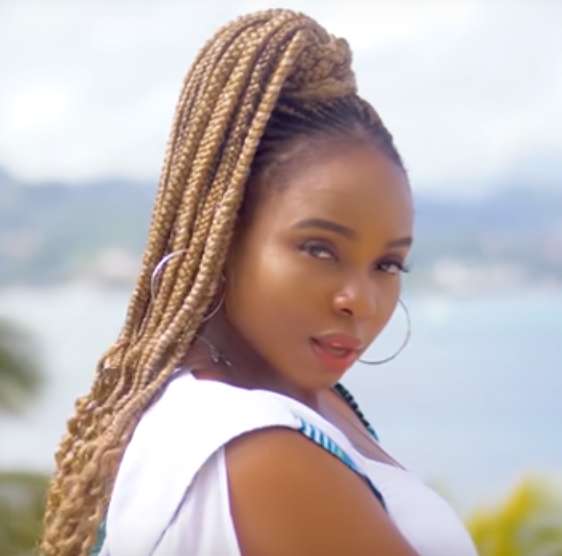 However, in other places, she twisted them together to form a bun at the center of her head. This is one advantage of wearing a braid. They are flexible and be twisted into a countless number of patterns. The video below says it all.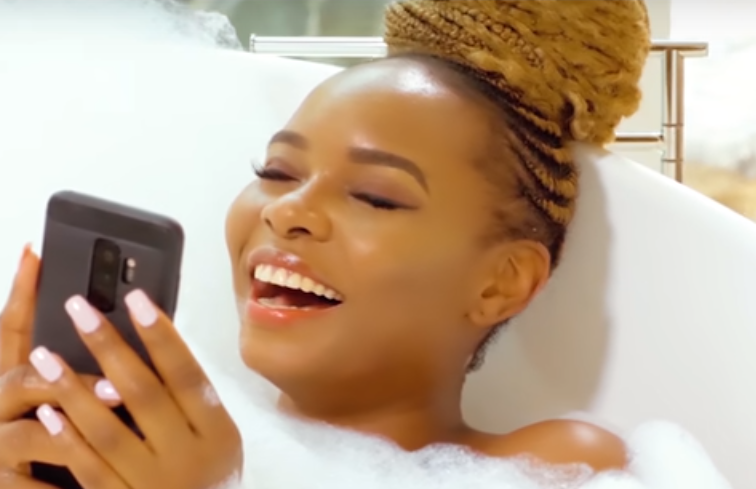 #7. Double Ponytail (Oga)
Yemi is no stranger to ponytails and double ponytails. However, she did something creative with her double ponytail in 'Oga' video. It is also important to mention that she wore two different versions of this double ponytails. Since the video had a Chinese setting, it made sense for her to wear a Chinese ponytail. The first was round, looking like the top of a mushroom.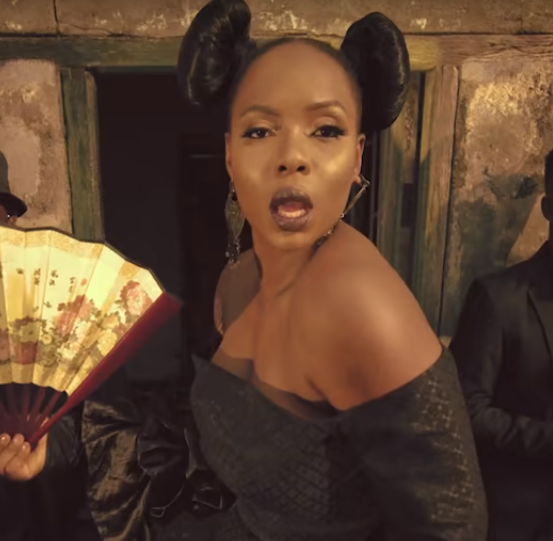 The second had a little similarity with Bantu knot. However, the ponytails are adorned with brooms giving them a lavish African look. See more amazing scenes of these Yemi Alade hair styles in the video.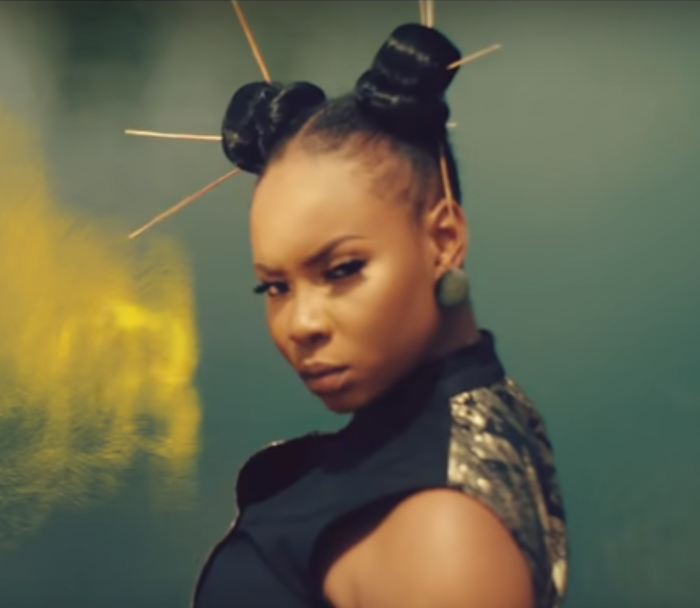 #8. Ponytail (Oh My Gosh)
Yemi Alade is the Queen of Ponytail. She rocks different variants of ponytail almost all the time—and they are cool. There is something interesting she did in 'Oh My Gosh' both the original and the remix which many people may not have spotted—but we did. In both versions of the song, she was wearing a ponytail. However, here is the difference. In the original version of the song, the hair was segmented and only the upper part was made into a ponytail while the lower part was left to flow freely. The hair was not gelled too.
In the remix with Rick Ross it is a different story. The entire hair was pulled together to form the ponytail. The other parts of the hair was neatly gelled to her head.
Yemi Alade hairstyles inspiration for the festive season
Yemi Alade has come of age in the music industry. Almost every year she is dishing out tones that are danceable. However, as the festive period draws near, flipping through Yemi Alade's videos can offer you lots of inspirations—if you are thinking of what hairstyle to wear to that family gathering or to visit your friends. If there are other Yemi Alade hairstyles you want us to see, drop a comment with the title of the song where it appeared and we would definitely check it out.