Afronista Of The Week: The Colorful Life Of Sho Madjozi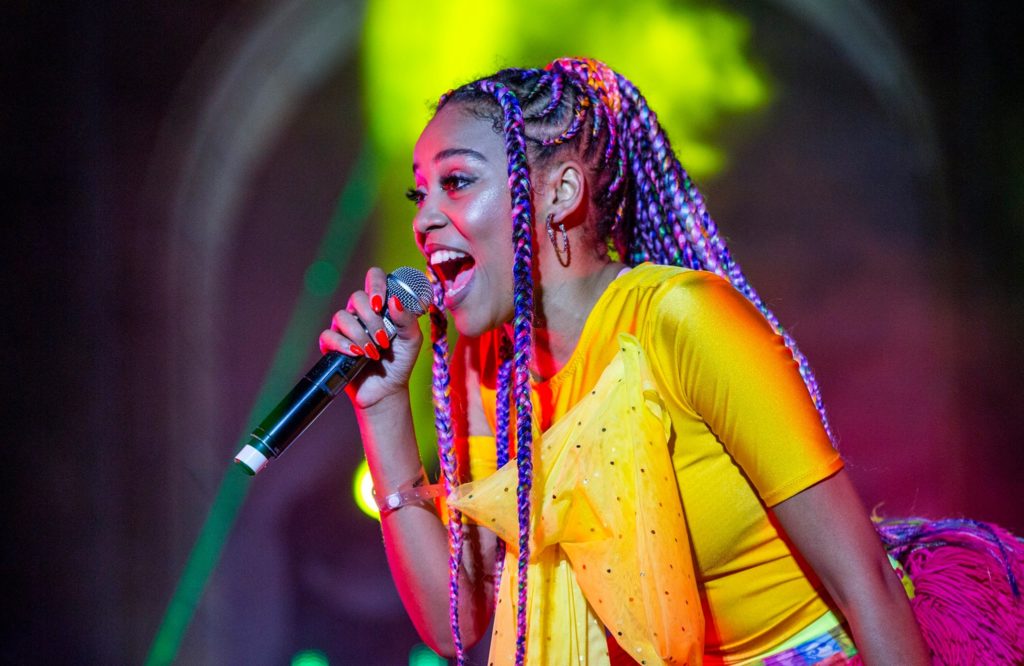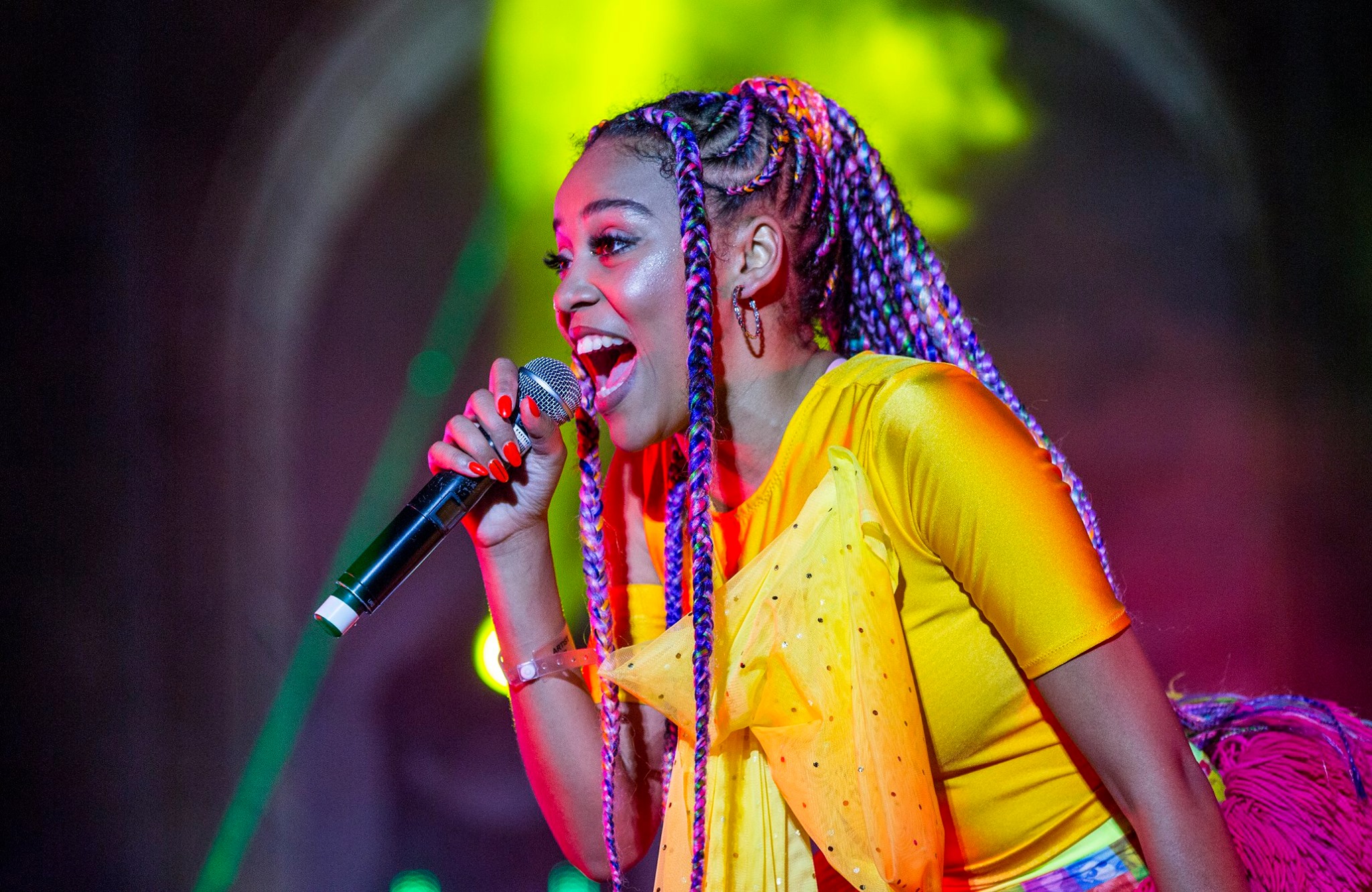 Our Afronista of the week is none other than rapper Sho Madjozi. Madjozi once made a profound statement in an interview with The New York Times magazine. She said that traditional attire should not only be worn on special occasions. In other words, ethnic identity is not something that can be removed and put away.
Sho Madjozi has a larger-than-life personality that can be described in many ways. She is colorful and feisty with an infectious enthusiasm for life. Moreover, she is a talented musician with a bold fashion sense that is African.  Madjozi is especially famous for her signature colorful braids. This young celebrity has recently signed a groundbreaking deal. Here is more about her life and aspirations.
Sho Madjozi joins Epic Records
In July 2020, the international record label Epic Records announced that Sho Madjozi had joined the Epic family. Consequently, she is the first South African artist to join the label. This puts her in the company of superstars such as Sade and Travis Scott. Silvia Rhone, the CEO and Chairman of Epic records praised Madjozi for the wonderful work she was doing representing South Africa. According to Variety magazine,
''She's bold, brilliant, and remarkably talented and her music embodies all that is special about her homeland. It's an honor to have her as the newest member of the Epic family.''
Sho Madjozi and the World Wrestling Entertainment (WWE) Superstar
In September 2019, Madjozi released a single called 'John Cena'. In it, she raps about the WWE professional wrestler. The single was such a great hit that it led to the launch of an international dance challenge. When Madjozi was a guest on the 'The Kelly Clarkson Show', she explained the significance of the song.
You Can't See Me
As a child, Sho Madjozi lived in a village in Limpopo that had only one television set. When it came to programming choice they had two options. They could either watch the series 'Generations' or WWE. This is how she developed a passion for John Cena and his catchphrase 'You Can't See Me.' The hit song is about a boy who did not see or notice her.
To Madjozi's enormous surprise, as she was performing the number on the Kelly Clarkson show, John Cena appeared on stage with her. Her stunned reaction is thrilling to watch. Needless to say, it went viral on social media.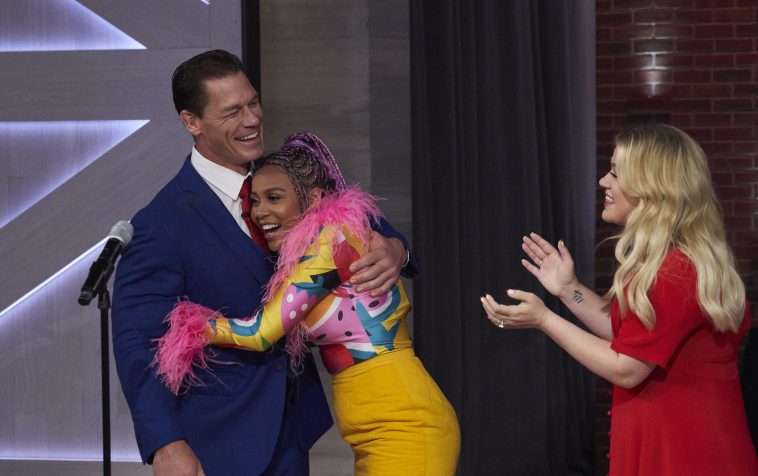 An Award-Winning Star with International Appeal
Kate Hutchinson of the New York Times refers to Madjozi as a ''new kind of global pop star'', and her international appeal is evident. For example, in March 2021, Madjozi and her dancers appeared on a billboard at Times Square in Manhattan, New York. They were featured as part of a promotion of YouTube Music's Black Music Fund. Also, Madjozi has won and achieved a nomination for awards such as;
2020 BET nominated 'John Cena' for Best International Act category
2019 BET Sho Madjozi won the Best New International Act
2019 AFRIMMA (African Muzik Magazine Awards) winner of Best Female For Southern Africa in Dallas
2020 KCA (Nickelodeon Kids Choice Awards) Winner 'Favorite African Star'
Sho Madjozi's Early Years
Sho Madjozi is of mixed parentage. She was born in 1992 in Limpopo, South Africa. Her mother is Tsonga, and her father is white. Her parents separated when she was young and she spent her childhood living with her father. This involved traveling with him to wherever his job took him. Consequently, Madjozi has lived in places such as Tanzania, where she learned Swahili, and Senegal, where she gained an affinity for the Fulani cornrows.
After attending high school in Tanzania, Madjozi enrolled in the USA. Thereafter, she returned to South Africa and joined the Institute of Advanced Studies at the University of Johannesburg. While at university, Madjozi wrote poetry under the pen name 'Maya the Poet.'
The Start of a Music Career
Madjozi began her career in music with the release of her single 'Huku'. The song is from her debut album 'Limpopo Champions League.' The single was an instant hit, garnering 5 million views on YouTube. Her other notable singles include 'John Cena', 'Kona', 'Wakanda Forever' and 'Dumi HiPhone'.
How much is Sho Madjozi worth?
Madjozi's net worth in 2020 was between 1-5 million US dollars.
What is Sho Madjozi's real name?
Sho Madzozi's real name is Maya Christinah Xichavo Wegerif.
Is Sho Madjozi married?
All we know as of now is that the rapper is single. However, it may be possible that she likes to keep her private life secret. Therefore, it will not be a surprise if we suddenly hear the wedding bells.
 A Bold and Distinctive Fashion Sense
There is no doubt that this young trendsetter celebrates her Tsonga heritage. She is not averse to wearing a traditional garment such as the Xibelani skirt and accessorizing it with trainers. Also, Madzozi's creative braids have become part of her brand. Below are some of her most striking looks: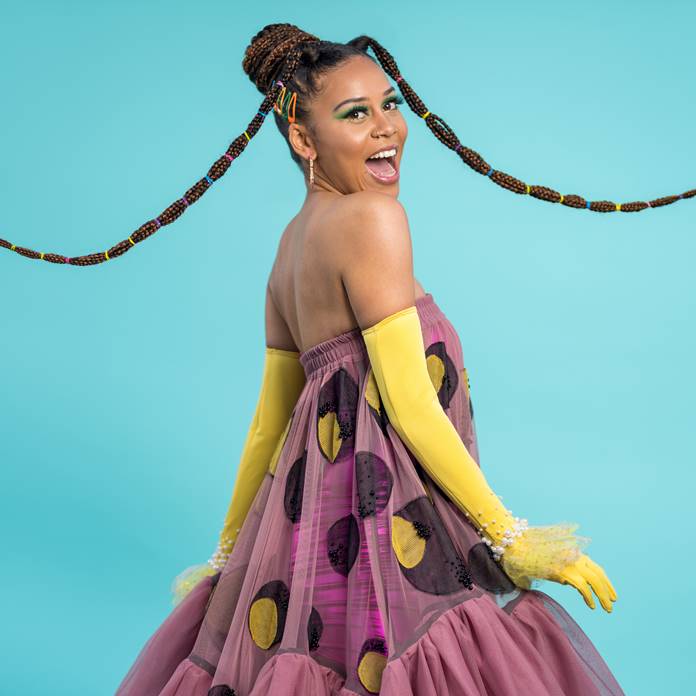 Looking gorgeous in a taffeta pink/purple gown with black and yellow polka dots, Madjozi is every inch a star. Her hair is up in a braided top knot with loose extensions. Yellow opera gloves with lace ruffles at the wrist add the final touch to the ensemble.
Creative Braided Looks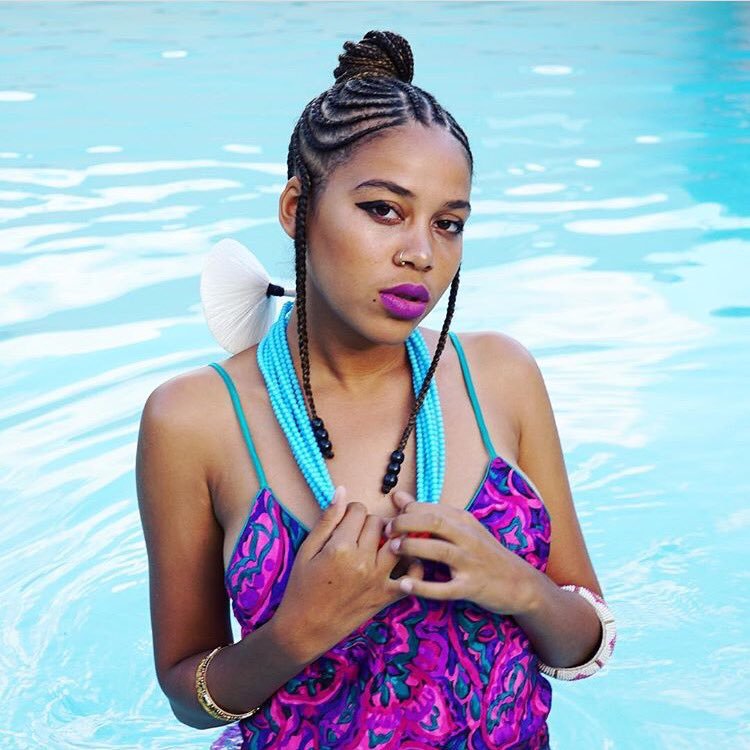 Sho Madjozi's love for Fulani braids began when she lived in Senegal as a child. She rocks the cornrows in this discreet hairdo and completes the look with a multistrand blue necklace and bead bangle.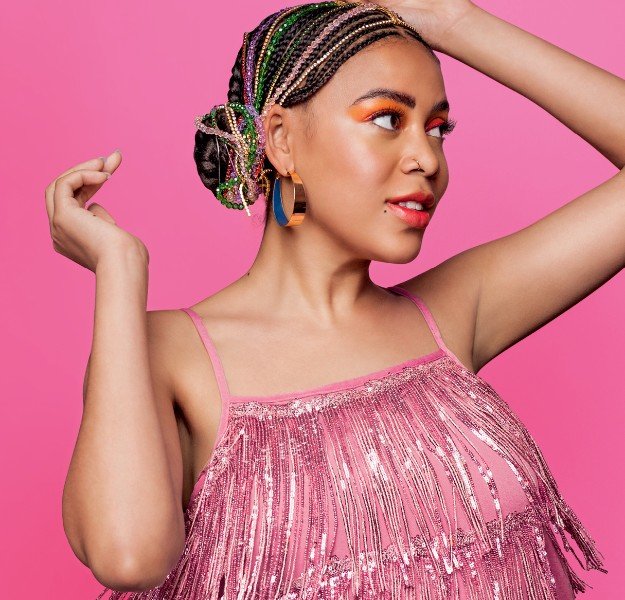 Delicate cornrows have colorful bead strands weaving in and out of them in this dazzling hairdo. The braids end in thicker ones at the nape of the neck to form an elegant chignon. The beads in the hair echo the strands stitched into the exquisite top below forming a harmonized look.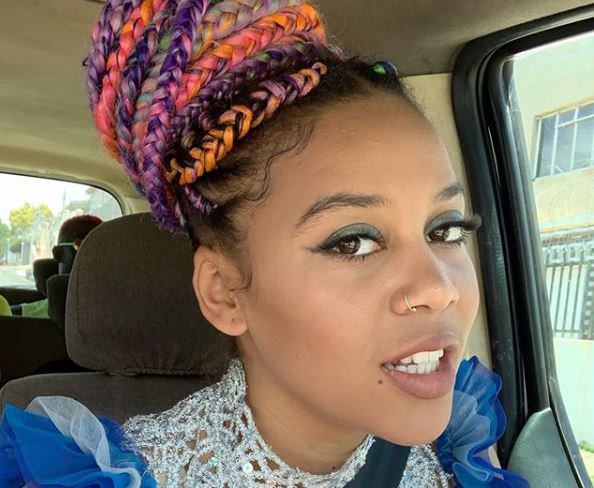 This is an unusual, one-of-a-kind braided hairdo. Different color yarns are braid into each individual box braid. The box braids are coiled together to form an intricate up-do.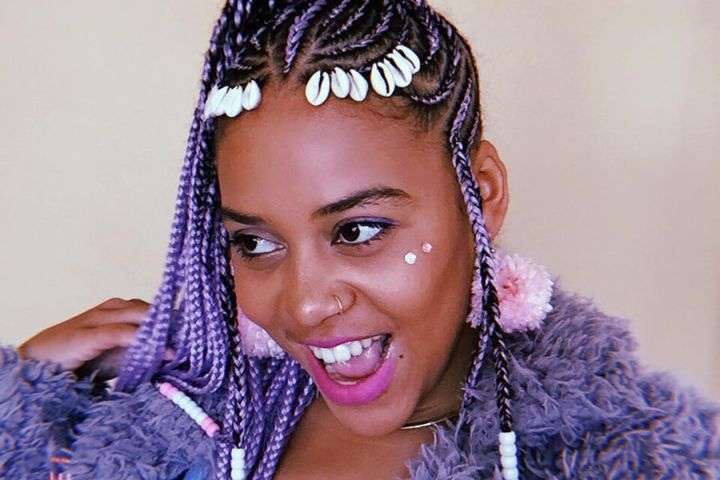 Cowrie shells have long been a symbol of prosperity in Africa. Madjozi is certainly rich in style as is evident in this ornate hairstyle. Blue yarn is braid into the Fulani cornrows ending in beads. The cowrie shells add a crowning touch.
Madjozi Does Not Put Aside Her Traditional Wear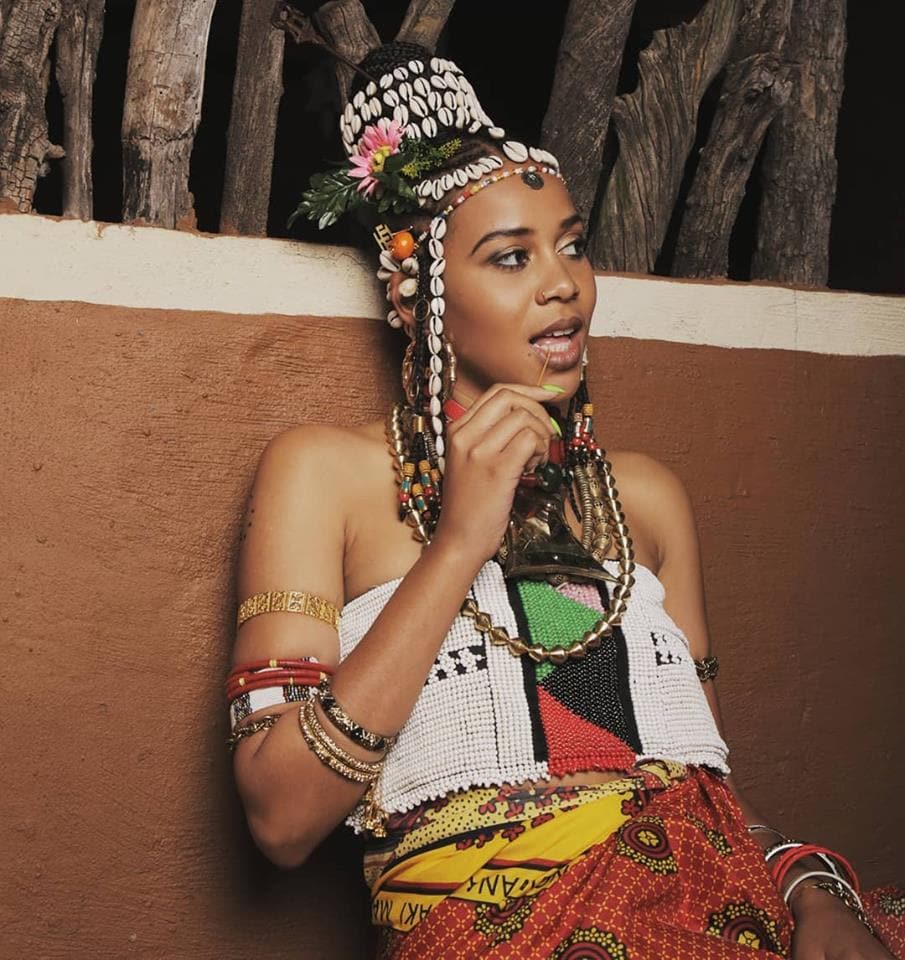 Nothing could be more authentic than this majestic traditional look. Madjozi looks royal in the delicately beaded boob-tube. She is wearing a crown of cowrie shells, big dangling earrings, and a collection of African beads around her neck that end in a striking pendant. A kanga fabric sarong skirt rounds it all up.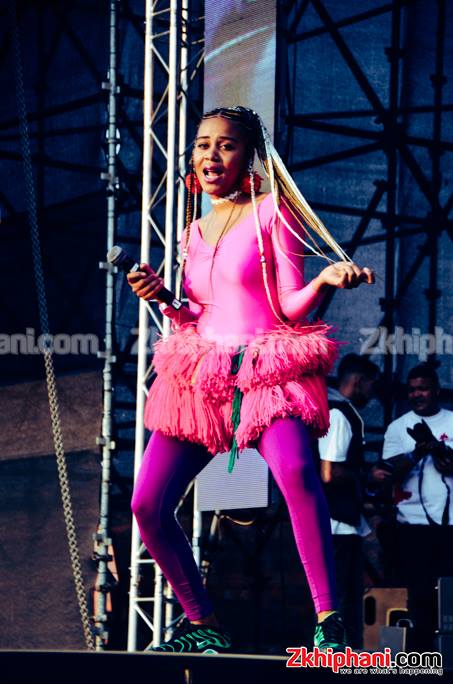 A celebration of the Tsonga culture, Madjozi rocks the Xibelani skirt in hot pink. She matches it with a pink satin bodysuit and purple leggings. Also, the green track shoes add a contemporary touch to her appearance.
Rocking the Contemporary Look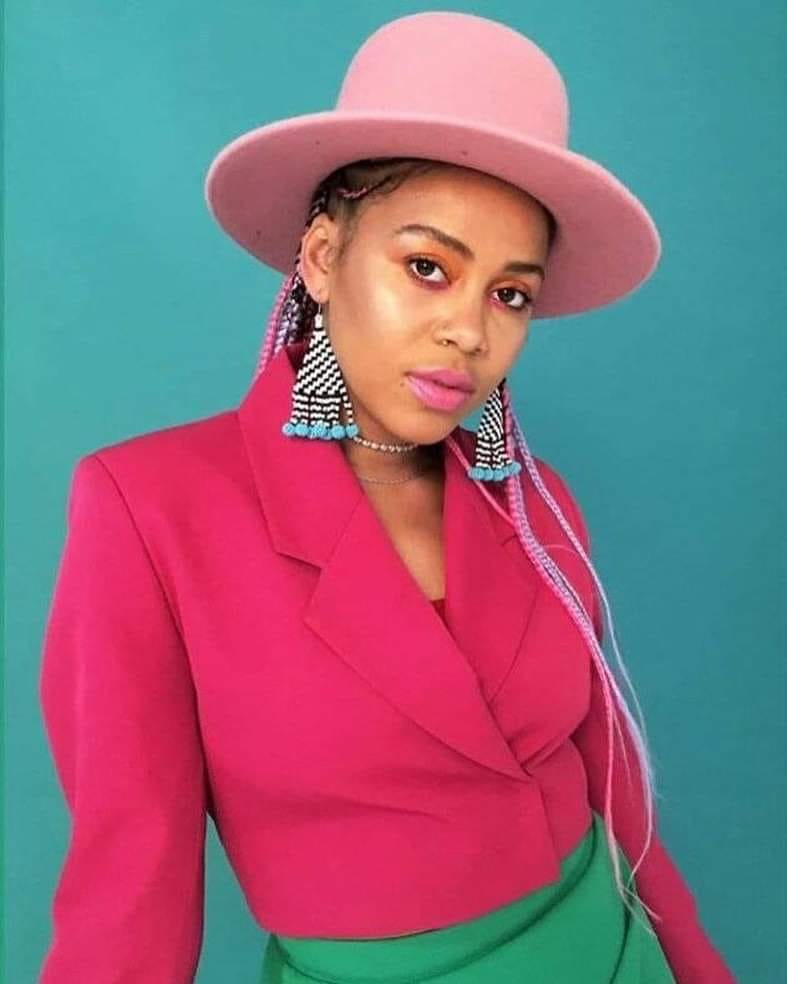 A versatile fashionista, Madjozi rocks the formal look with her own special edgy style. The hot pink fitted woolen jacket neatly tops a green skirt. The pale pink felt hat and bold black and white ethnic earrings add to the signature Madjozi looks.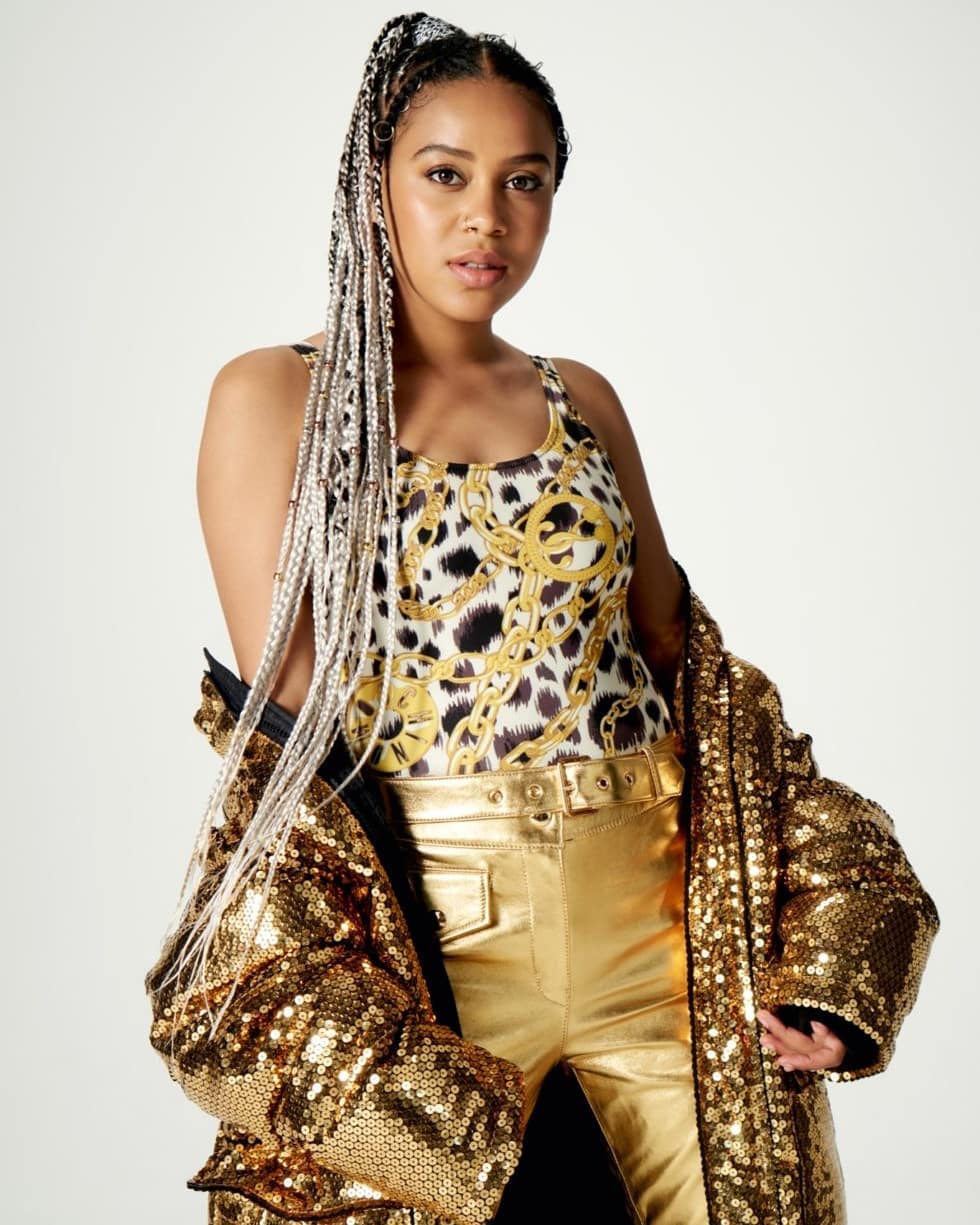 Every inch a star, this young celebrity is going places. She dons a gold leather pair of trousers and a matching tank top with a golden chain motif. The coat is extravagantly covered with glittering gold sequins. To top it all are long pale braids reaching down to the hip.
Conclusion
Sho Madjozi is not shy about celebrating her Tsonga heritage. In addition, she is living proof that traditional braided styles can be a colorful component of a stylish, edgy look. Madjozi's pride in her culture and positivity are an inspiration for young Black women. What else do you know about our Afronista? Tell us in the comment box below.