20 Stunning Braided Updo Hairstyles For Black Women In 2023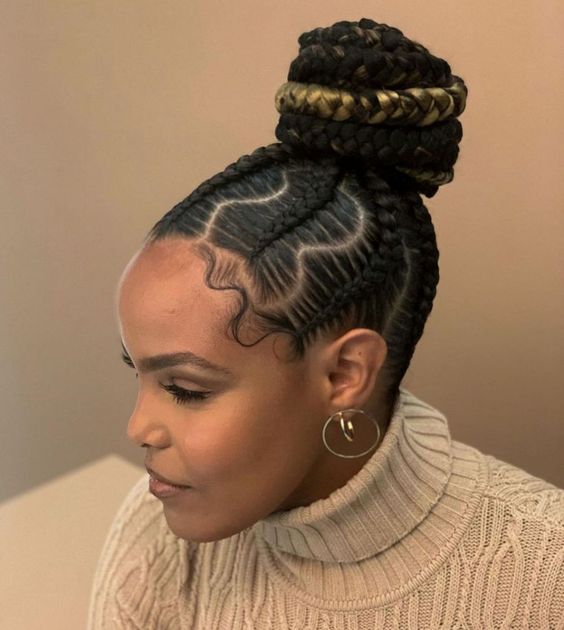 Africans in the diaspora love to connect with their roots through culture, style, and more. Braided updo hairstyles are just one of the many styles that black women can rock to appreciate their culture. There are more than 50 natural updo hairstyles for natural hair. These hairstyles will give you a new look, and also protect your hair from damage. Before diving into our list, we will answer a few important questions about braids. What are they and what are the latest styles? Read on to find out.
What are the latest braid styles?
Cornrows are the latest braid styles that black women love. Their popularity is due to their stunning appearance, and, that they protect the natural hair from damage. Hairdressers are getting artistic with cornrows. Consequently, this has led to the birth of many braid styles. The top 10 most popular braid styles in 2023 are;
Cornrows
Box braids
Twists
Butterfly braids
Piggy-tail braids
French braid
Lemonade braids
Halo braids
Knotless braids
Micro braids
What is most interesting is that some of these braids have lots of variations. For example, there are over 50 variations of the box braids. What this means is that you can wear box braids for 52 weeks in a year without repeating a style. However, it is not advisable to wear braids week-in-week-out. Give your hair one to two weeks break in-between braids to recover.
How do you make braided hairstyles?
Most braided hairstyles involve dividing the hair into three parts. Then you cross the lines around each other. As you progress, you can add a little amount of hair to make it neat and fuller going downwards. The technique depends on the style. Also, the approach may vary from one hairdresser to another
Here are 20 stunning braided updo hairstyles you can try
While there are over 100 braided updo hairstyles, make sure that you only choose the ones that will match your face shape. Also, you need to consider the size of your hair. For example, braided bun hairstyles for black hair is most suitable for medium to full hair. Without further chitchats, let's have a look at our list.
#1. Jumbo cornrows with space buns
This is one of the braided bun hairstyles for black hair that really pops. Your hair is braided into different-sized cornrows and is knot into two buns. You can get creative with the parting for an exquisite style. A pair of hoop earrings would be just perfect. If you work in a corporate space, make sure you confirm with your management if this type of hairstyle is allowed. 
#2. Snail braid updo
This style requires you to sleek down your hair using hair gel. A braid is then used as an extension. The braid is fastened so that it gives a trail design starting from the front. The rest of the hair is pinned at the back creatively. You can use minimal accessories to make it stand out. This braided hairstyle is popular among African brides. 
#3. Halo braid
This is one of the braided updo hairstyles that is easy to achieve. All you need is a braided hair extension that is laid around your head and held in position using pins. Style your frontal using a gel. You can decorate it using gold or animal print hair accessories to make it stand out. Interestingly, this is a recovery hairstyle you can wear in-between braids to give your hair time to heal. It is also a great choice for those with brittle hair.
#4. Afro ponytail with braids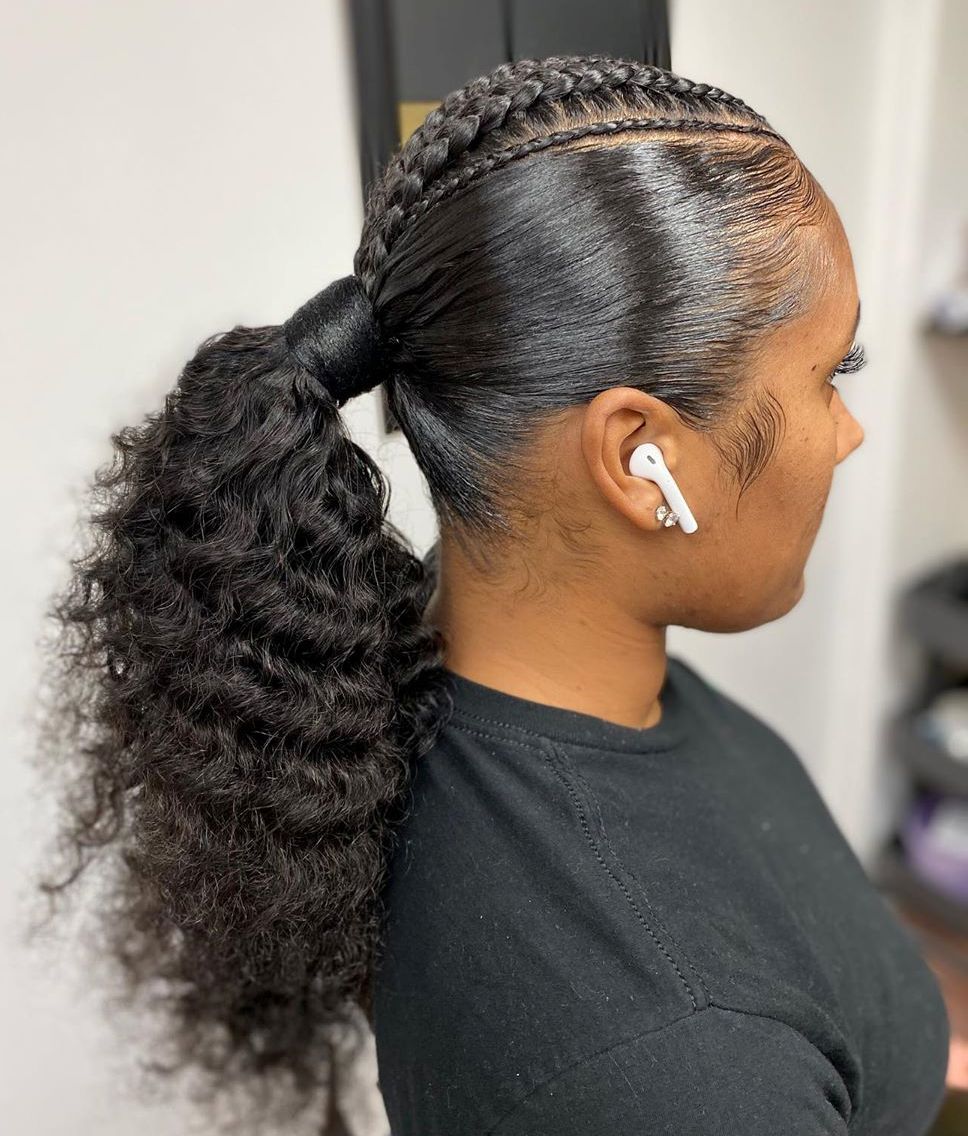 To achieve this look, you will need a braid extension to make the hair fuller. Here you alternate between big strands of braids and smaller strands. Do this all the way around your head. Each braid starts from the end and moves to the crown. Finally, hold them together and add a fluffy attachment which you'll allow to flow down your head. This hairstyle can last a week or more. However, you will have to spray it regularly with a styling gel to keep it fresh.
#5. Upside down chunky cornrows with a bun
This hairstyle can suit a long face or diamond shape face. Your hairstylist will braid your hair in chunky feed-in cornrows which are smaller at the base and gets bigger as you get towards the center of your head. The cornrows are then tied into a fancy bun. This braided bun hairstyles for black hair can last for weeks. However, because of the simplicity, you can constantly redo it. Also, it is a great protective hair for those with thinning hair.
#6. French Braid Updo
The French braided updo hairstyle is common for African brides on their wedding day. However, it can be worn as an everyday hairstyle. It is perfect for long, diamond, or heart-shaped faces. One of the most remarkable features of this hair is that you can use colored extensions. Interestingly, it fits into a professional space meaning you can wear it to work without getting into trouble with your boss.
#7. Two strand cornrow braid updo
This hairstyle is achieved by sectioning your hair into two equal halves. You can get artistic with the parting—straight, curvy, or zigzag. Furthermore, you need to braid both sides of your hair neatly to achieve this stunning design. The hairstyle is perfect for casual outfits. If you are not comfortable with the length, you can twist them together and roll them up to your nape. 
#8. low braided bun updo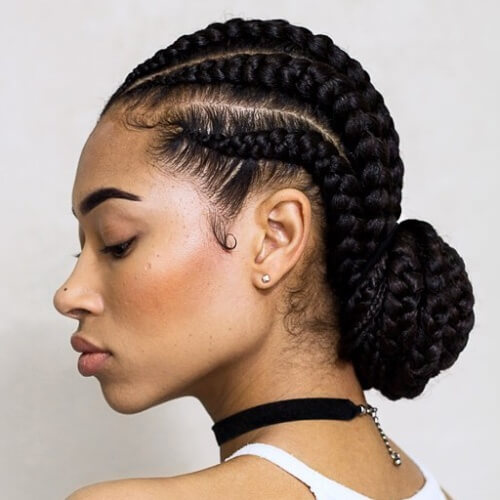 Jumbo braids are easier to make and less painful than smaller ones. It fits a round face and is easy to do. For this fabulous look, your hairdresser will section your hair into four or five. Each section is braided separately, running from the front to the back. Bring all the strands together and twist them into a bun on your nape. The good thing about this braided updo hairstyle is that you can wear it with any outfit (casual or official) without looking out of place. Is it something you would want to try? Let us know in the comment box below.
#9. Cornrows with a sleek ponytail
Cornrows are a hot trend at the moment. Not only is the style dead gorgeous, it is also long-lasting. For this one, you will need to get your hair braided in big and small cornrows. Also, you can add in different designs. Once, your hairdresser is done with braiding they can use some strands of hair from the extension to wrap around the bun to keep it in place.
#10. High bun with braided side strand
We are not all blessed with long, thick hair. However, that should never stop you from looking gorgeous. In this braided updo hairstyle, you will need to braid a strand or two on each side of your head. Rather than the strands running from front to the back, they run from the side all the way to the top of the head. Next, bring the rest of the hair to the top of your head. The rest of the hair is laid down on the scalp using a styling gel. You can introduce matching hair extensions to the top of the head and twist it into a nice knot.
#11. Half braided updo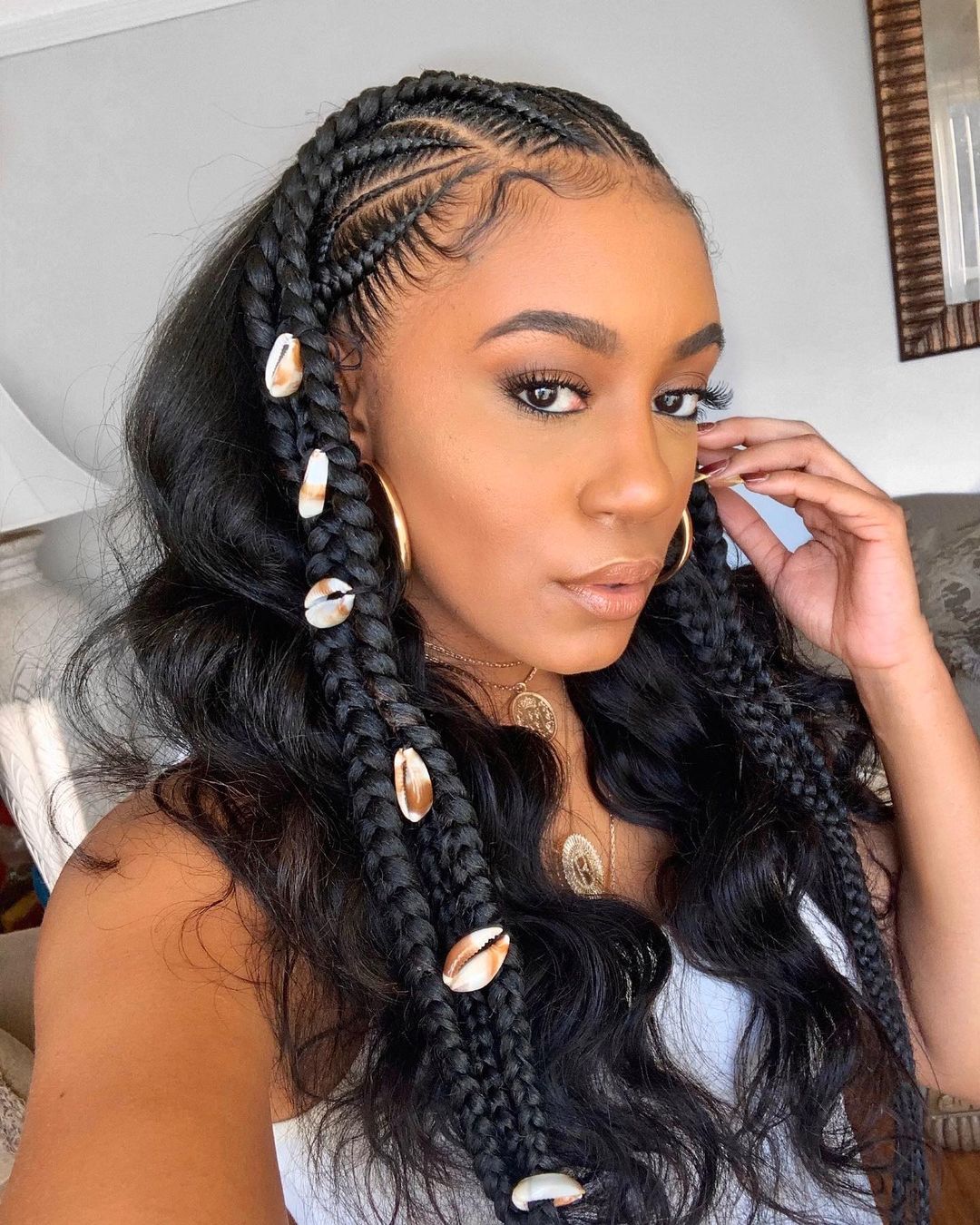 Stitch lines are some of the trending hairstyles right now. This style fits all the face shapes as long as your hairdresser gets it right. To achieve this hairstyle, the hairdresser needs to braid stitch lines on your hair using braid extensions. The cornrows
are done
halfway on your hair and the rest of the hair extension is left cascading down on your shoulders. This should be your go-to hairstyle when you want to stand out.
#12. Fancy cornrow bun
Do you want a fancy hairstyle? Try this braided updo bun hairstyle. It is perfect for people with oval and diamond face shapes. For this style, your hairdresser will create regular cornrows with in-between braids. The endings should be long enough to make a bun. Lay your edges using hair gel. This style can last up to 4 weeks as long as you keep it protected with a styling mousse. 
#13. Braided bun with curvy partings
There are many creative braided updo hairstyles that you can choose to wear. One of them is this bun with curvy partings. This particular updo requires your hairstylist to make curvy partings before braiding your hair. The braids are rolled into a bun. This is a perfect office look and it fits round or heart-shaped faces.
#14. Goddess cornrows with rings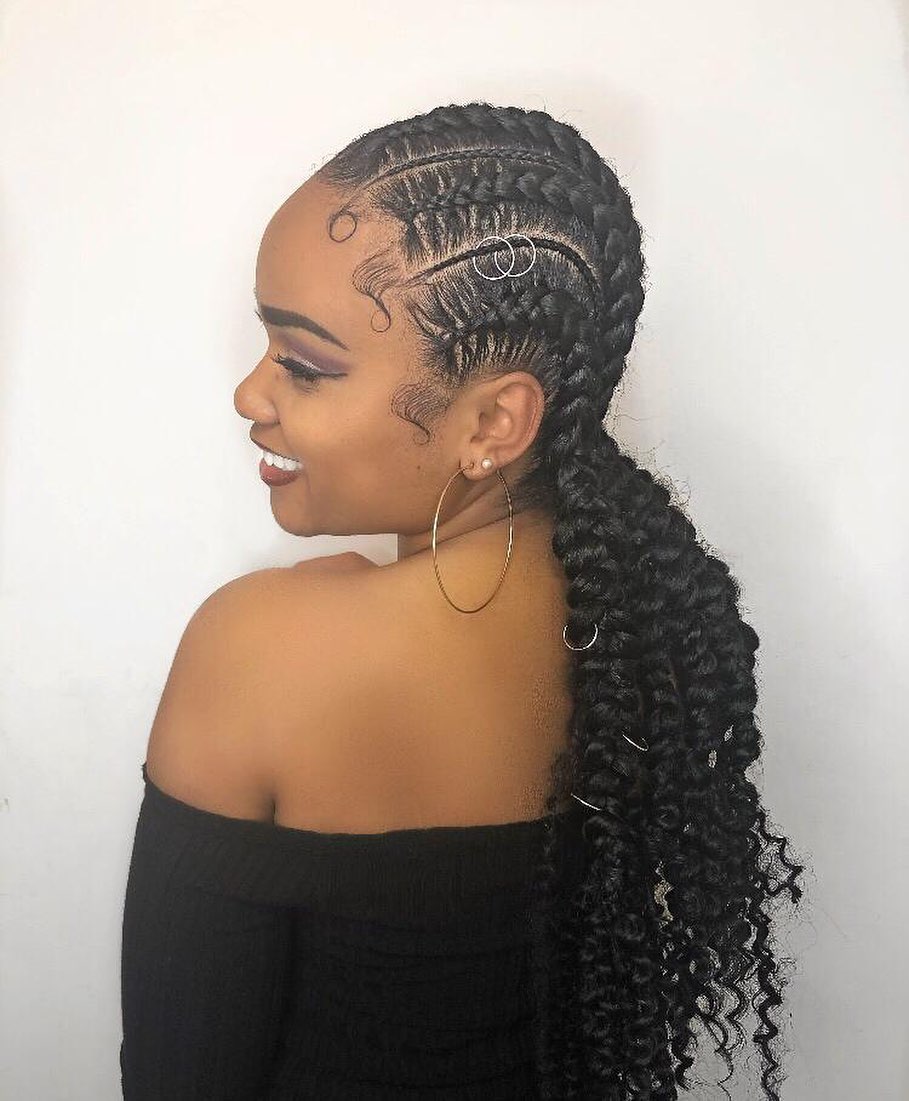 Just like the name sounds, this style will make you look and feel like a goddess. This braided updo hairstyle is an artistic representation of a combination of jumbo and small stitch lines
. The hair extends into a frizz
which gives it a fuller look. Unlike the picture, you can pull the frizz and tie them into a knot. This is a versatile hairstyle for Black women that is suitable for work. 
#15. Crisscross jumbo braids with side cornrows
Here, the parting of the hair is such that it forms a big X. The merging of the 'X' is at the top of the head. The rest of the hair is plaited into smaller braids that feed into the big X. In addition to being unique and attention-grabbing, this braid can last an upward of 4 weeks. While this may not be suitable for those that work in official settings, high school teens and college students can use this hairstyle to buy friends. Give it a try and you'll be amazed how it will work. 
#16. curly updo with a crown braid
This style is perfect for any naturalistas with short natural hair. To achieve the curls, you can do Bantu knots, twist-outs, or use rollers. You need to part some hair around your head and braid it to come up to the crown. Use hair gel to lay your edges down into curvy patterns. Although this is a simple style, it still gets you all the attention that you need. Even more interesting is the fact that it can fit into any work environment.
#17. Two strand butterfly braid
There're days you just want to be in and out of the salon in a jiffy. This butterfly hairstyle is great for such days. It is easy to achieve and suits all faces. For this updo, your stylist will need to braid two strands of the jumbo cornrows. The cornrows will meet behind to create one long extension. Although in the picture the lady allows it to fall freely, you can fold it and pin it to the top of your head. Would you want to try out this style? Tell us your thoughts in the comment box below.
#18. Twisted Updo
This is one of the braided updo hairstyles that will make people marvel at the complexity. Obviously, only the best hairstylists will be able to pull this one-off. Also, prepare mentally to spend awfully long hours in the salon. Your hairstylist will braid your hair from both sides of the head till they meet in the middle. This updo can pass as another variation of the mohawk.
#19. Jumbo Feed with fluffy end
Traditionally, braids run from front to back in fairly consistent or increasing thickness. This style deviates from the norm. It starts thin from the front and gradually expands as it goes backward before opening into fluffy loose curls. This is a quick-fix hairstyle and is perfect for the times you don't want to stay too long in the salon. You can wear this style for 2-3 weeks.
#20. Braided Mohawk Updo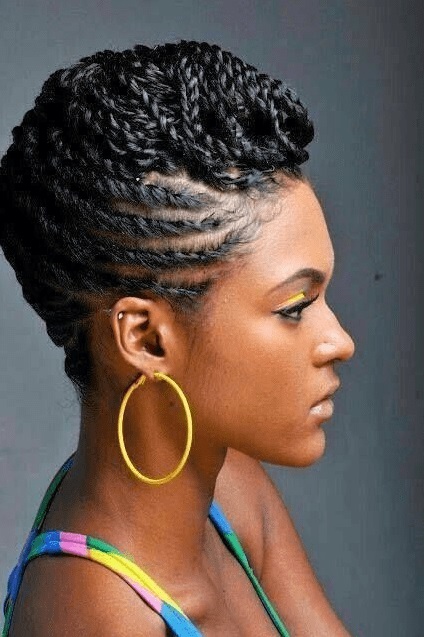 This braided updo hairstyle began gaining popularity after singer Janelle Monae rocked it to the red carpet on many occasions. The style is perfect for weddings or any informal occasion. To achieve the style, your hairstylist needs to sleek down your hair in a single strand at the center. Next, your stylist will hold down the braided extension using hairpins. There is a kind of confidence that full-hair gives and this is not an exception.
Conclusion
Braided updo hairstyles make you look beautiful. Also, they provide protective styling. However, what we love most is the variety of styling options. You can decide to wear different styles every two weeks without repeating a style for a whole year. But, you need to make sure that you are wearing a style that matches your face. Is there a braided updo hairstyle that you want to see on this list? Tell us in the comment section below.