15 Fascinating Crochet Braid Hairstyles For Hair Growth
Crochet braid hairstyles continue to take the fashion world by storm. Thanks to this scalp-protecting technique, relentless and endless hours at the hair salon are now a thing of the past. Crochet braids come in different varieties and colors, and they can suit any woman.
The good thing with rocking crochet braids is that they are protective and help in natural hair growth. Also, they don't take as much time to make and last twice as long. Below are some of the trendy crochet braid hairstyles you can wear next time you want to grow your hair.
How long do crochet braid hairstyles last?
The last thing that every busy woman want is to make hair that becomes an eyesore in a week. This is also true for everyone that has a defined budget for their hair every month. Well, if you are in this category, it will interest you to know that crochet braid hairstyles last 4 to 8 weeks.
ALSO READ: 20 Cool Hairstyles for African American Girls
With a diligent hair care routine, it can even last longer. The duration will largely depend on several factors including;
Size of the braid: larger braids wear out faster than smaller ones
The complexity of the braiding pattern: simple braids will usually wear out faster than complex braids
Quality of the braids: it is always good to go for the best quality braids if you want them to last longer. However, they are usually more expensive.
Haircare routine: using the right braid spray will keep the shine as well as reduce itching which eventually makes you involuntarily ruin your crochet braid hairstyle as you attempt to scratch your hair.
15 trending crochet braid hairstyles that got us drooling
One question vacationers often ask is, 'can crochet hair get wet?' or 'can I wash my crochet hair?'
The simple answer is it depends. While some hairstyles will get wet and stay soggy for hours, premium crochet braid hairstyles lose water faster. So, after a dive on the beach, you will be surprised that your hair dries almost immediately. This is one area where crochet braid hairstyle outshines other hairstyles.
How do I stop my crochet hair from frizzing?
Those that use crochet hairstyles to protect their hair may soon discover that they have another problem to deal with—frizzing. When crochet hair starts to frizz, they become displeasing and you'll stop getting the compliments from passersby that used to make you blush.
Frizzing is usually a sign that your hair is becoming too dry. One way you can fight back is by using bonnets. Go for bonnets that are made of satin because they help to retain the moisture in your hair. Never sleep without putting one on.
ALSO READ: 25 Gorgeous Natural Hairstyles for Work
To further appreciate the beauty of crochet braid hairstyles, here are some of our personal favorites.
1. Springy curls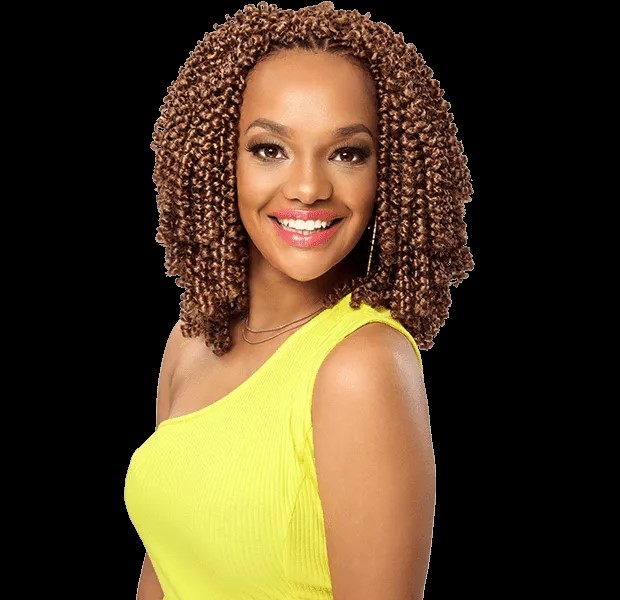 Want to take your crochet style to the next level? Try rocking bouncing and colorful springy curls. To recreate such a look, braid your frontal into tiny cornrows and install crochet extensions set at the back. Let the beautiful curls cascade down your head.
If this hairstyle has caught your attention, get yours here.
2. Ringlet curls boy cut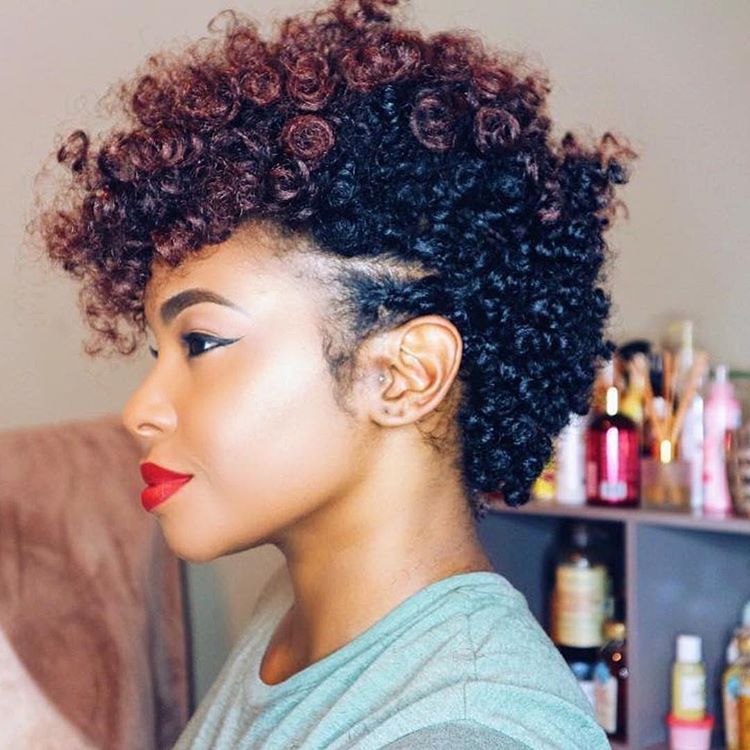 Perhaps, you prefer your hair short and cute. With crochet braid hairstyles, you can kiss long styles goodbye. Ringlet curls are protective, facilitate hair growth, and give you a youthful look. Also, the ringlet curls are elegant and acceptable in all settings.
Want to feel young again? Get your ringlet curls here.
3. Long wavy crochet curls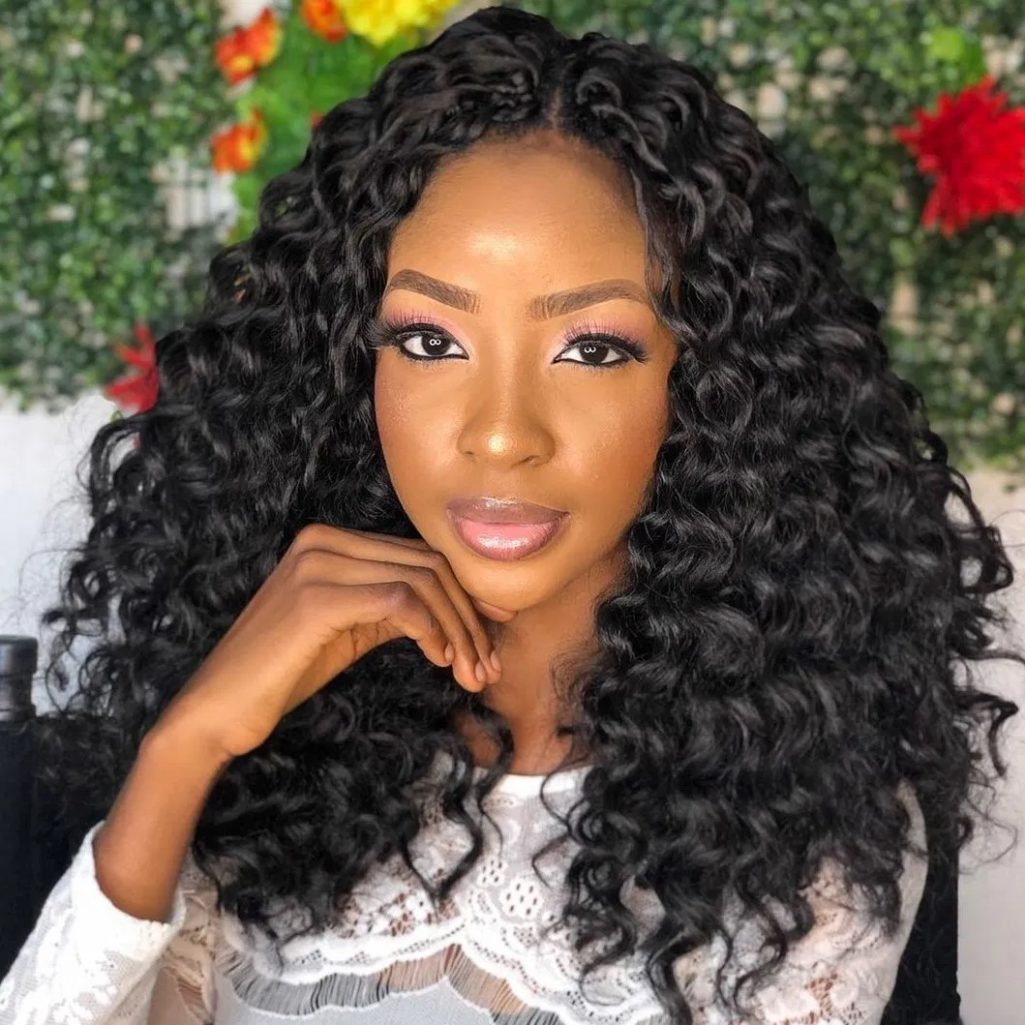 We get it! Long wavy hair has been historically linked to beauty. We are not judging. However, if you want to go this route, you can still trust crochet to get you the desired look. They are protective and easily blend into your natural hair (if they are not too kinky). Interestingly, it only takes a few minutes to get you gorgeous and going.
Wondering where to get one? Click here to start shopping.
4. Ponytail crochet hairstyle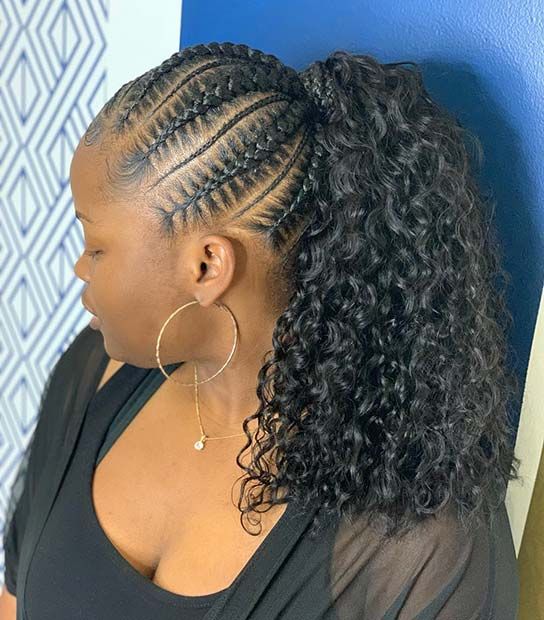 Who said crochet braid hairstyles have to be boring? For this hairstyle, all your braider needs to do is to braid small and big cornrow lines in an alternating manner and whip them into a ponytail. Afterward, the braider should attach pieces of crochet hair to your natural hair.
ALSO READ: Step By Step Guide To Two 15 Minutes Twisted Natural Hair Bun
To spruce up the look, you can add some bits of gold hair charms. However, just because you are using protective styling does not mean that you forego using styling products on your hair. Ensure that you keep your scalp hydrated by using a lightweight moisturizer.
Did this hairstyle catch your fancy? Get it here.
5. Short curly crochet hairstyle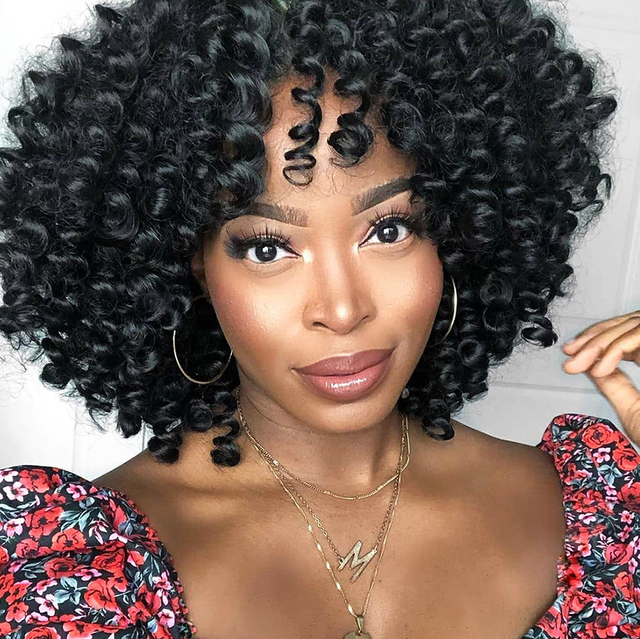 Short curly crochet styles are super pretty. With the right cut, they generously outline your facial features. To rock this hairstyle, you need to braid your hair and then attach the short crochet curls. Apply a curl defining cream on your ringlets to give them that shiny look.
If you prefer short curls, get yours here.
6. Jumbo Senegalese hairstyle
Everyone wants to be noticed, we get it! A jumbo crochet hairstyle is for the bold Black girl that wants to steal all the attention. Interestingly, this is also a protective hair styling that prevents hair breakage and encourages hair growth. Remember we told you bigger braids lose their shine faster? Apply hair oil to keep that sheen as well as keep your scalp hydrated.
Feel like giving it a try? Find it here!
7. Black and blonde afro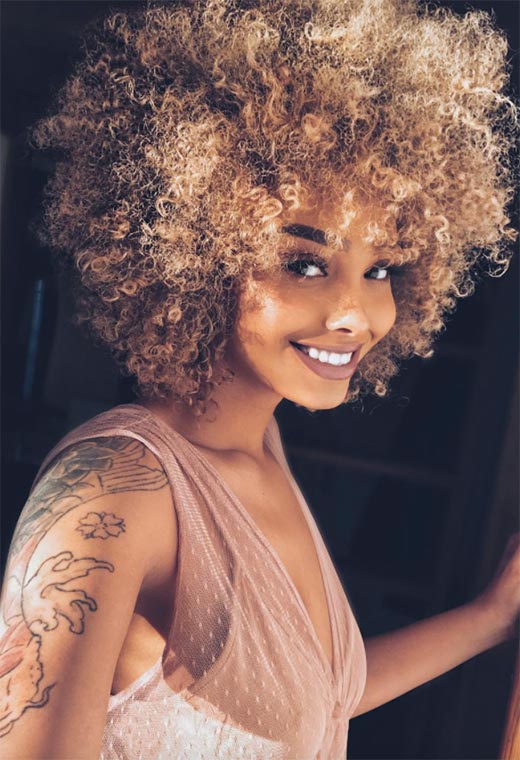 You will look, young, wild, and free once you wear this blonde crochet afro. It is not a style for the fainthearted because it will set you apart from everyone else making it easier for you to be noticed. They since light colors reflect light better, they prevent the sun rays from damaging your hair. Consequently, your natural hair will grow healthier and fuller.
Want to try out something new and daring, get it here.
8. Bouncy Bob
You can loosen things up by using bouncy bob crochet hairstyles. The style looks like a roller set. However, it does not come with the hassle of having to sleep with rollers on. With proper moisturizing and maintenance, you can elegantly rock this style for up to six weeks. This gives your hair room to breathe and grow.
Think it is time to look different? Get yours here.
ALSO READ: 30 Natural Hairstyles That Are Easy To Do At Home
9. Twist out curls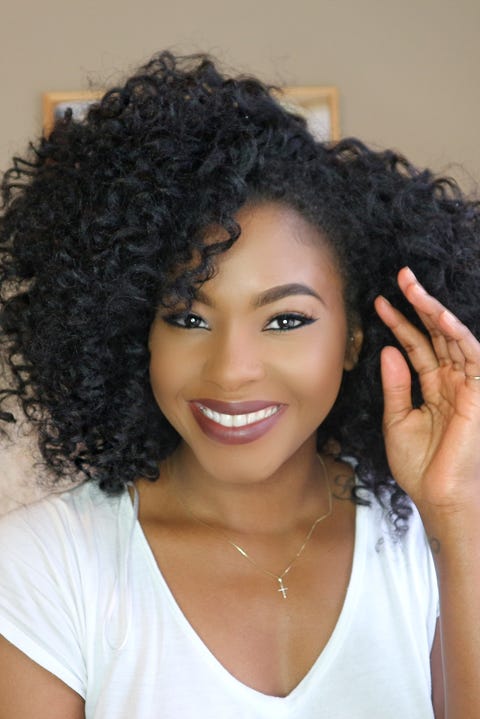 It seems twist-out crochet braid hairstyles never go out of fashion. Blogger and influencer Alicia know first-hand about the versatility and benefits of crochet hairstyles for your hair. For the installation process, you will need a crochet needle, bobby pins, and good crochet braids.
Is it time for a change already? Get crochet twists here.
10. Crotchet hair with bangs
Want your curly bob to look unique? Try this inspired 1980s crochet bob with bangs. The bangs are generously spread in front of your forehead. While you cannot achieve this hairstyle with natural hair, it is easy to get there with crochet braids.
Want to bring back the old-school look? Get yours here.
11. Crocheted burgundy waves
Feel like flaunting long hair before your natural hair grows? Try out burgundy crochet waves. They are simple, gorgeous, and feel natural. You can experiment with different colors and simultaneously enjoy having the length of your dreams.
If this feels like the dream for you, get it here.
12. Crochet rope twist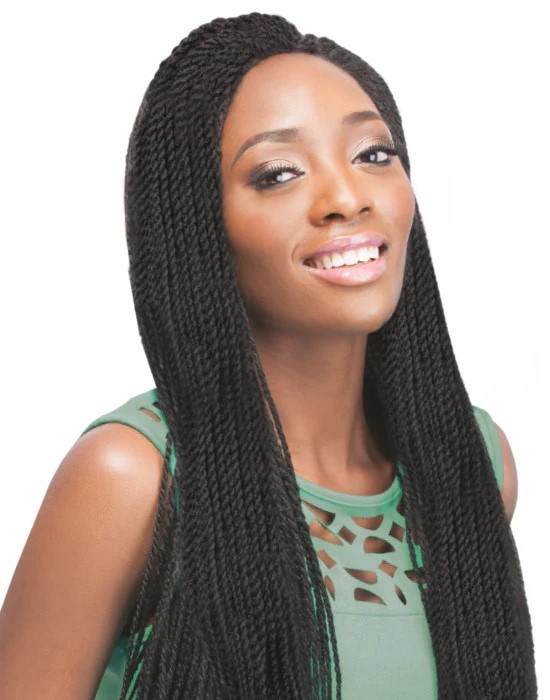 Some hairstyles last only for a short season but twists never go out of fashion. However, not everyone has the patience to sit on a spot for hours. Well, you can turn to crochet braids to get that lovely look while spending only a small fraction of the time it will take to get your hair twisted.
Have you been dreaming of a twisted hairstyle? Get the twisted crochet braid here.
13. Jumbo crochet twists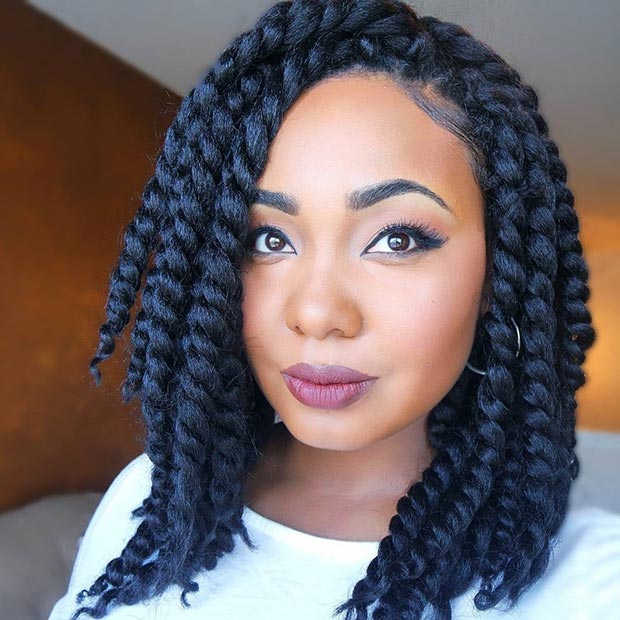 Jumbo braids feel more authentically African—no beefing on the thin braids. Sometimes you want mid-sized braids. At other times you just want to go the extra mile for big twists. If you are in the mood for the latter, then this jumbo twist crochet hairstyle will satiate your yearning.
Jumbo twists can be crocheted and styled with ease. Don't forget to use your hair oil to keep the sheen. Also, use a satin bonnet to prevent frizzing. Jumbo braids need more care to maintain their elegance.
Do you think jumbo crochet twists are stunning? Get yours here.
14. Exposed Cornrows half updo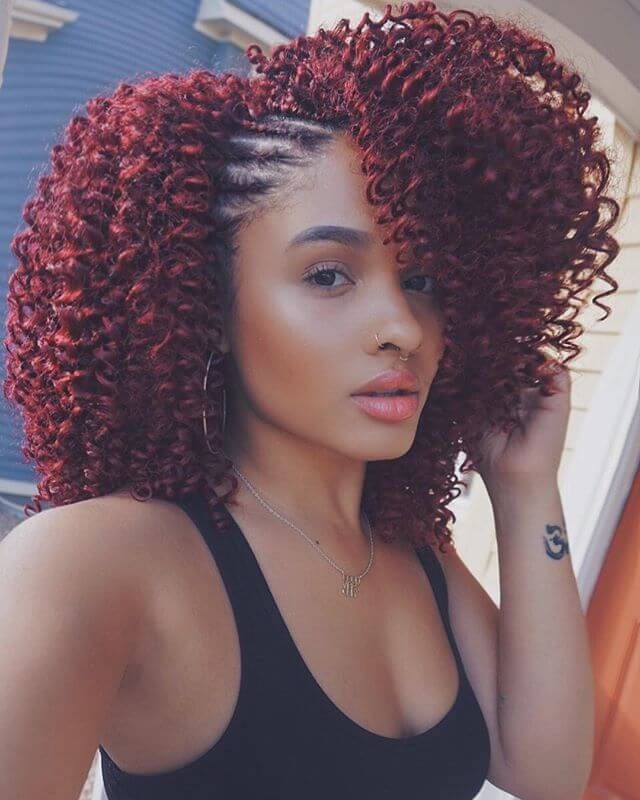 You don't need to have a head full of hair when using crochet braids. You can be quirky and versatile with the style you choose. All you need to do is to braid tiny cornrows and leave the side bare. Install the crochet braid on the center of your hair. How you style it is really up to you—and your options are really limitless.
Want to look this classy? Get yours here.
15. Center parted kinky crochet hair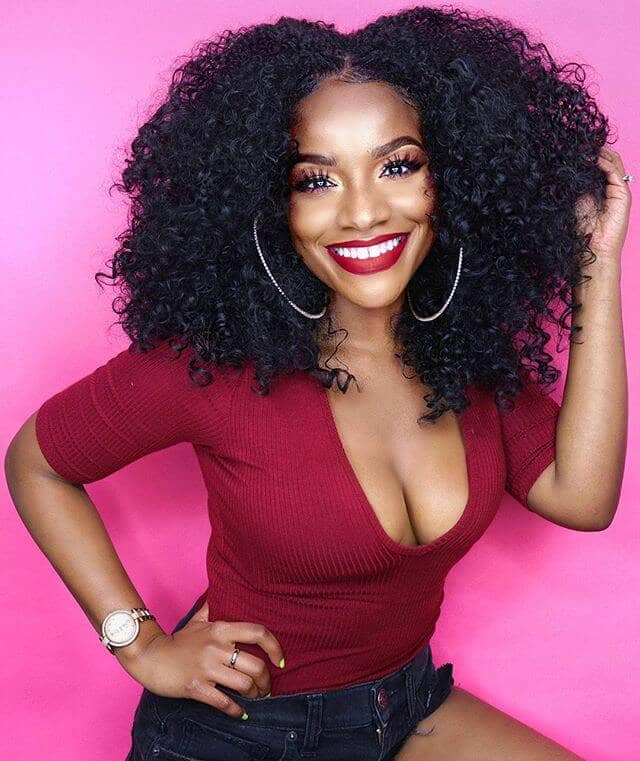 If you want to try out something crazy with your natural hair, here is your chance. This crochet braids hairstyle has a kinky feel but in a fluffy and more acceptable texture. The hair is parted down the middle and allowed to fly free. It's the kind of style you wear in protest of the norm.
Already loving these crochet kinks? Get yours here.
Conclusion
Crochet braid hairstyles are the perfect way to grow your hair and prevent it from breakage and damage. Therefore, it is not a surprise that they continue to recycle every year. When it comes to choosing length and color, it will be wise to seek the opinion of your stylist.
Get a style that will give you a flattering look for several weeks. Finally, remember to take care of your hair and regularly moisturize it with lightweight oils. If you have any questions about crochet braid hairstyles, feel free to use the comment option below.