10 Bloggers Share Tips On How To Grow Your Edges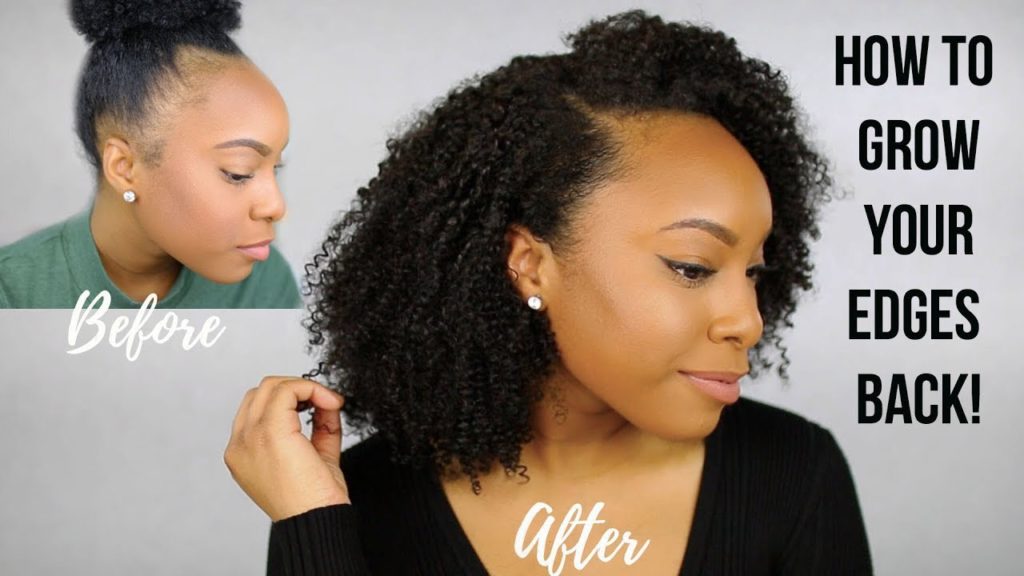 There is a proverb that says natural hair is an exquisite crown. Most, if not all black women, have a beautiful mane. As much as you have thick and strong hair, there comes the point when our hair decides to play tricks on us. One nightmare every woman wants to avoid is thinning edges. However, losing your edges should never be the end of your confidence because you can grow them back.
In our hair post, we always strive to enrich our readers with useful tips on everything about hair. In this post, we'll be delving into tips bloggers use to grow back your edges. We'll also try to answer some of the questions you might have in mind about thinning hair.
Why are my edges thinning?
One of two things can lead to thinning edges; genetics and stretching of hair when styling or over-styling. You cannot control genetics. However, you can control styling. Try to avoid applying too much tension on your hair and use hairdos that are easy on your hair.
How can I grow back my edges naturally?
You can grow back your edges by rubbing oil or oil mixtures on the affected areas. The oil treatments will promote hair growth, reduce damage on the edges, and repair damaged hair follicles. Also, you can rub vitamin E on your scalp to aid in hair growth.
What products help grow back edges?
There are certain products you can use that can bring back life to your thinning edges. These products will stimulate hair growth, leading to a healthy mane.  These products include Curls blueberry mint tea scalp treatment, Jamaica black castor hair growth oil, and Eden works jojoba monoi hair oil.
10  Bloggers Share Tips on How to Grow Back Your Edges
Perhaps, you don't believe us when we said that you can grow back your edges. Now have a look as ten bloggers share tips on how to grow back your edges. Also, we have provided links to some of the hair products used in the video to make it easier for you to reach the goal.
1. Healthy Afro Hair
This YouTube blogger share five tips on how you can grow back your thinning hair or edges. The first tip she talks about is to stop wearing tight hairstyles that will cause pressure on your edges. Some of the hairstyles that cause tension are cornrows, box braids, low and high puffs. The second tip is to avoid using certain hair tools like hair bands, tight hair bonnets, hats, gels, and thoroughly brushing your edges. Over time these tools will cause a strain on the edges and might lead to damage. Another tip is to make sure you moisturize and seal your edges with oil.
The fourth tip is to take in minerals and vitamins that will prevent hair loss. Last but not least, the blogger tells us to make use of hair growth oils. Some of the essential oils you can use to grow your edges include lavender oil, peppermint oil, almond oil, rosemary oil, clary sage oil, and coconut oil.
Products used
2. Ambree Renee
Ambree leads us through the journey of how she experienced postpartum hair loss around her edges. Her hair loss began after the birth of her son. The first thing Ambree did was to use Dr.Miracles Temple and Nape Glow Balm. She applies the oil around her edges and hairline and brushes the hair before going to bed. The second product she used was Kaleidoscope miracle drops.
Using the drops 3-5 times a week and massaging the oil on affected areas promote blood flow. The final product that Ambree swears helped her grow back her edges was the Sunny aisle extra dark Jamaican black castor oil.
Products used
Dr.Miracles Temple and Nape Glow Balm
3. Cynthykay Obi
YouTube blogger Cynthykay says that consistency is paramount in achieving anything, including your hair journey. She talks about the products she used to grow back her edges in three days. The first was the Indian Hemp cream which she applies at night three times a week.
The second product she loves using is the virgin hair fertilizer which she applies to her scalp. The other product she swears on is the Jamaican castor oil. It has antibacterial and anti-fungal properties that promote hair growth. The final hair product Cynthykay advises recommends is the Aloe Vera gel. The Aloe Vera gel promotes hair growth and prevents itching on the scalp.
Products used
4. Alisha Williams
The first product Aisha used to grow back her edge was Mielle organics hair vitamins. The vitamins help with your immune system and also promote hair growth. Also, she applies Jamaica black castor oil to her edges every night before going to bed. She also uses Mielle organics almond oil on her edges after applying edge control gel.
Alisha shampoos her hair once a week to remove all the buildup which might damage the edges. Some of the tips she added that could help you grow back your edges include eating clean, deep conditioning once a week, and wearing a satin bonnet when going to bed.
Products used
5. BeautifulBrwnBabydoll
Dr. Nina of Bautifulbrwnbabydoll shares some of the tips she has used to grow back her thinning edges. The first thing you do is inspect your edges if you are wearing any protective styling. Compare the edges before and after you remove the protective styling.
The second tip she advises is to make it a habit to do regular scalp massages to stimulate hair growth. She also tells us to learn about tropical treatments which help with the repair of damaged hair follicles. The final tip is to reduce the number of times you put on protective styles as they cause tension on the hairline.
Products used
6. Risa's tips
In this video, Risa shares some of the tips she used to grow back her edges with us. Hopefully, you can also use her tips to reclaim your edges. Risa uses a secret treatment comprising of two ingredients. For the preparation, take one tablespoon of peppermint extract and mix it with one tablespoon of castor oil. To use the treatment, squeeze a few drops on your palm and apply them to your edges.
Products used
7. Theve
In this video, Theve shed some light on how she got to grow back her edges after experience hair loss. She talks about how she visited an African stylist who messed with her edges. She had to regrow back her hair using a mixture of Waldorf hair oil, Haitian castor oil, or Jamaican castor hair oil.
Products used
8. Chizi Duru
Hair YouTuber blogger Chizi Duru shares with us some of the tips she used to regrow her edges. Chizi says that one of the things that helped her grow her edges was introducing organic raw oils to her hair care regimen. Also, she said that she has avoided manipulating her hair which usually led to hair breakage. She also moisturizes her hair now and then throughout the week. Some of the oils she uses include avocado oil, grapeseed oil, almond oil, and Jamaican black castor oil. She mixes the oils and puts them in a bottle. She then applies the mixture on her edges and massages the scalp with a hair massager.
Products used
9. Simply Shell
Follow Simply shell on her journey to discovering two huge bald spots around her hairline. The first thing she did in an attempt to regrow her hairline was to get castor oil. This helps to promote and thicken her hair. She also incorporated peppermint oil and vitamin E oil into her hair regime. Eventually, she got a bottle and mixed the three oils. For best results, she applied the oils three times a day. Simply Shell also enlightens us on some of the causes that lead to hair loss. This includes genetics, hormonal imbalance, stress, and medical conditions.
Products used
10. Gigi beauty
This vlogger lets us in on some of the products she has incorporated into her routine to grow back her edges. She starts her hair routine by washing her hair with black soap twice a week. Furthermore, she conditions her hair at least thrice a week and then applies shea butter on her hair. Then, she applies coconut oil and massages it on her scalp and edges. The last product she uses is Jamaican black castor oil. The result is phenomenal.
Products used
Hair loss is something you wouldn't want to experience. However, if it happens, you don't need to panic. There are various tips you can borrow from the above bloggers to grow your edges. Also, ensure you avoid hairstyles such as box braids, cornrows, and high puffs. These styles might cause tension on your rims. Have you ever experienced hair loss? What did you do to grow the hair back? Tell us in the comment section below.
Conclusion
Having long edges has a lot of benefits. It gives you the privilege to wear hairstyles that others can't. Long edges add to your beauty when properly styled. Hopefully, our tips will be able to help you to grow back your edges. What other routines do you use to grow your edges? Let us know in the comment box below.