Knotless Braids: The Essential Guide to Mastering this Chic Hairstyle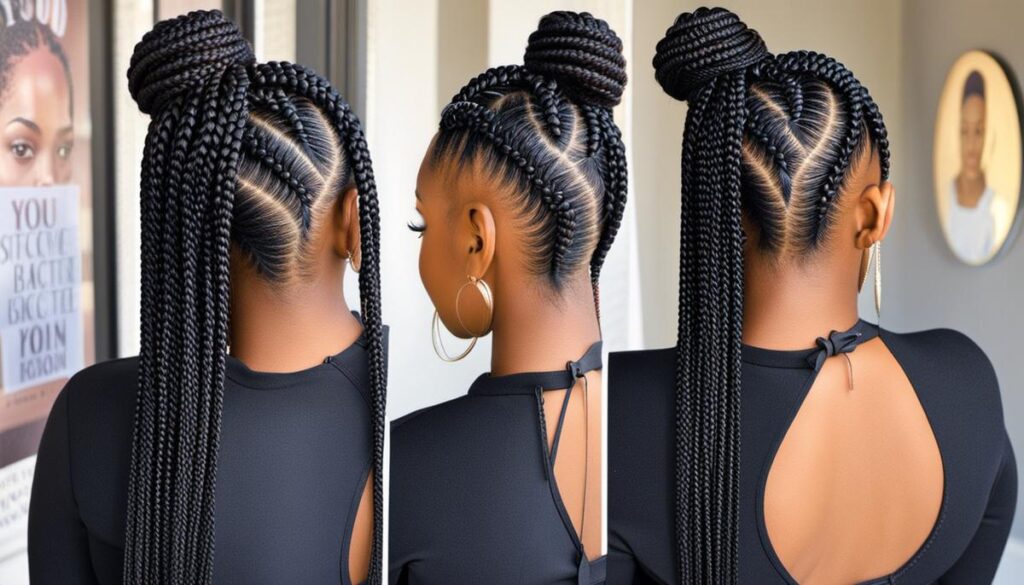 Imagine a hairstyle that combines the timeless appeal of braids with modern fashion, and at the same time, reduces the damage typically associated with this age-old style. Welcome to the world of knotless braids, a trending beauty phenomenon that offers you both appeal and the comfort of a painless hairdo. This Hair styling innovation—increasingly gaining traction in the beauty scene—isn't just a fashionable choice; it's a healthier alternative to traditional braids, proving less damaging to your hair. Illuminate your understanding of this extraordinary trend, from diverse styles to maintaining them, ensuring you look glamorous and keep your hair at its healthiest. Are you ready to broaden your horizons past conventional braid styles?
The Basics of Knotless Braids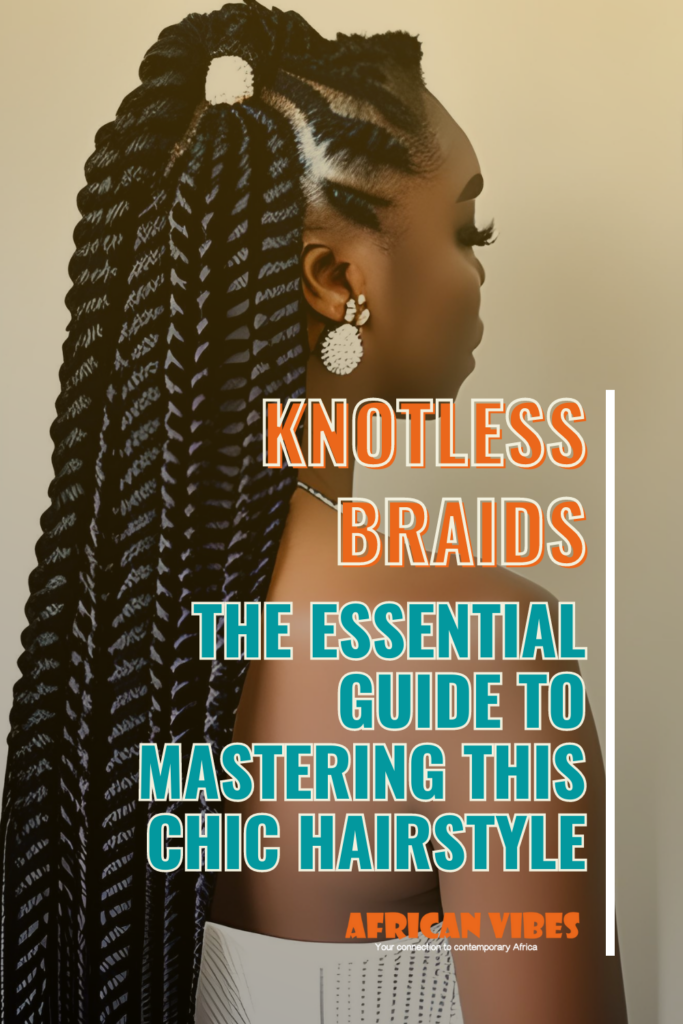 What Are Knotless Braids?
Knotless braids are a trend in protective hairstyling that's growing in popularity within the natural hair community. They are essentially a variation of box braids, a timeless style where hair is partitioned into squares (or boxes) and each section is individually braided. The difference lies in the technique used to attach the extensions. Traditional box braids start with a small knot at the scalp to secure the extension hair, but knotless braids incorporate the extension hair seamlessly into the natural hair, eliminating the knot.
Popularity of Knotless Braids
Knotless braids' popularity can be chalked up to their less damaging and more comfortable nature compared to traditional braids. The lack of a knot at the start of the braid means less tension on the scalp, reducing discomfort and the likelihood of irritation, hair breakage, or traction alopecia – a form of hair loss caused by repeated pulling on the hair. Furthermore, without the knot, the braids lay flatter against the scalp, which gives a more natural appearance.
ALSO READ: 10 Best Back To School Naturalista Hairstyles
Advantages of Knotless Braids
One major benefit of knotless braids is the reduction in tension. Traditional braids often involve pulling and tugging at the roots, resulting in discomfort and potential damage. Knotless braids, on the other hand, distribute the weight of the extensions across the braid rather than concentrating it at the root. The resulting look is not only healthier for your scalp, but also more natural. From an aesthetic viewpoint, knotless braids create a seamless transition from your natural hair to the extensions making the style entirely believable. Currently, knotless braids are trending because they fulfill what most people want from their protective styles: minimal pain, reduced risk of damage, a natural look, and versatile wear.
Styles of Knotless Braids
The versatility of knotless braids comes from the numerous styles that people can choose from. To start, different sizes of braids are achievable, from tiny micro braids to chunky jumbo braids. The size chosen is often dependent on the person's preference, the amount of time they are willing to spend getting their braids installed, and their desired final look.
Furthermore, once the braids are installed, they can be styled in a variety of ways. A simple yet elegant option is to let the braids hang loosely over the shoulders. Those seeking a more elaborate look could opt for a structured updo, while others might prefer a casual half-up, half-down style. For a statement look, accessorizing the braids with hair rings or beads is a popular trend.
In terms of color choices, the options are virtually limitless. While some prefer to stick to their natural hair color, others choose to experiment with vibrant or pastel shades, or even an ombre effect. Ultimately, every aspect of the knotless braids style can be customized according to individual preferences, making it a versatile and attractive option for anyone looking for a protective style.
ALSO READ: 15 Stunning African Women Headwrap From Instagram
Proper Care for Knotless Braids
While knotless braids are less damaging and more comfortable than traditional braiding styles, it's crucial to remember they still require consistent upkeep. Regular scalp care is often the key to maintaining this hairdo, involving the use of oils to ensure the scalp remains moisturized and healthy. Washing, too, has its role; a mild shampoo solution is ideal for keeping the scalp clean while retaining its crucial natural oils. Indeed, while knotless braids need maintenance, the comfort, aesthetics, and versatility they offer make their upkeep a worthy investment for many.
Different Knotless Braid Styles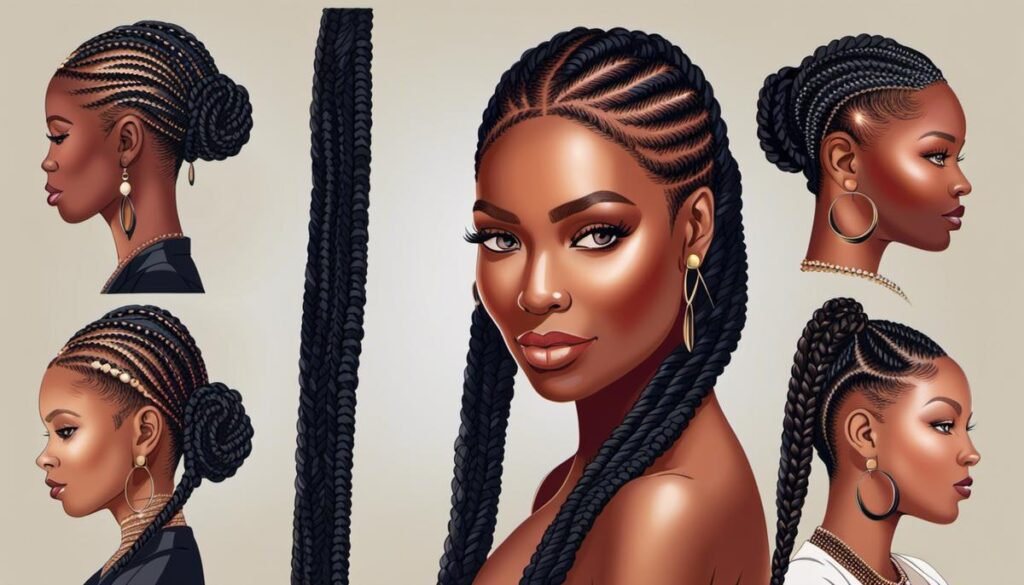 Concept and Appeal of Knotless Box Braids
Understanding that knotless designs stem from the traditional African braiding styles, it's clear these have held their popularity since their rise in the United States during the 90s. Knotless box braids are distinct from their regular counterparts because they lack the characteristic knot that sits at the root of the scalp with usual box braids. This absence creates a sleek, integrated appearance that's less bulky and more comfortable than traditional box braids. Being not just stylish and neat, but also versatile, these braids are perfectly suited for those aiming to protect their natural hair. Although they work best with thicker hair types, anyone who can braid their hair can have knotless braids.
ALSO READ: The Ultimate Guide to Understanding Your Natural Hair Type
Knotless Jumbo Braids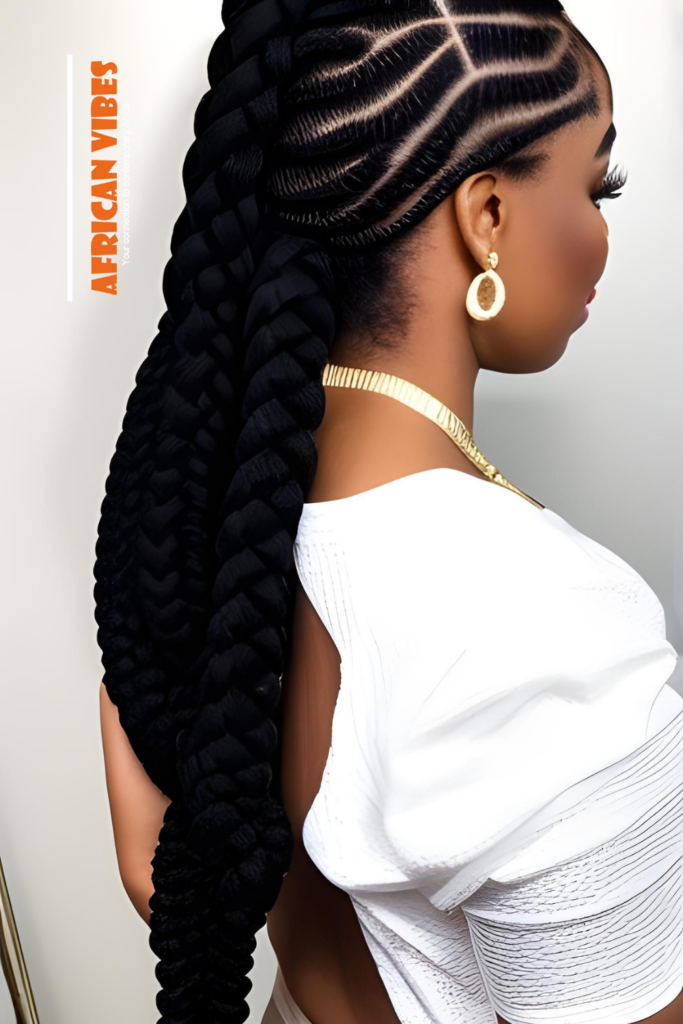 Knotless jumbo braids, a variation of the knotless box braids, differ in terms of size – they are significantly larger. The larger size means the braiding process can be a bit quicker, and they are also a bit lighter on the head. This style leaves room for more freedom and can be dressed up for formal occasions or dressed down for a casual day out. They are an excellent option for those who wish to achieve a bold, dramatic look without causing discomfort or tension to the scalp.
Half-Up, Half-Down Knotless Braids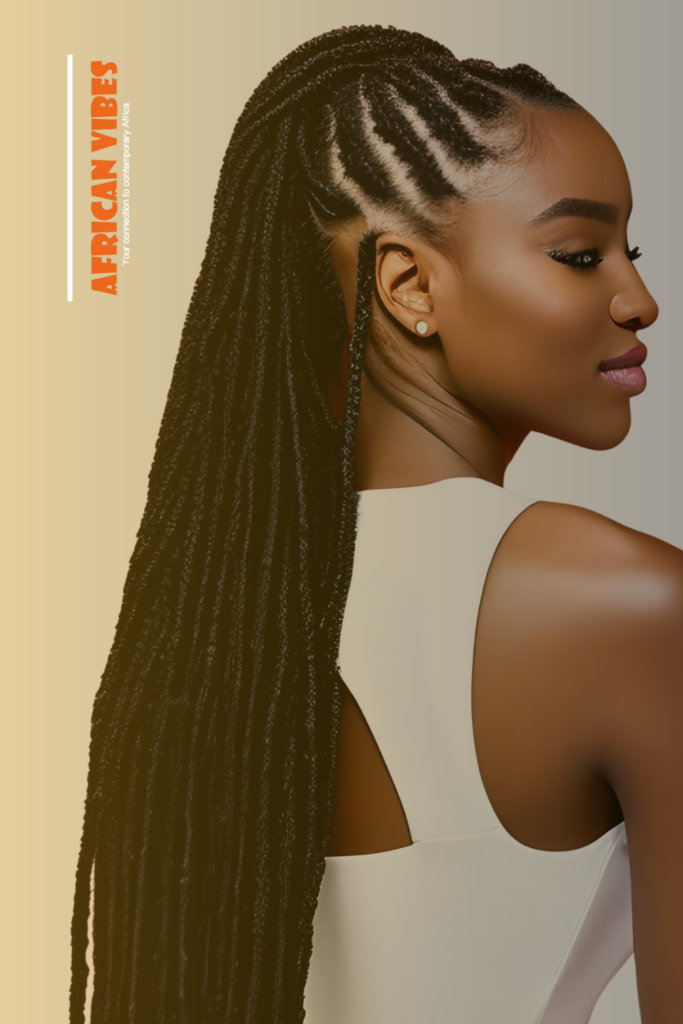 Half-Up, Half-Down Knotless Braids are a versatile option that allows wearers to enjoy the best of both worlds. This style incorporates both free-flowing braids and a stylish updo, sometimes enhanced with accessories like hair rings or wraps. The updo portion of the style can be braided into a bun, a top knot, a ponytail, or similar to add dimension and visual interest. Suitable for all hair types, this style is a favorite for special events or parties where an elegant but distinctive look is desired.
ALSO READ: 15 Cool Haircuts For Black Men
Mid-Length Knotless Braids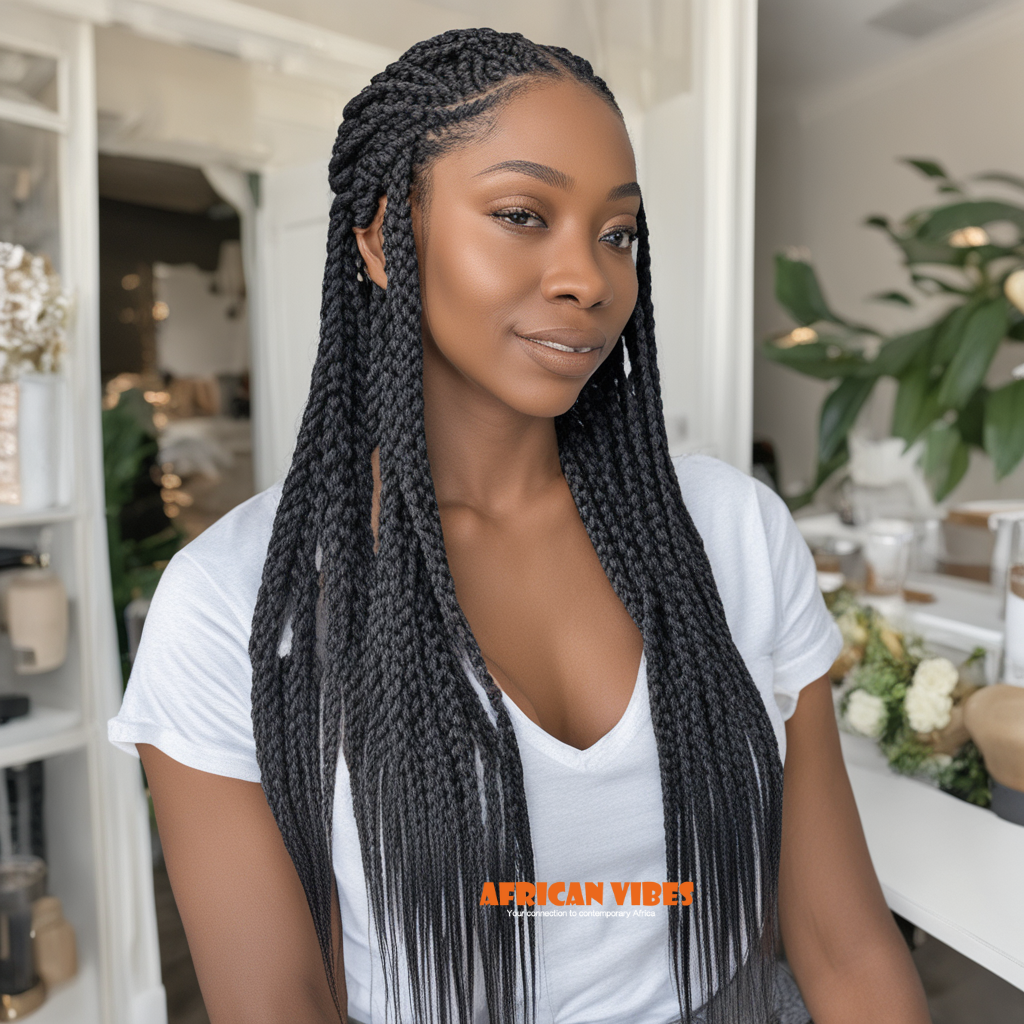 Mid-Length Knotless Braids offer a stylish, fun, and more casual look. Instead of extending down to the waist or beyond like traditional box braids, these braids generally extend to around the shoulder or the chest area. This style emphasizes comfort and ease of maintenance, and exudes an air of youthful exuberance. Mid-Length Knotless Braids work best for those looking for a low-maintenance style that can be worn on both formal and informal occasions.
Knotless Braids with Curls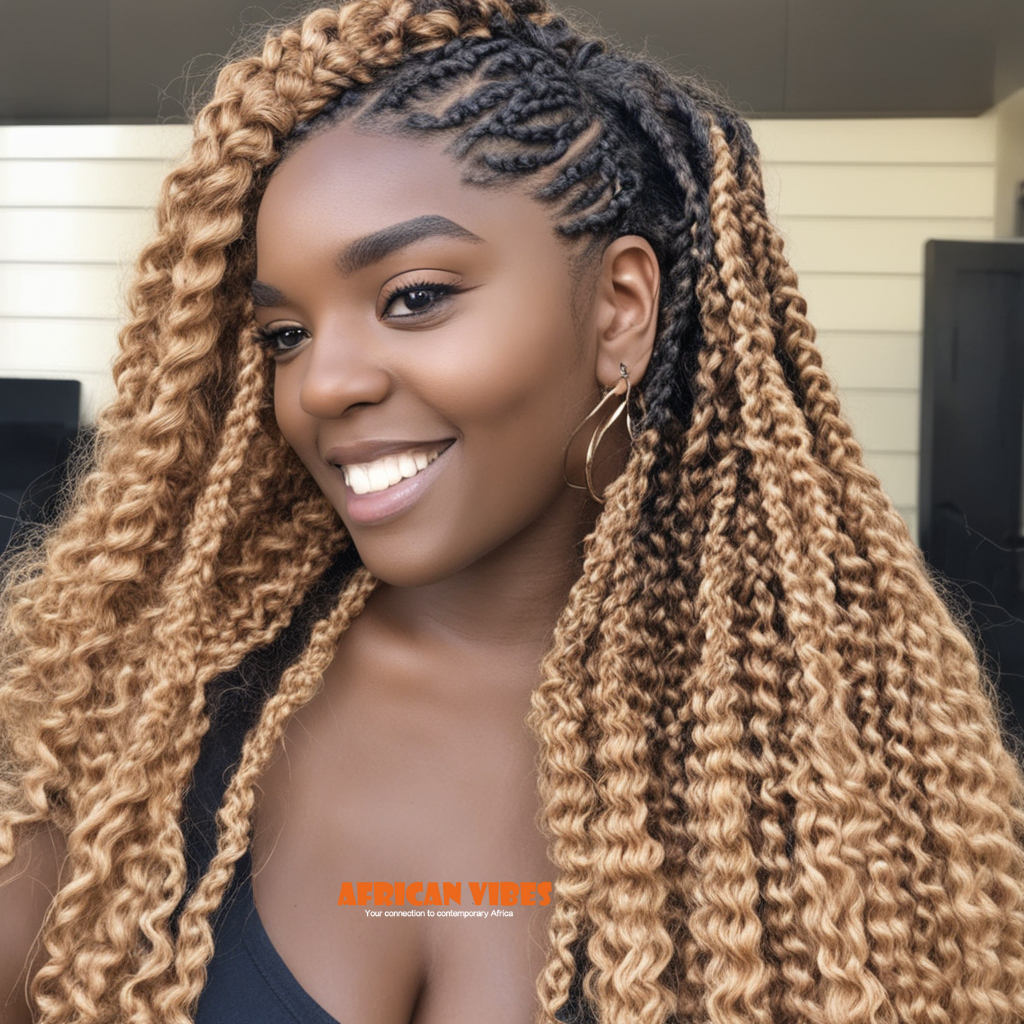 Knotless braids with curls add a fun twist to the traditional knotless braid style. This includes curling the ends of the braids or incorporating curly hair into the braiding process for a voluminous, textured finish. This style tends to look more natural and is ideal for those who want to incorporate a bit of playfulness into their protective style. They work well for casual occasions, summer parties, and beach outings, and are suited to all hair types that can be braided.
ALSO READ: 15 Fascinating Crochet Braid Hairstyles For Hair Growth
Knotless Braids with Beads: A Unique Approach to Style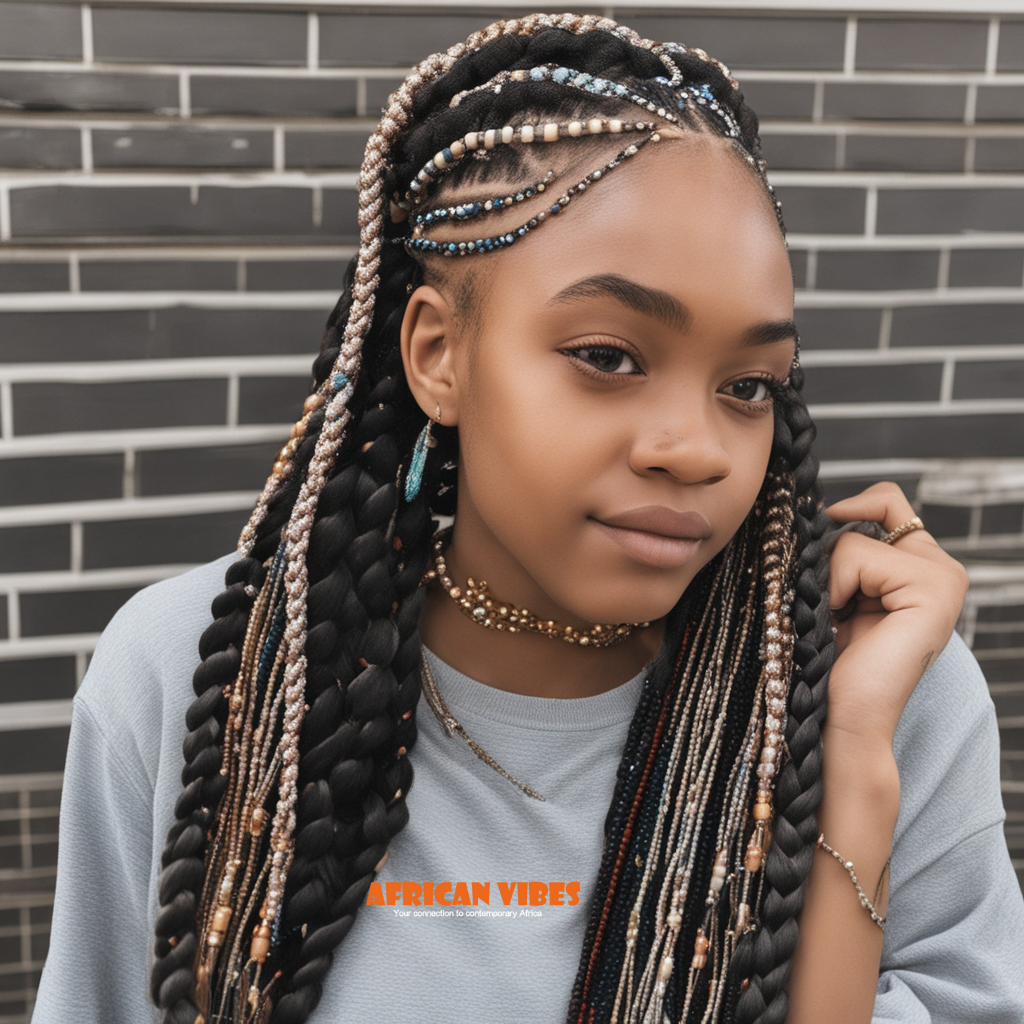 In the colorful world of hair fashion, knotless braids with beads are a standout style that allows for personalized expression. These braids take a stylish twist by incorporating accent beads at the ends, with the color, size, and pattern of beads enabling individual flair. Their added weight contributes to the natural movement of the hair while their care demands a little extra attention. Regardless of the hair type, as long as it is long enough to be braided, this style can grace any head, and suit both casual and formal ensembles equally well.
Step-by-step tutorial of Knotless Braid Styles
Getting to Know Knotless Braids
At the heart of hair fashion trends, knotless braids hold their ground as a popular protective style. Standing out from traditional box braids, knotless ones lead off with your natural hair and tend to incorporate extensions to add more length. This results in a smooth, "knotless" onset of the braid which brings with it a whole new aesthetic. Although the technique demands considerable skill, mastering it at home is quite feasible with the right combination of practice, patience, and the appropriate tools.
Preparing for Knotless Braids
To achieve knotless braids, start by thoroughly washing, conditioning, and detangling your hair. A clean and tangle-free canvas ensures that your braid installation will go smoothly and last longer. Once your hair is clean and conditioned, it's time to prep for the braiding process. This involves parting your hair into sections and applying a heat protectant, and blow-drying your hair straight for easy braiding.
ALSO READ: Which Of These Would You Consider An Unprofessional Hairstyles If You Saw It At A Corporate Job Interview?
The Knotless Braiding Process
Start by sectioning off a piece of your hair. The size of the section depends on how large you want your braids to be. Apply a bit of edge control or gel to the roots for a smoother finish, then divide the section into three strands for braiding.
Next, begin a traditional three-strand braid with your natural hair. After a couple of rotations, add a piece of braiding hair to one of the strands and continue braiding downward, while incorporating the extension hair into the braid. Continue adding braiding hair to the strands as you move down, ensuring that each addition is even and smooth. The key to knotless braids is to consistently add the braiding hair, resulting in a seamless transition from your natural hair to the extensions.
Maintenance and Care for Knotless Braids
Maintaining knotless braids isn't difficult, but it does require a routine. To keep them looking fresh, reapply edge control to your roots every few days, and wrap your hair in a silk or satin scarf when sleeping to minimize frizz. Regularly moisturizing your scalp with oil will also help to prevent itchiness and promote hair health. Furthermore, washing your braids gently every two weeks can help to keep them clean without causing frizz or unraveling.
ALSO READ: These 15 Short Natural Haircuts Will Have You Chopping Off Your Hair 
Changing Up Styles with Knotless Braids
There's no shortage of ways to style your knotless braids. You can wear them down, or try updos like a high ponytail or a bun. Half-up styles, side-swept looks, and braided crowns are also popular. For a fun twist, you could add colorful extensions or accessorize with beads, rings, or wraps.
If you're interested in trying your hand at knotless braids, remember, mastering this style won't happen overnight. There's a learning curve involved, but with persistence, patience, and regular practice, you'll soon be creating beautiful, seamless knotless braids that not only look good but feel comfortable too.
Maintaining and Caring for Knotless Braids
Grasping the Concept and Popularity of Knotless Braids
Rooted deeply in African culture, knotless braids have gained international fame for being an elegant and sleek hairstyle choice. The uniqueness of knotless braids comes from their well-manicured, knot-free features, just as the name suggests. They offer a strikingly smooth finish and present a great alternative to traditional box braids that typically sport visible knots at the base. Due to their stylish yet uncomplicated visual appeal, coupled with their scalp-friendly nature, the popularity of knotless braids continues to rise at a rapid pace.
Maintaining and Caring for Knotless Braids: Washing Routine
For proper maintenance of knotless braids, many hair experts recommend washing your hair at least once a week to keep it healthy and clean. This can be done by diluting your shampoo with water to easily lather through your braids. Rinthing should be done in a downward motion to avoid creating frizz. After rinsing, applying a leave-in conditioner is advisable to restore moisture and prevent dryness of the scalp and hair. It's important to remember to wrap your braids in a microfiber towel or cotton t-shirt to minimize frizz and breakage while drying.
ALSO READ: 15 Natural Hair Products to Use for Curly, Coily, and Kinky Hair Textures
Choosing Suitable Hair Products for Knotless Braids
The choice of hair products plays a crucial role in preserving the quality of knotless braids. One common recommendation is to use alcohol-free and sulfate-free shampoos and conditioners. These types of products help prevent unnecessary dryness and breakage, which can ultimately damage the braids. In addition, the use of braid sprays and oils can provide additional moisture and shine, countering potential dryness caused by regular washing.
Solutions to Common Problems
One common problem faced by individuals with knotless braids is frizz. Although this tends to occur naturally over time, it can be minimized via proper hair care. Wrapping the braids in a silk or satin scarf before sleep is a popular solution, as it prevents friction that can cause frizz. If needed, daily application of light oil or serum may also help in managing frizz. Uncomfortable tension and itchiness are other common issues. To combat these, avoid pulling or touching your braids excessively and apply a soothing scalp solution if discomfort persists.
When to Take Out Knotless Braids
With good care, knotless braids can last up to eight weeks. However, it is best to listen to your own hair and scalp. If there is excessive itching, discomfort, or if the braids are starting to look loose or fuzzy, it may be time to consider taking them out. Overstaying of any protective style, including knotless braids, can cause more harm than good. This can include breakage, shedding, or other scalp complications. After removing the braids, it's equally crucial to allow your natural hair some time to breathe and rejuvenate before installing another set of braids.
ALSO READ: 15 Rubber Band Hairstyles Getting Everyone Crazy
Knowledge, they say, is power, and understanding the essence of knotless braids, how to create them and properly care for them is a game-changer. The journey through the intricate world of knotless braids need not be daunting, with an array of styles to suit different occasions, hair types, and personal preferences. However, the key to spectacular knotless braids isn't just in crafting them—it's equally pivotal to maintain them effectively. By doing so, you'll be able to enjoy the beauty and comfort of this stylish hairdo for longer, while preserving the health of your hair. So whether you opt for box braids, feed-in braids, or even micro braids, remember to wear this stunning braid style as an expression of your unique personality.