10 Bloggers Share Tips to Grow Your Natural Hair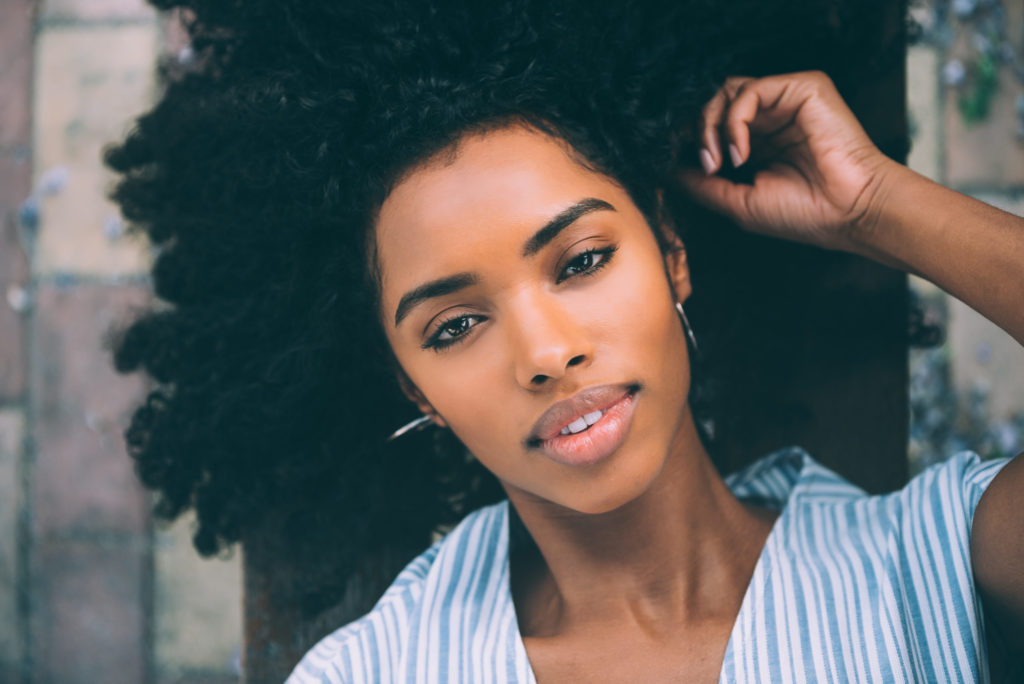 There is nothing as beautiful as having a full crown of tidy natural hair. For some women, the secret to their beauty is their hair. Full hair makes a woman bold. However, for reasons such as poor diet and stress, some women experience increased brittleness and breakage that leaves their hair messy. It was trying to solve this problem that made Madam CJ Walker a millionaire.
Getting the glow back to your hair is not always easy. For some, it sets them on a journey of using endless hair products. We all know the financial implications of that. If you have ever had a hair breakage case, you'll know how much of a mess it can be. However, hair breakage is not the end of the world for you. If you find it hard to take care of your natural hair, read on to find out how these 10 bloggers grew their natural locks.
#1. Omoni Oboli
If you are a fan of Nollywood, you probably know Omoni Oboli already. Oboli says she uses protective styling to grow her natural 4C hair. Some of the protective hairstyles she uses are twist outs, wigs, or cornrows. Using protective styling enables her hair to rest and not to break due to over manipulation. Another valuable tip, she explains, is always to be gentle to your hair.
#2. Eugenia Kelcy
Eugenia says that she began her natural hair journey in 2014. The first step Eugenia made in growing her 4C hair was to use Fenugreek seeds. She puts the seeds in water, let them sit for about 30 minutes, and separate the Fenugreek seeds from the water. She puts the water in a spray bottle and uses it to moisturize her hair. Also, she adds that you should use the best natural hair products and get them from companies that mainly deal with producing natural hair products for all hair types. Another tip that she used to grow her black natural hair is to use oils like coconut, avocado, and olive oil to massage her hair. She says that she loves using these oils because they have a low molecular weight that can easily be absorbed into the hair follicles.
#3. Mercy Gono 
Mercy says that the key behind her long black natural hair is using natural hair products. One of her best products is the Aloe Vera gel. The best part is that she single-handedly prepares the gel herself. After cutting the Aloe Vera into several sections, she scoops off the juice, putts it in a spray bottle, and sprays it on to her hair. She lets the Aloe Vera juice sit on her hair for some minutes, rinses it off, and then lets her hair air dry. If you are thinking of a way to cut back on your hair product budget, this might be the key to that lock.
#4. Sadora Paris
Sadora says that the reason her hair has grown is that she takes multivitamins, regularly works out, and periodically oils her hair using natural oil that she made. She first washes her hair thoroughly, conditions it, and applies the oil on her hairline. Then she waits for the oil to be absorbed onto her hair follicles, and wash off the excess. Afterward, she lets her hair air dry and applies the oil on her hairline and scalp. Do you want to know the secret formula to her self-made natural oil? Follow her YouTube channels.
#5. Whitney from NAPTURAL185
Whitney is the founder of Naptural184 and she runs a successful YouTube channel that mainly discusses tips on how to improve your natural hair. Some of the advice she shares includes clarifying your hair. Yes, you need to continually wash your hair if you want long and healthy locks. Also, she advises that you come up with a hair routine. Part of this routine should be washing your short natural hair at least once per week.
#6. Idee Francis
You probably won't believe what this blogger uses to grow her hair. Idee Francis uses a concoction of ginger, onions coconut oil, and extra virgin oil to grow her kinky natural hair. Idee says that onion is good for improving hair growth since it nourishes the hair follicle, reduces hair breakage, and has antibacterial properties that prevent scalp infections. Ginger, on the other hand, reduces or eliminates dandruff, and promotes hair growth.
#7. Queen Kay
Queen Kay attributes her hair growth to sleeping with a cover on. This hair blogger says that you will never find her sleeping without a silk bonnet or a headscarf. The second tip she used to grow her hair is deep conditioning her hair every week without fail. She also uses easy non-evasive protective styling on her naturally curly hair. We can go on and on but it would be easier to hear it directly from her. Subscribe to her YouTube channel for more tips.
#8. Amanda Walker
Amanda Walker shares with us her 5 tips to growing a fuller natural hair. The first tip is to ensure that you use hair growth vitamins such as Biotin hair supplements. The second tip she shares is to massage the scalp. Amanda says that the first time she started her hair journey, she used to massage her scalp with her fingers. She later invested in a groove scalp massager tool to help with massaging her scalp. This gets the blood flowing and stimulates the follicle for hair growth. For her, this was the game-changer.
#9. Audrey Victoria
Audrey says that the secret behind her shiny, healthy long natural hair is rice water. In fact, using fermented rice water can be that breakthrough you have been waiting for too. Audrey suggests that you first take between 1-2 cups of any rice of your choice, put it in a bowl and rinse it to remove all the dirt.
Take a sealed container and put the rice in. Secondly, you fill in the jar with water, close the lid, and shake the jar containing the rice. The purpose of shaking the jar is to release all the nutrients, vitamins, and minerals into the water. The next step is to let the rice water sit in for about 24 hours to ferment. After 24 hours, you put the rice water in a spray bottle and spray it on your hair after washing and conditioning. Sounds amazing, right?
#10. Tomi Alisha
Before embarking on a journey to grow her hair, Tomi went completely bald. Consequently, she developed a regimen to grow her hair back. She had to go that extra mile just to prove that her regimen works. The first tip she uses on her hair is low manipulation. Also, she ensures that she keeps her hair detangled after washing to avoid pulling too hard when combing the hair. The second tip borders around simple styling. The third tip is using safe ingredients on her hair, such as organic products. In addition, she uses a satin bonnet on her hair when going to bed.
Growing your hair does not have to be an uphill task—and that is one thing we learned from these bloggers. Perhaps, you have been doing it wrongly. Also, it is important to point out that we are all different and unique in our little ways. Therefore, what works for one person may not work exactly the same way for you. Try different methods until you find the best one for your locks. We would love to hear your success tips too. Feel free to share your story using the comment box below.