10 Best Back To School Naturalista Hairstyles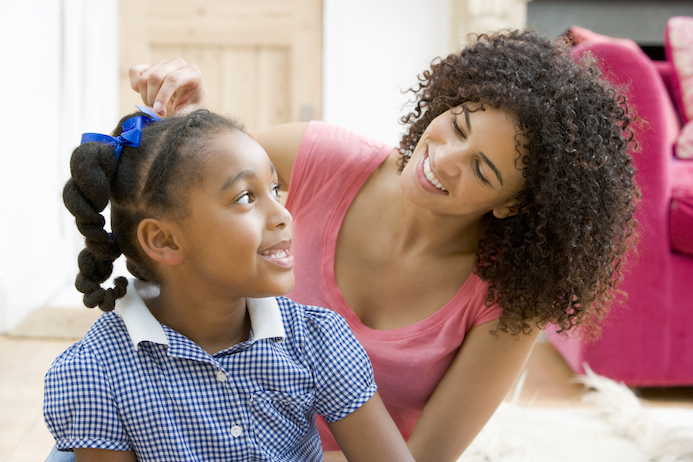 There are endless opportunities for people with black hair. Whether you are a grown-up or a child, you can achieve different naturalista hairstyles. Therefore, you no longer need to worry about rocking complicated hairstyles when you don't even have enough time to go to the salon. There are numerous hairstyles that you can rock which are simple and gorgeous. Some schools are reopening after a lengthy lockdown and your child's hairstyle should never be part of your anxiety. Below is our list of the coolest back to school naturalista hairstyles that you and your little one can try out.
Back to School Naturalista Hairstyles for Kids
1.     Naturalista Hairstyles – Double line Bantu knots
As a parent, at times, you might get confused on how to style your child's hair. The double line Bantu lines are the best, especially if you have a young one. The style is easy to achieve, and it does not need a lot of products. To achieve the style you first need to part the hair into two equal sections.
Secondly, part the hair into smaller sections and tie it into small Bantu knots. Repeat the same for the other section. Thirdly, untie the knots and spray the hair with a mixture of water, oil, and cream. Take hair gel and apply it on each section of the hair. Take pieces of rubber bands and tie them on each hair section.
Use colored hair bands to tie all the sections of hair, detangle the hair, and begin to twist it into a cornrow. Repeat the same on the other section of hair and voila you have a beautiful and neat back to school style.
Products to use
2.  Naturalista Hairstyles-    Front and back end cornrow ponytail
First and foremost, you need to apply sun sheen heat protector to protect your child's hair from the heat from the blow dryer. Secondly, take a wide-tooth comb and detangle the hair. Use a cap on the rest of the hair to prevent it from drying.
Afterward, blow-dry the hair and trim the split ends. Next, you do a simple cornrow at the center of the head from the front end and the back end.  Make to ponytails on your child's hair using gel and ponytail holders to hold the hair in place. Also, take edge control hair care and apply it on the edges of the hair. Finally, take a soft brush and brush the hair and there you have it a sleek natural hairstyle for your baby.
Products to use
3.    Naturalista Hairstyles –  Twists Mohawk style
If you want to try a new naturalista hairstyle for your child that you can do in less than 30 minutes, then this twist out back to school style is your best bet. To start, you need to section one side of the hair, apply aloe Vera leave-in condition, then, use DIY liquid oil and apply it throughout the length of the hair.
Next, you need to take TGIN buttercream and use it as a moisturizer on the hair. Apply the buttercream generously on the hair and start rope twisting it. Repeat the same step on the opposite side of the hair and rope twist the hair after moisturizing it. The next step is to take the remaining part of the hair and moisturize it using liquid oil and cream.
After the hair has been well moisturized, you tie it into a ponytail using a hairband. Try not to make the hair too tight as it might cause discomfort for your child. Afterward, you twist the ends of the ponytail, and you can make them as small or big as you want.
Repeat the process on the back part, but first, you section the hair into two parts and tie each section with a rubber band, and rope twists the ends. Also, you can play around with different styles with the twist Mohawk style. You can also make another style by using beads or double-sided ballets on the hair.
In addition, you can tie the hair into Bantu knots by wrapping the twists into a bun to come up with a different style. You can spruce it up by using metal jewels on the hair to create a tribal look.
Products to use
4.     Naturalista Hairstyles – Bubble ponytails
For this hairstyle, you start by creating a part on the back part of the hair. Next, you need to section three parts and apply blueberry bliss control paste on the hair. The next step is to tie the locks using rubber bands until you are done with the entire hair length.
However, before doing this, ensure that you first detangle your baby's hair as this will make the ponytail to appear smooth. Repeat the same process on the whole hair, and you can also partition the hair into different patterns. To make the ends curly spray a little water and apply shea butter.
Products to use
5.  Naturalista Hairstyles –    Four braided ponytail
To achieve this style, you first spray your baby's hair with water from a spray bottle. Next, you need to create a part from ear to ear. Detangle the hair and section the hair in a diagonal manner from the end of your baby's eyebrow. Use edge control on the edges of the hair to give it a sleeker look.
Comb the hair again and use a soft bristle brush to smoothen out the sides. Also, take two elastic bands, tie them on the hair into a ponytail and braid out the hair. Repeat this step again on the second and third ponytail. Finally, add some hairballs or bubbles on the ponytails and ballets at the ends for a sassy look.
Products to use
Back to School Naturalista Hairstyles for Adults
6.     Naturalista Hairstyles – Braid out
The easiest and fastest back to school naturalista hairstyle is a simple braid out. You can rock this hairstyle from three days to a week if properly maintained.
The second style you can achieve once you have braided your hair out is a plane on a ponytail style. To achieve this style, you need to take hair from your left and right side and gently tuck it in using a clip. Furthermore, leave the rest of the hair at the back loose to create a ponytail effect. Also, you can leave some hair at the front to create some bangs.
The third style you can achieve is the afro puff. Don't forget to accessorize the hair with a hairband. You can also leave out your hair and tie a ribbon on one side of the hair. Besides, you can complement your look by wearing a glittering pair of earrings.
Products to use
7.    Naturalista Hairstyles –   Short afro style
If you have 4c natural hair, then, this style will suit you. You need to start by applying pink oil hair moisturizer on your hair. Next, you take your afro comb and comb out your hair. Take an edge booster to smoothen out your hair edges. You will also need some bobby pins and a soft brush. Brush both sides of your mane and clip it in with a bobby pin. Take your afro comb and pick out your locks to give it more volume and voila you are done.
Products to use
8.    Naturalista Hairstyles-   Sideways bun
At times you might run out of ideas for your hair if you have short hair. Well, if you have problems getting naturalista hairstyles for your short hair try this simple and easy style which you can achieve in less than five minutes.
Firstly, you need to section the front part of your hair with fingers and clip it aside. Secondly, create a side ponytail with the rest of the hair using your fingers and a brush. Thirdly, secure your hair in a bun, split the ends of the hair into two sections and twist them in opposite directions to make a bun.
Then take a pretty hairband and tie it around the bun. Unclip the front part of the hair; comb it out using your fingers or a brush and then clip it back again in a sideways motion. There you have it a beautiful sideways back to school bun hairstyle.
Products to use
9.    Naturalista Hairstyles –  Twisted afro high puff
With this style, you need to first moisturize your hair with water. The second step is to take a comb and section one side of the hair in a diagonal manner. Apply moisturizer on the other side of your hair and braid out the hair that you have sectioned.
Apply hair cream on the hair as you braid your hair. Take several bobby pins and pin the ends of the cornrows to the rest of the hair. Also, you can apply eco styler gel to come up with another afro braided puff style. There you have it, another simple naturalista hairstyle that you can achieve in less than 10 minutes.
Products to use
Naturalista Hairstyles –Two braids afro puff
Want to make a grand entrance that will make you the center of attraction as you go back to school? Then, try the two braids afro puff style. The first step to achieve this style is to part the front part and make two braids. Secondly, take a ribbon and tie it on your hair to create an afro puff. Braid out the front section of the hair and braid it again into two neater braids.
The next step is to take an Eco styling gel, apply it on a brush and brush out the edges on your hair. Take a headscarf and tie it around your hair to make the Eco styling gel set in well. When ready, you take off the headscarf and try to lay out the edges again. To spruce things a little, you can take some hair jewelry and attach them to the two braids hanging out the front of your head.
Products to use
Conclusion
If you are a naturalista, it will interest you to know that there are myriads of Naturalista Hairstyles that you can try. You can play around with it and come up with different hairstyles for every occasion. Who said you can't even create your own unique style? Also, you can achieve back to school naturalista hairstyles for your baby or yourself from the comfort of your home. Thankfully, there are lots of affordable products to give your hair a more sleek and defined look. Tell us, which of the hairstyles do you think you will try? We will love to hear from you.