Crafting The Perfect Beyoncé-Inspired Lemonade Braids🍋: A Comprehensive Guide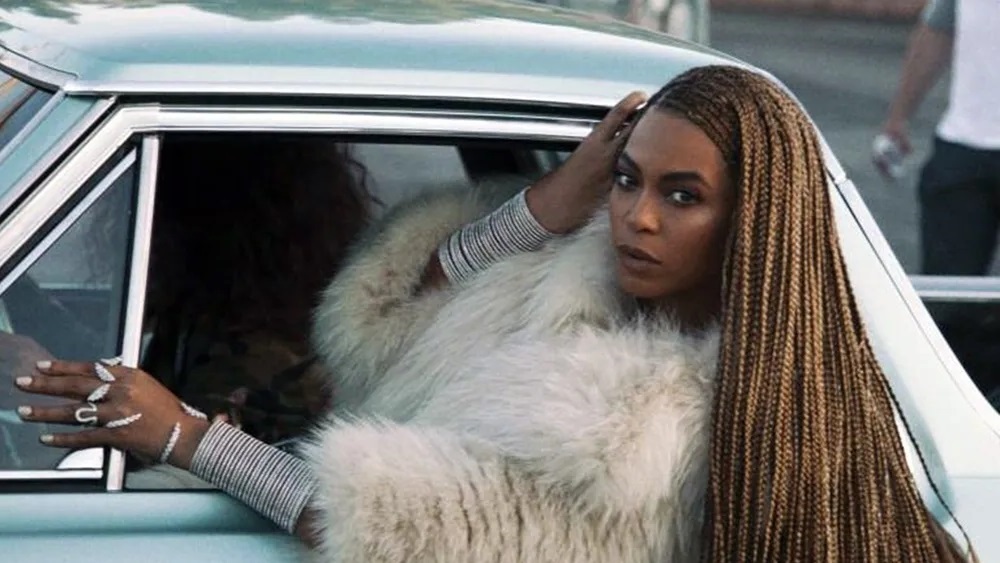 Braids have always held a special place in the world of hairstyling, and the buzz around Lemonade Braids has only reaffirmed their timeless charm. Named after Beyoncé's iconic look in her "Lemonade" album, these side-swept braids have become a staple for many. And for those rocking short hair, there's good news: You can absolutely enjoy this style!
Lemonade braids have taken the beauty world by storm, and with good reason. Not only are they absolutely stunning, but they're also versatile, making them a go-to style for many. If you're keen to master the art of creating the perfect lemonade braids, this detailed guide, inspired by Design Lemonades' tutorial, is all you need.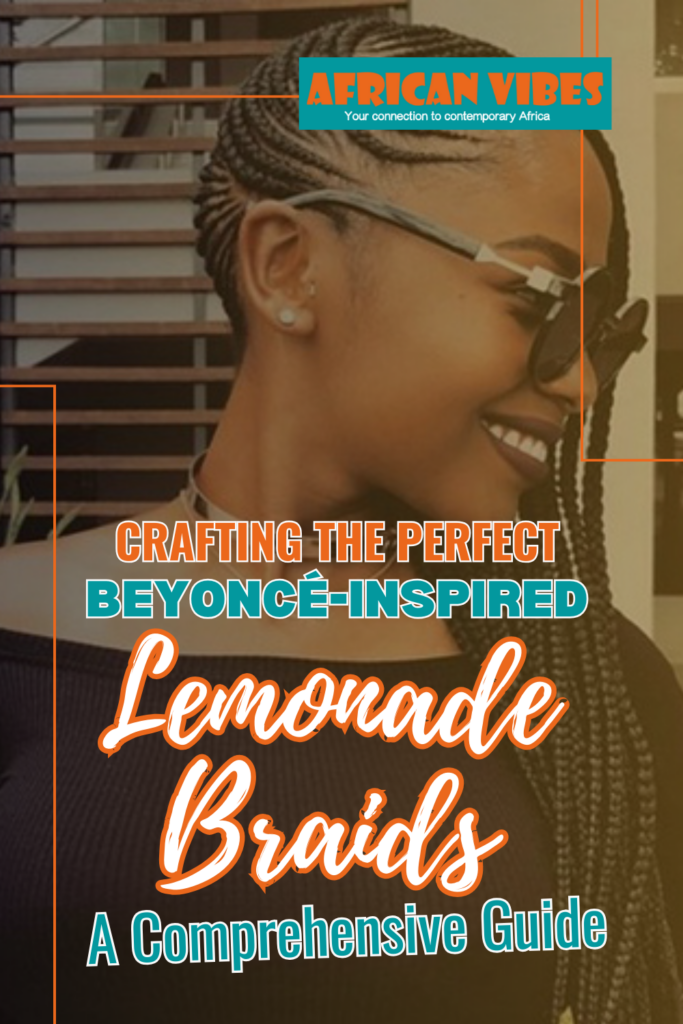 🌟 What Are Lemonade Braids? 🌟
Lemonade braids are essentially side-swept cornrow braids that cascade down one side of the head, and they're characterized by their thickness, length, and intricate patterns. They can be accessorized with beads, cuffs, and other hair embellishments to further enhance their beauty.
✨ The Beyoncé Influence ✨
Beyoncé debuted her Lemonade braids in her visual album, showcasing the hairstyle in various scenes. Since then, they've become synonymous with power, beauty, and Black cultural heritage. Beyoncé's homage to traditional African hairstyles gave Lemonade braids an elevated status in the world of beauty.
ALSO READ: 13 Easy Black Hairstyles For The Perfect Date Night
🌺 Benefits of Lemonade Braids 🌺
Protective Hairstyle: They shield your natural hair from daily wear and tear, protecting it from damage.
Versatility: Customize them in terms of thickness, length, and added accessories.
Low Maintenance: Once done, they require minimal upkeep and can last for weeks.
How to Create Lemonade Braids: A Step-By-Step Guide
Lemonade braids are a gorgeous and cost-effective hairstyle, popularized by Beyoncé. If you're looking for a walkthrough on how to achieve this style at home, you've come to the right place. Not only will you save hundreds of dollars by doing it yourself, but you'll also feel an immense sense of pride. Ready to dive in? Let's go!
What You'll Need:
The Process:
1. Preparation: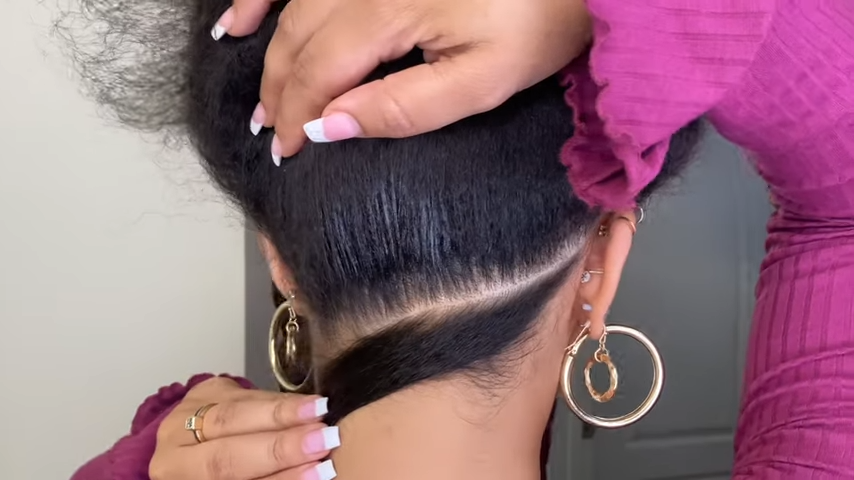 Begin by selecting the size of the hair parting you want. This guide uses parts starting from the ear and finishing by the neck.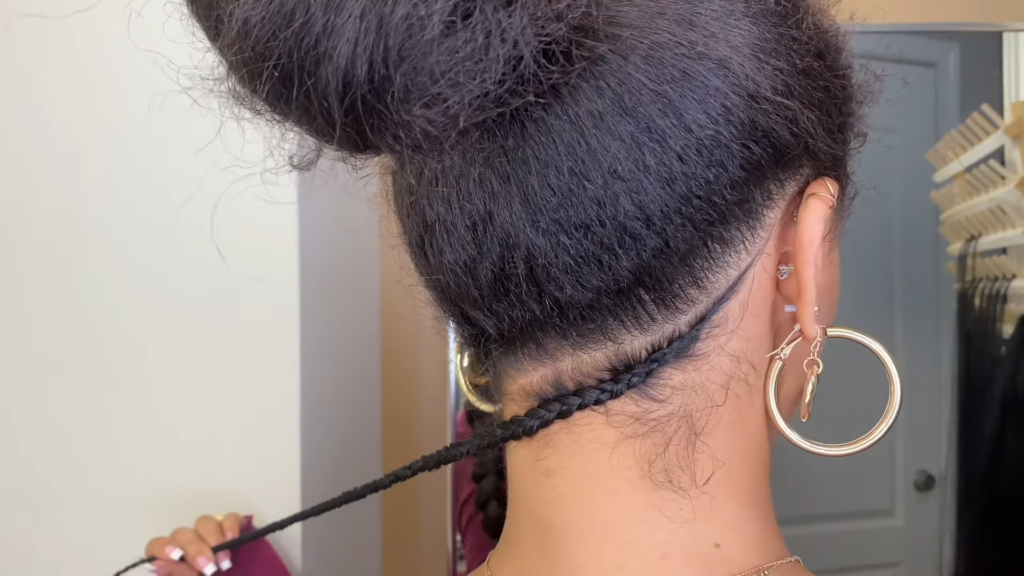 Neatness is key. The neater each part, the better the final result.
ALSO READ: The Ultimate Guide to Understanding Your Natural Hair Type
2. Braiding Style and Tips:
Always use the metal end of the comb to get the straightest line possible.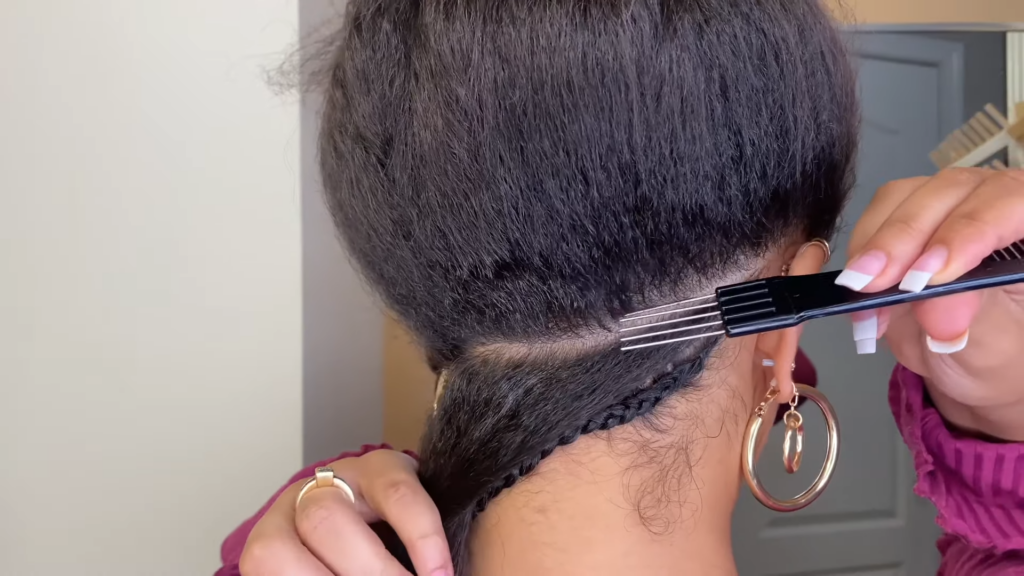 Aim for all braids to be parallel as you progress up the head.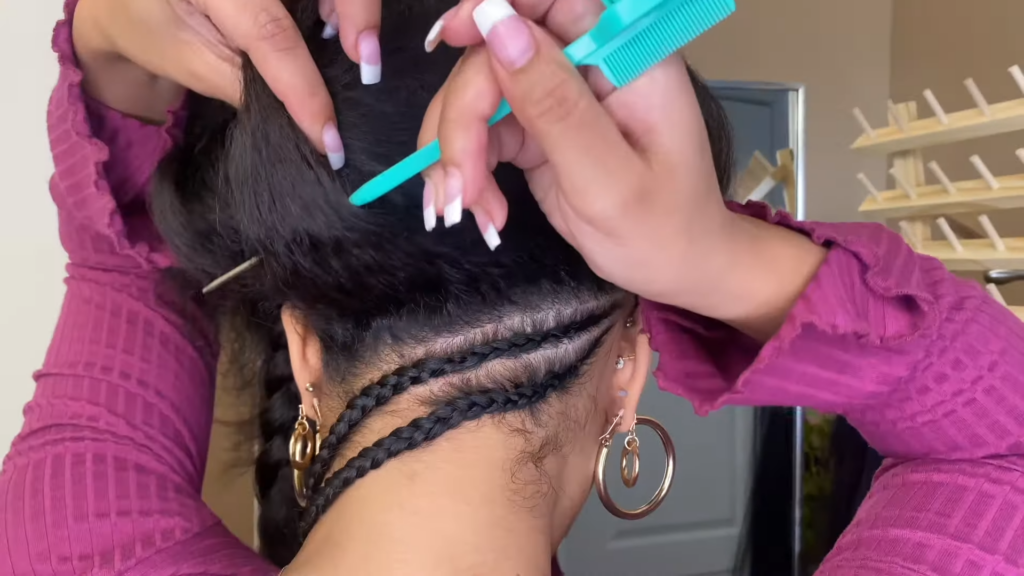 As you approach your ear, opt for knotless braids instead of cornrows for a sleeker appearance. Add small pieces of hair as you move down the braid to prevent bulkiness.
ALSO READ:15 Fascinating Crochet Braid Hairstyles For Hair Growth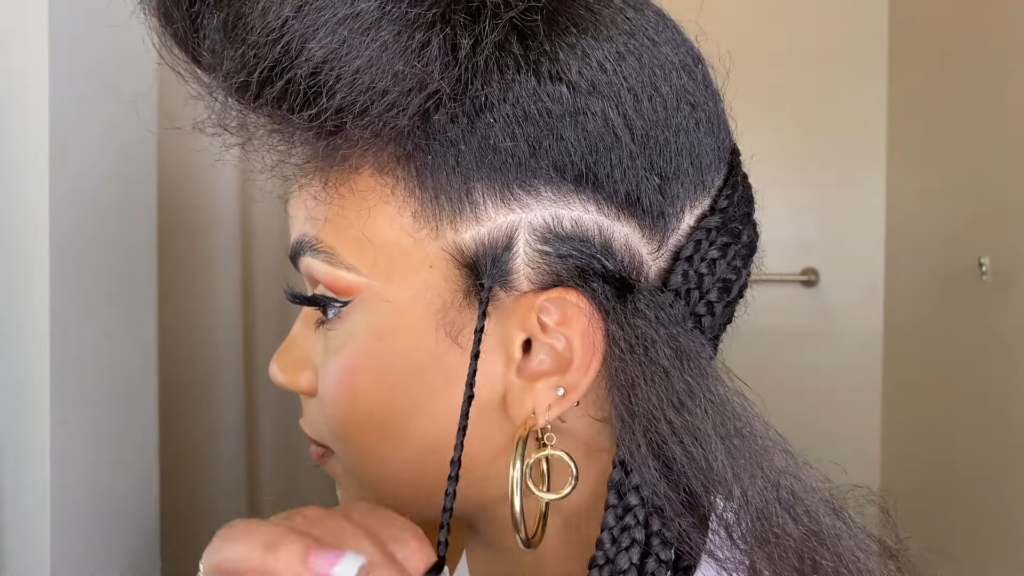 3. Feeding the Hair:
METHOD 1: Front to Back Cornrowing Technique
Cornrow your natural hair using small sections.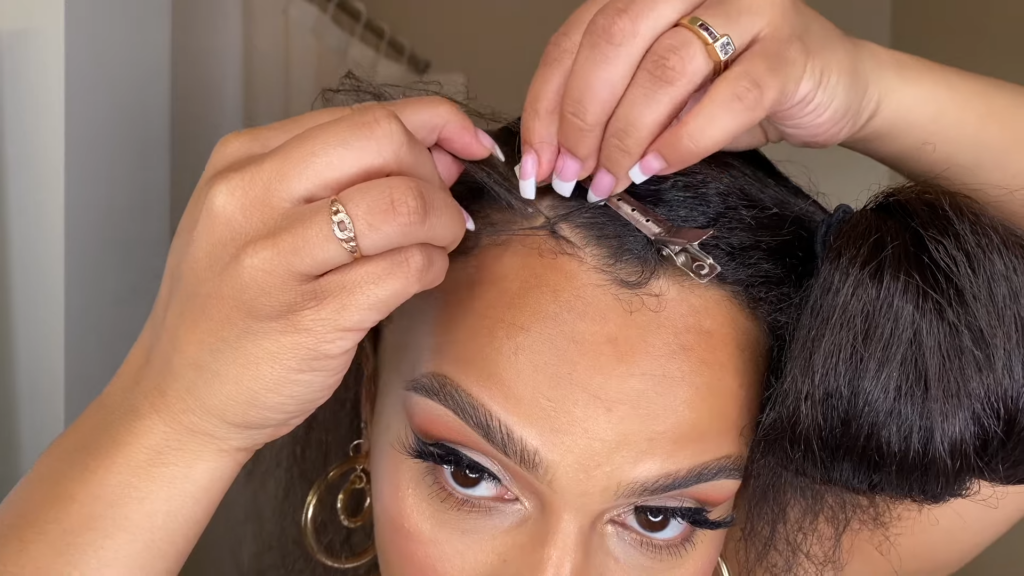 An inch or two into the braid, lay a tiny piece of hair on top of the braid and then integrate it as you continue.
ALSO READ: Here Are The 10 African Braided Hairstyles That Trended In 2023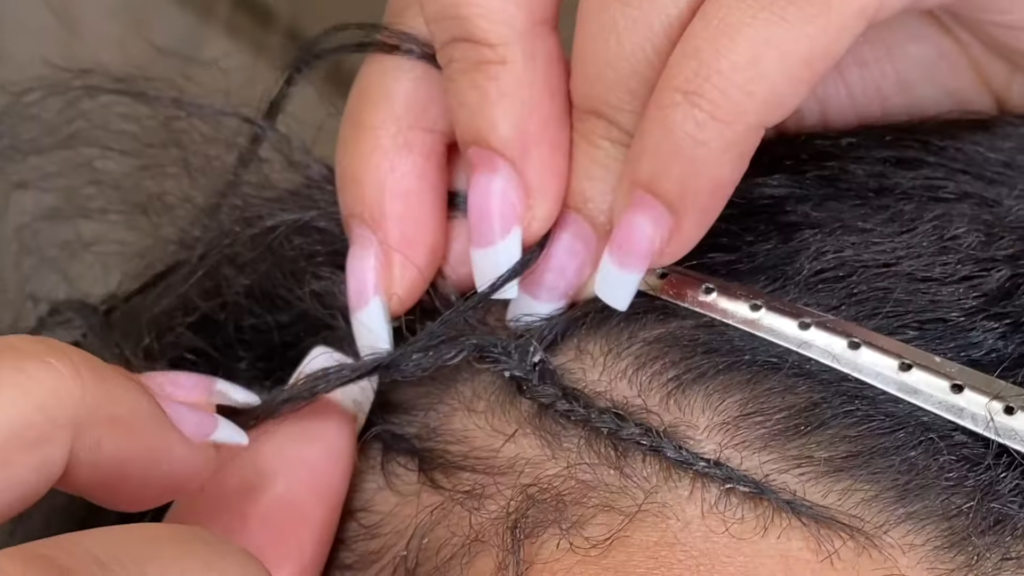 The cornrowing technique involves sticking one finger under the middle piece and grabbing the piece on the opposite side. This might take some practice, so be patient.
Method 2: Front Cornrowing Technique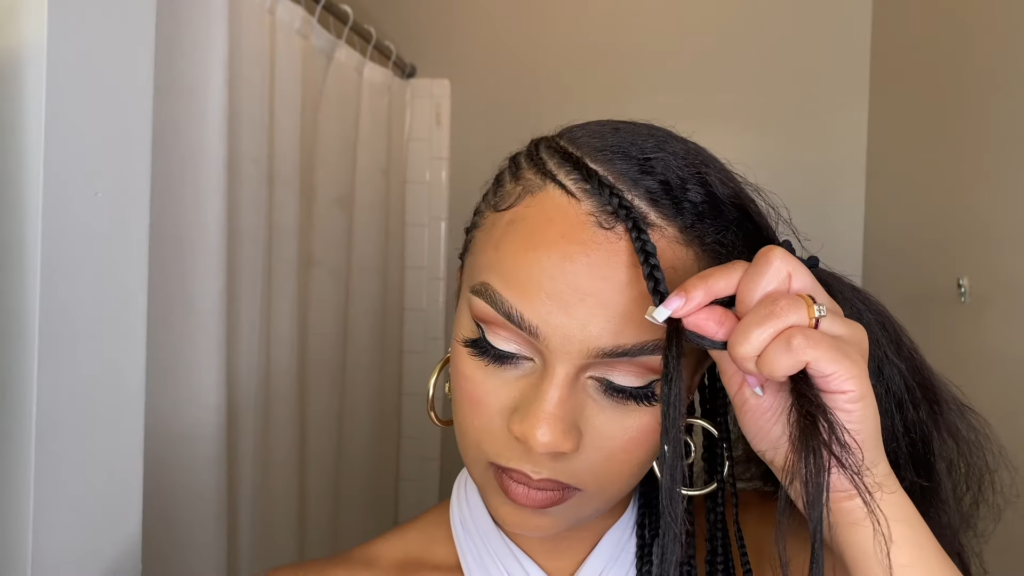 4. Adding Knotless Braids:
After braiding naturally for a few turns, introduce a small piece of hair.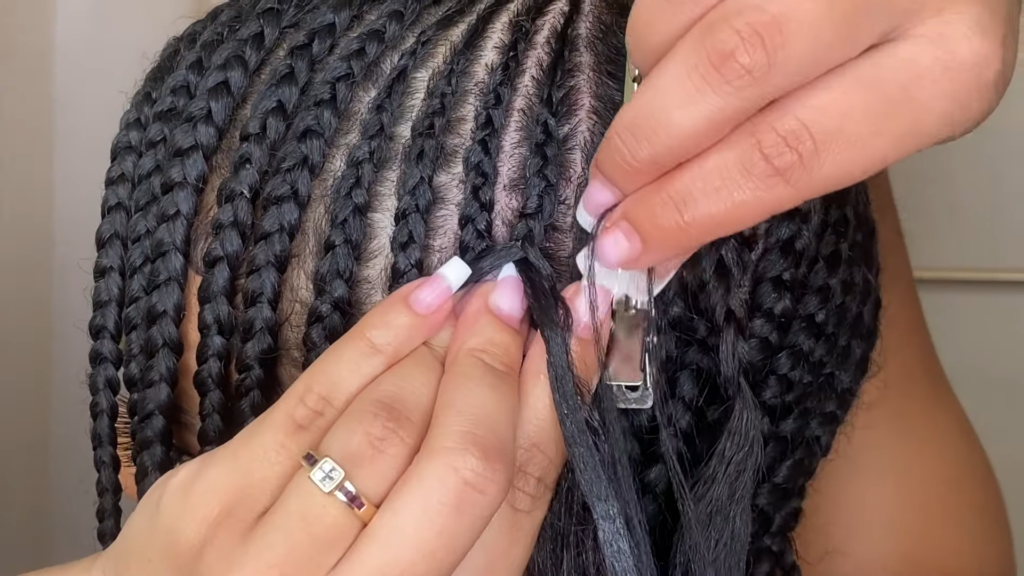 Continue braiding, adding hair pieces periodically until you achieve the desired thickness and length.
5. Maintenance Tips:
Trim any hairs sticking out on the braid ends.
Dip braid bottoms and apply mousse to set the natural hair.
Regularly apply hair growth oil to keep natural hair healthy.
6. Taking Down The Braids:
After around 21 days (or when the braids start looking less crisp), it's time to take them down.
Apply fresh aloe leaf on your hair for moisture and ease of untangling.
As you take out each braid, apply detangling conditioner and finger detangle gently.
Once all braids are out, your curls will be ready to breathe!
This style might seem complex at first, but with patience and practice, you'll become a pro. Not only will your hair look amazing, but it's also a wonderful protective style that promotes hair health. Don't forget to check the description for links to all the recommended products and tools.
ALSO READ" 15 Rubber Band Hairstyles Getting Everyone Crazy
🌸 Maintenance and Care 🌸
Night Routine: Wear a silk or satin headscarf to reduce friction and maintain the neatness of the braids.
Hydration: Use a spray moisturizer or light oil to keep your scalp and braids hydrated.
Avoid Excessive Manipulation: The less you fuss with them, the longer they'll last.
💡 Varieties to Explore 💡
Large Lemonade braids
Large Lemonade braids are side-swept cornrows that are bigger in size than the standard Lemonade braids. Because of their thickness, they are fewer in number and offer a unique, bold look that can be both classic and modern. Fewer, but thicker braids for a standout look.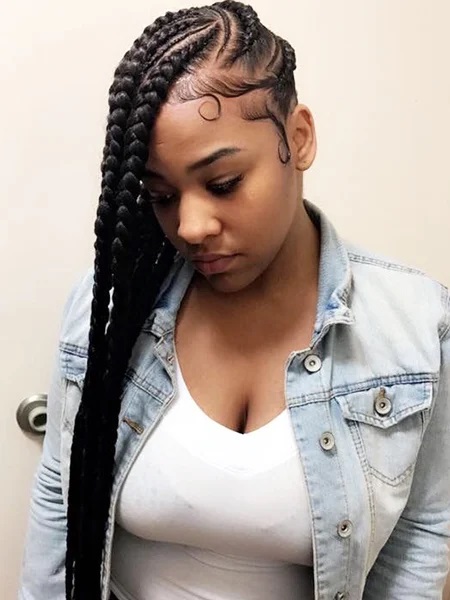 Lemonade braids with beads
Lemonade braids with beads fuse the classic, side-swept cornrow braids with the time-honored African tradition of hair beading. The beads, usually added to the ends, give the hairstyle an extra layer of intricacy and charm.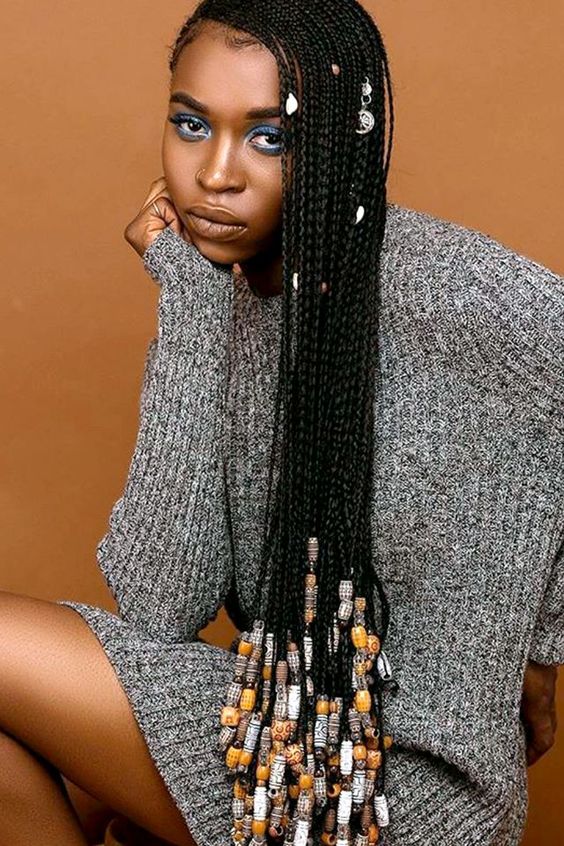 ALSO READ: 10 Naturalista Bloggers Share Their Best Tips On How to Style Short Natural Hair At Home
Ponytail Lemonade braids
Ponytail Lemonade braids involve gathering the side-swept Lemonade braids into a high or low ponytail. The beauty lies in the braids cascading from the ponytail, gracefully resting on your back or draped over one shoulder.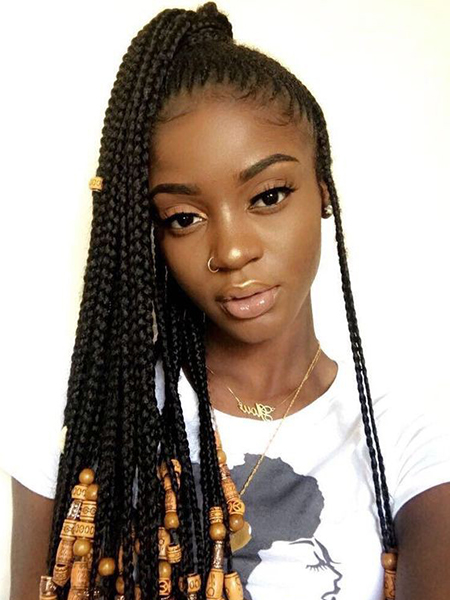 Pink Lemonade Braids
Pink Lemonade braid are essentially Lemonade braids but incorporate shades of pink into the hairstyle. From subtle pastel hues to electric magenta, the pink tones add a modern, playful touch to the traditional braids.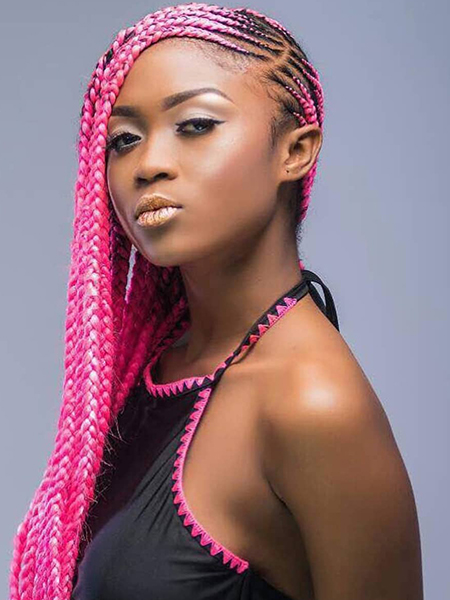 ALSO READ: 3 Natural Hairstyles You Can Try Without Looking Like An Amateur
Beyonce Lemonade Braids
Beyoncé's Lemonade braid are more than just a hairstyle; they represent a history, a culture, and a movement. They exemplify how fashion and meaning can intertwine, creating iconic styles that resonate across the globe. So, the next time you consider Lemonade braids, know that you're donning a piece of art, heritage, and Beyoncé's legacy! 🌟🍋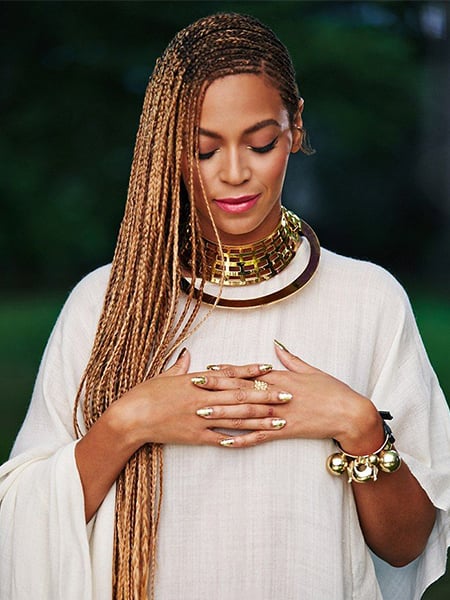 ALSO READ: Here Are Our 10 Favorite Videos That Teach You How to do Crochet Braids On YouTube
Nicki Minaj's Lemonade Braids
Nicki Minaj is no stranger to bold hair choices. From vibrant colors to varying lengths and styles, she's done it all. Her version of the Lemonade braids is both a nod to the classic style and an embodiment of her unique persona.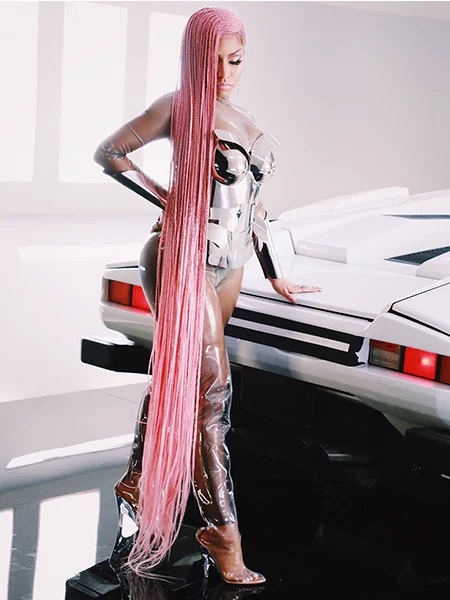 🔥 Top Tips for Rocking Lemonade Braid 🔥
Healthy Hair First: Ensure your hair is in a healthy state before braiding to prevent breakage.
Choose the Right Extensions: If you're adding extensions, ensure they match your hair's texture and are of good quality.
Patience is Key: Braiding can be time-consuming, but the results are worth it!
🍋 Wrapping Up: The Beauty of Lemonade Braid 🍋
Lemonade braids, a harmonious blend of culture, art, and style, continue to be a celebrated hairstyle. Beyoncé, through her influential album, brought to the fore a style deeply rooted in African culture, reiterating its timeless beauty.
When you're ready to embrace Lemonade braids, remember it's not just a hairstyle. It's a statement. A tribute to age-old traditions. A nod to Beyoncé's brilliance. So, go ahead and shine bright in your Beyoncé-inspired Lemonade braids! 🌟🍋