These 15 Short Natural Haircuts Will Have You Chopping Off Your Hair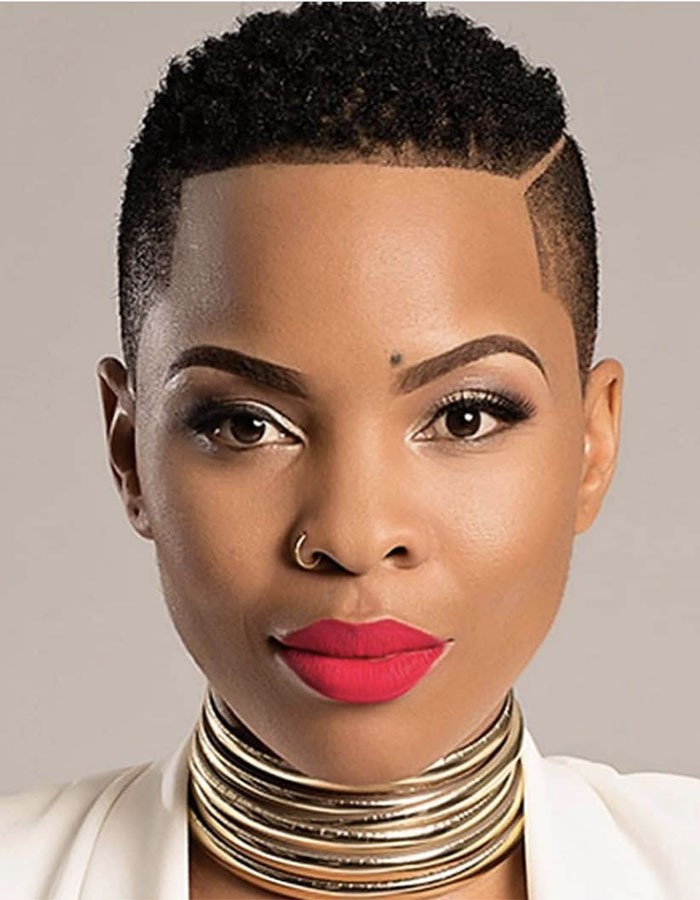 Wearing short natural hair is not a crime! Sadly, getting a short natural haircut is something that most African women don't want to hear about. The influence of Western culture has made it look like only long hairs are beautiful. Therefore, African girls that can't grow long hair tend to spend hundreds of dollars on hair extensions. But, is it really true that only long hairs are beautiful?
Short hairs are less expensive to manage and usually will not require too much time to style. However, it shouldn't be just about chopping off your hair. Your barber needs to determine a style that will match your face. Interestingly, there are celebrities you can look up to for inspiration when it comes to rocking short natural haircuts. They include Halle Berry, Rihanna, Keri Hilson, and Lupita Nyongo. Read on for 15 irresistible short natural haircuts.
#1. The Undercut 
This short natural haircut is artistic. You get a trim on the sides of your head, just above your neck. The trimming is done in such a way that it fades downward from the top of the head. Leave a short tuft at the top which will be styled into twisting curls. On the trimmed sides, ask your barber to draw any pattern of your choice. You can even write the name of your lover. You can bet that this will send them into ecstasy. This cut can blend with all face shapes, thanks to the rich turf of hair at the top.
#2. Side Tapered Fade
The good thing about tapered short natural haircuts is that it works well with any hair; natural, texturized or even curly. Both sides of your head are trimmed short to achieve a fade effect. The barber draws a neat line that cuts from the forehead inwards staring at the origin of the fade. The middle part of your hair is trimmed to medium length. You can then achieve curls by getting Bantu knots and unraveling them.  This short natural haircut can fit perfectly with any type of dress code and accessories such as hoop earrings.
#3. Bald fade
African women don't usually find very short hair attractive. Therefore, going bald or close to it requires great courage. Bald fade haircuts mostly involve trimming hair to the shortest possible level. This bald fade in particular requires a distinct level of trimming between the sides and the middle part. A clean line then cut through the hair from front to back to demarcate the different hair lengths. This haircut would fit anyone with a diamond face shape. Perhaps, you don't feel so confident about your haircut, there is something you can do. Wear big earrings and adorn your neck with Afrocentric jewelry to take the attention off your head.
#4. Bald Haircut
There is nothing as bold as getting a completely bald look. Black Panther actress Danai Gurira shows us how easy it is to rock the bald haircut and still look chick. Your barber should have no problem chopping off all your hair. However, he or she may have to run the clipper on a spot several times to get rid of the tiniest and stubborn hair. This haircut is perfect for those with a smooth oval skull and face. Those with dents on their skulls may find it uncomfortable. You can add big earrings to make the look more outstanding.
#5. Pixie haircut
Pixie haircut always adds flair to short hair. This style involves trimming your hair to a medium length while giving it a layered effect. You will need to straighten your hair before you trim it in order to achieve this haircut. For an even trim, use trimming scissors. This is a simple yet classy look that can be worn to the office or any other informal place.
#6.Mohawk fade 
The mohawk style has been trending for quite a long time. This haircut requires you to get a trim on both sides of your head leaving the top part. The curls can be achieved by twist outs, flat twists, or even Bantu knots. This is a perfect haircut for a night out. On the trimmed sides, you can ask your barber to be as creative as possible. Depending on how well you can handle attention, you can draw a portrait on the sides.
#7. Tabletop cut
Just like men, black women too can rock the tabletop short natural haircut. It is a bold haircut that will surely make you stand out from the crowd. This haircut requires you to leave a desired amount of hair at the middle part of your head. Your barber carefully trims it into a square that merges with the shorter sides. To get tongues wagging, combine this with bright color lashes and earrings. However, make sure people's opinion don't get to you.
#8.Finger coil fade 
Finger coil hair is both beautiful and easy to manage. They are also perfect for people with round faces. The haircut requires a short trim on the sides which fades into the finger curls. The middle part of the head is trimmed to a medium length. Then, you twist the medium hair at the center into finger coils. Nevertheless, if you have very short hair at the center, you can also use attachments to achieve the finder curls. The haircut best suits a casual look such as a vest top and a pair of jeans.
#9. Short blonde haircut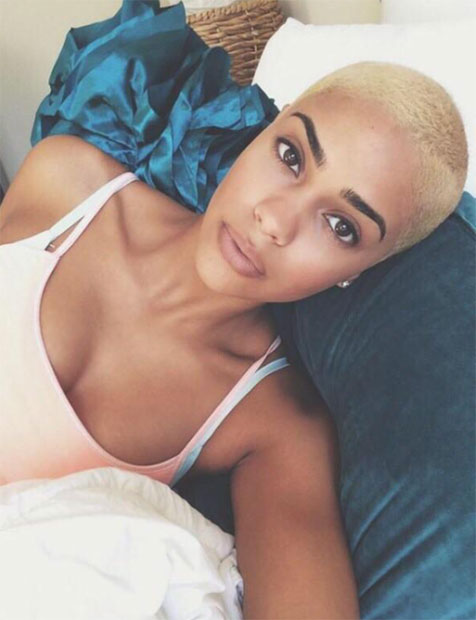 Adding colors to short natural haircuts can accentuate their beauty. Your haircut design does not have to be plain and boring. There are very many bold colors to choose from. Simply put, all you need to do to achieve this look is to trim down your hair to equal length on all sides and dye it blonde. If you are part of the geek generation, you should have no problem rocking this hairstyle to the office.
#10. Teeny Weeny Afro (TWA)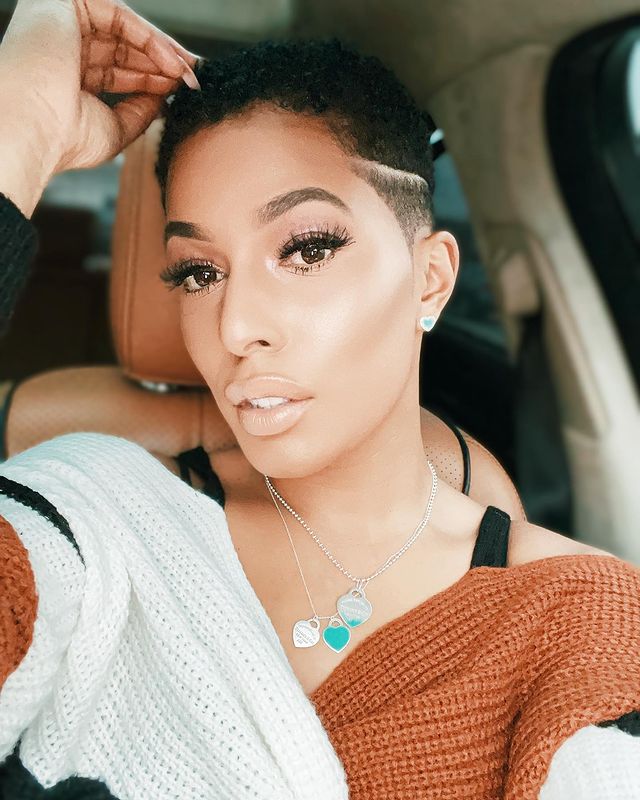 As the name suggests, this short natural haircut involves keeping your afro as short as possible. The sides are trimmed with a clean line cutting through the origin of the fade. To achieve the coils, use a sponge to rub the hair in a circular motion. It is simple and very easy to manage. The haircut is ideal for people with an oval face. Also, it works well with minimal jewelry. Use hair spray to give it a shiny, gloss finish.
#11. Waves with a fade 
Waves accentuate the beauty of a short natural haircut. This haircut is achieved by trimming the hair short. Use appropriate products and brushes to achieve the waves. Use hair gel to hold the waves in place. The haircut is suitable for people with a round face and flat cheeks. Kill off this stunning look with matching earrings and a necklace.
#12. Blonde with sidelines 
This short natural haircut is minimalistic, and you can choose to add different cut designs to make it pop. You can have a sideline or two that go all the way to the back of your head. Besides, you can also play around with different colors other than blonde. Add in studded earrings and a necklace to complete the look.
#13. Rounded undercut
Undercuts are the modern design used in most haircuts and they are perfect for people with a round face. There is something about undercuts that make the haircut look more edgy and stylish. The rounded undercut has a cut that goes all the way from one side of the head to the other. You can add a fade on it, or get artistic undercuts by playing around with different patterns.
#14. Twist out curls with fade 
Twist-out is an effortless way to make natural hair look great. A fade on the sides can make the haircut stand out. Furthermore, you can add a pop of color to make it even better. This hairstyle is achieved by trimming both sides of your hair to a short level. This haircut blends perfectly with casual clothes. You can throw in your favorite t-shirt and a pair of jeans, sneakers and you are good to go.
#15. Short tapered haircut
Short tapered haircuts are simple yet stylish. They are suitable for people with long or round face. To achieve this style, trim the hair short (but not very short). Fade the sides and leave a demarcating line on one side rather than on both sides like other variants. Give it an edgy look with dye or by wearing bright lipsticks. A true Afronista will throw in a few African jewelry like the neckbands.
Conclusion
By nature, African hairs don't grow so long without the help of chemicals because they easily begin to tangle. Nevertheless, no part of the world has the right to use themselves as a standard for beauty. Perhaps, it is time for Africans to rewrite the meaning of beauty. Which of the natural short haircuts do you think you would try first? Share your thoughts with us in the comment box below. At African vibes, so of our staff wear short hairs unapologetically.