10 Quick and Easy Short Natural Hairstyles for Everyday Wear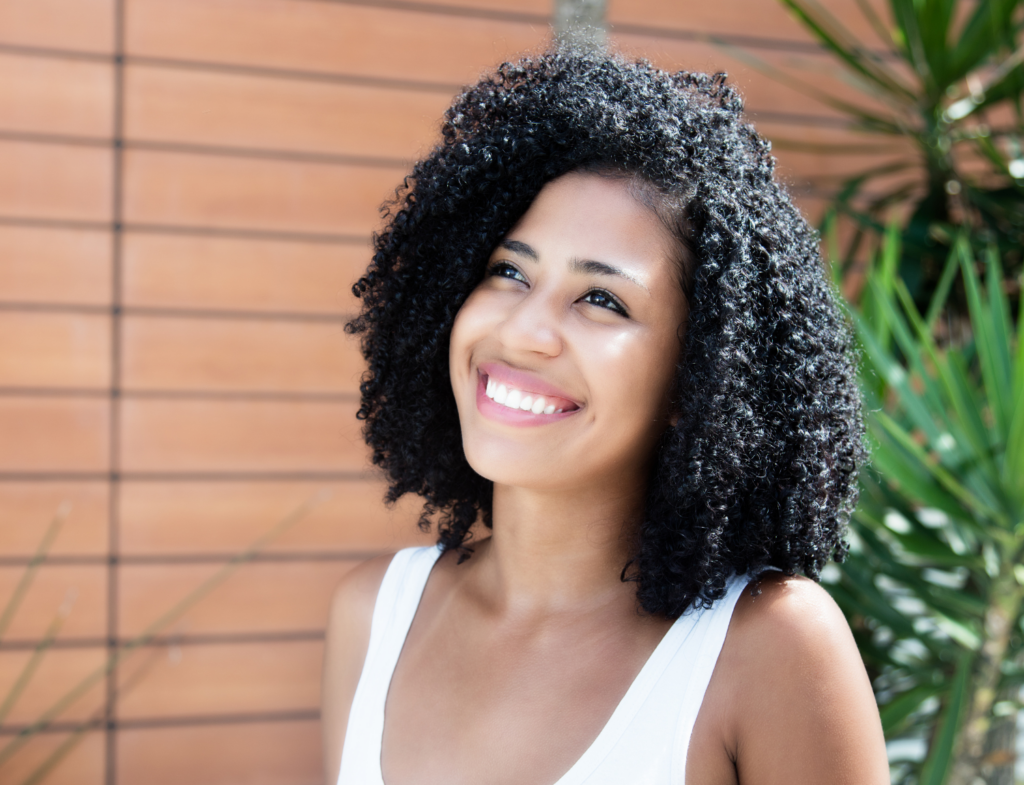 In the realm of hairstyles, embracing the elegance and versatility of natural hair leads to the discovery of an array of stylish and hassle-free options. This selection of easy short natural hairstyles is not only easy to achieve but also offers the benefit of less time spent on hair maintenance, letting you spend more of your day engaged in activities you love. Regardless of whether your hair is coiled, kinky, or curly, the styles discussed in this essay like the Teeny Weeny Afro (TWA), Bantu Knots, Finger Coils, and more offer a unique accessorizing option for you to express your personality and style.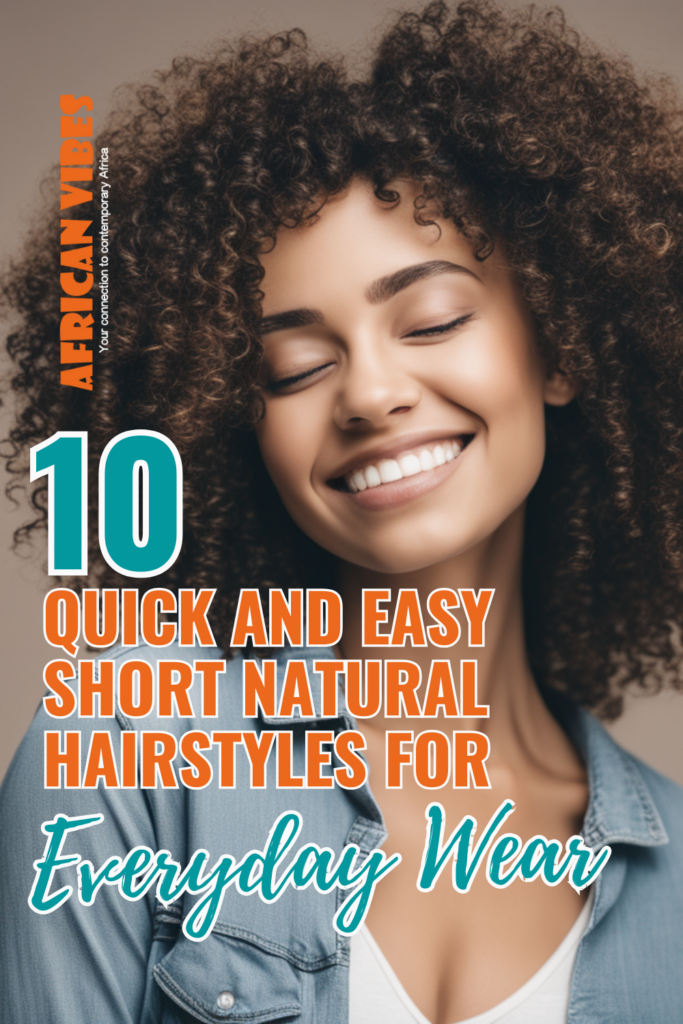 Easy Short Natural Hairstyles -TWA (Teeny Weeny Afro)
The Teeny Weeny Afro
The Teeny Weeny Afro, also known fondly as the TWA, is an absolute classic when it comes to short natural hairstyles. Often embraced after the big chop, a term used in the natural hair community to signify the initial cut from relaxed to natural hair, it's a popular and incredibly stylish choice.
Versatility
While some may see it as limiting due to its length, the TWA is incredibly versatile. Depending on how you choose to style it, it can project a soft, playful aesthetic or a bold, dramatic look. You can wear it in its natural state, or dress it up with accessories like headbands, scarves, or even bold statement earrings that complement the simplicity and beauty of the TWA.
Maintenance
Maintaining a TWA is quite simple. The key is to ensure your hair is well-moisturized. You can achieve this by using a good leave-in conditioner and sealing with an oil. This ensures your hair stays hydrated, promotes growth and keeps those curls popping. And to retain your hair's moisture after washing, try using the LOC (Leave-in, Oil, Cream) method.
Styling Options
Styling a TWA can be done in a variety of ways. For those days when you need some extra volume, a simple technique is to fluff out your curls using your fingertips or an afro pick. The pick lifts the hair at the roots and creates a fuller, more voluminous look. But remember to limit the amount of manipulation, especially while your hair is dry, to prevent hair breakage and to maintain the health of your curls.
On the other hand, if you prefer to have a sleeker look, you can always opt to use a curling creme or gel. These products help to define your curls and reduce frizz. To apply, simply rub the product between your palms and smooth it over your damp hair.
ALSO READ: 8 Tips To Grow Your Natural Hair Faster
Hair Color
Something else worth considering when rocking a TWA is your hair color. You can either stay natural or experiment with different hues. Whether you opt for bold, vibrant colors, subtle highlights, or remain au naturel, just make sure your hair color suits your personality and skin tone. Treating your TWA as your personal canvas is one of the best ways to express your style and show off your uniqueness.
Conclusion
In all, the TWA is a perfect balance of easy maintenance and expressive style, making it a fantastic option for women on a journey towards embracing their natural hair. Despite its simplicity, it serves as a powerful statement, expressing confidence, boldness, and a sense of pride in natural beauty and black heritage.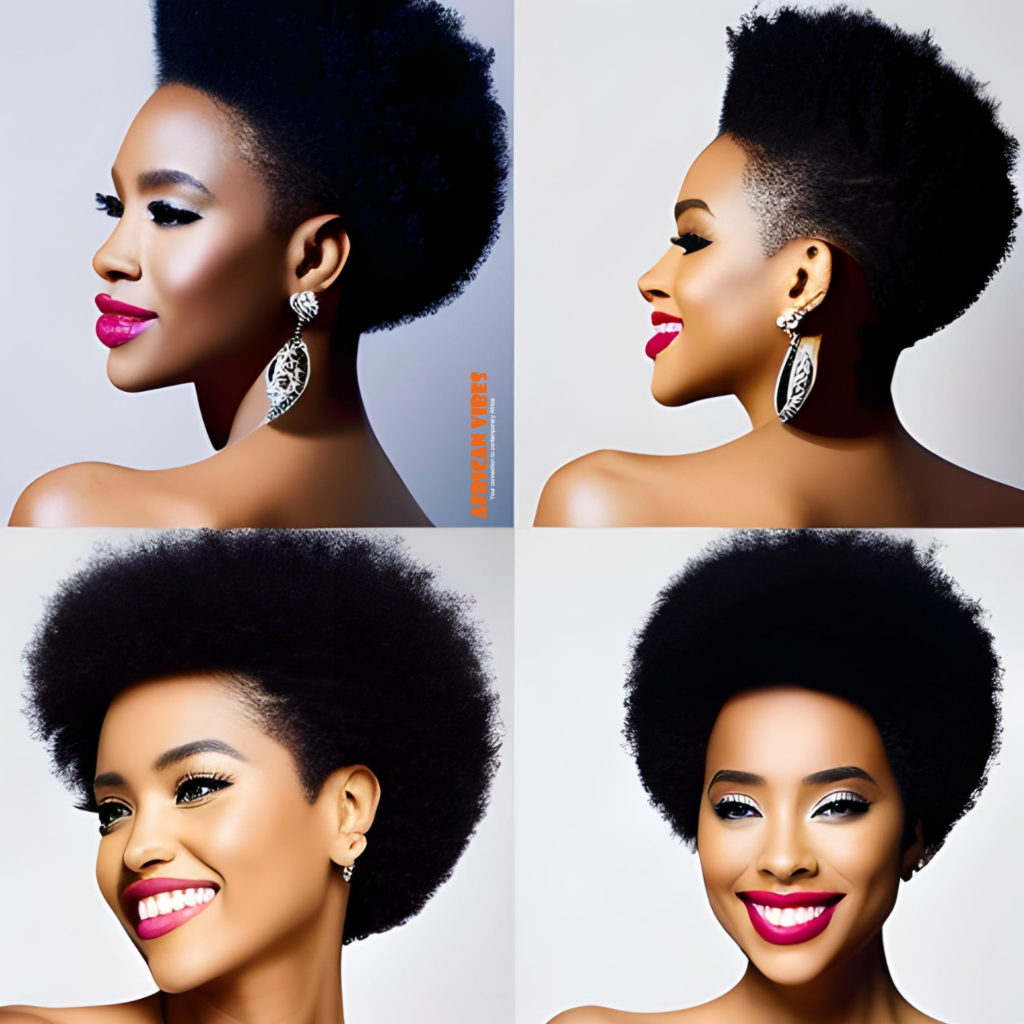 Bantu Knots
Transform Your Look with Bantu Knots
Bantu Knots are an easy and versatile natural hair option that can instantly transform your everyday look, adding both style and uniqueness. They suit any occasion, whether you're going to work, attending a social gathering, or just running errands. This quick and easy hairstyle is originated from Bantu ethnic groups in Africa and is showcased by many African American women today, attesting to its timeless appeal.
Creating Bantu Knots Is a Breeze
The process of creating Bantu Knots is simple. Start by dividing your hair into various sections; the size depends on your preference. Following that, twist each section around itself – imagine you're winding a rope. Secure the twisted section at the base using a bobby pin or hair tie. This leaves you with a series of small, round knots across your head.
Wear It in Two Ways
One of the most exciting features about Bantu Knots is their versatility. You can wear the knots themselves for an edgy, avant-garde look. But don't be hasty to untie them – patience pays off. Keeping the knots in overnight (or for at least a few hours) and untying them later reveals a beautiful curly look, resulting in what are typically called bantu knot-out curls. The curls give you drastic volume and a completely different look!
ALSO READ: 30 Natural Hairstyles That Are Easy To Do At Home
The Ultimate Low-Maintenance Style
In addition to being visually appealing, Bantu Knots are great for hair health. They act as a protective hairstyle, meaning they lower the risk of hair breakage and moisturize your hair. You can go for days without needing to re-style or extensively care for your hair, making this the ultimate low-maintenance hairstyle. So, if you're searching for a natural hairstyle that's quick to create, easy to maintain, and exuberant in style, Bantu Knots might be just the style for you.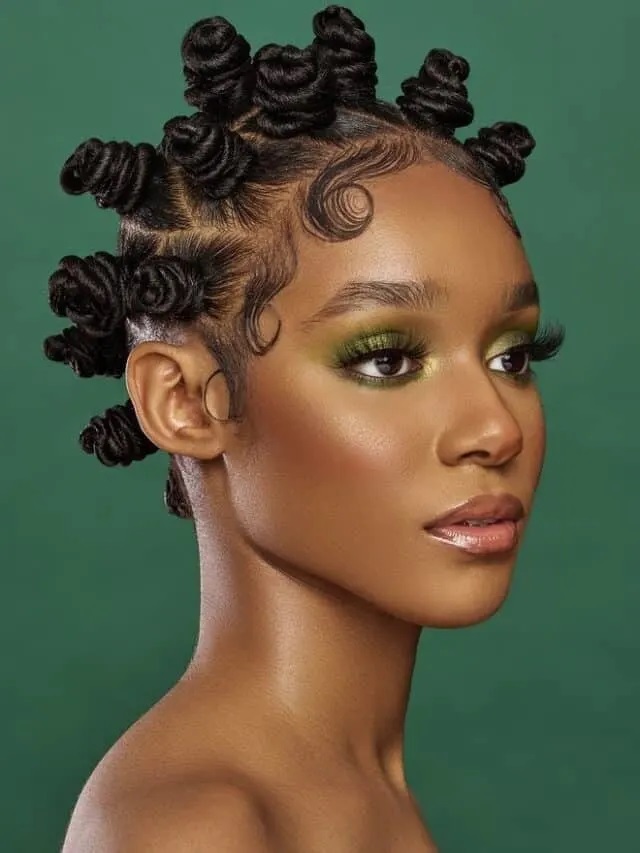 Finger Coils Hairstyle
The Charm of Finger Coils
Dual-function hairstyles are a treasure trove for the busy individual, and Finger Coils fit the bill perfectly. A style that works on all hair lengths, it is as fitting for a casual lunch as it is for a corporate meeting. Versatility meets convenience in this quick and easy short natural style.
Finger Coils come to life with the use of a curling product. The process is simple. All you have to do is apply the product to damp hair, and twist individual sections around your fingers. The size of these sections can be adjusted based on how thin or thick you want the coils to be. The beauty of this style lies in its ability to flaunt your natural curls while also adding volume to the hair.
Once you've coiled all your hair, allow them to dry naturally if you have some spare time. Alternatively, you can use a diffuser attachment on your blow dryer to hasten the process while maintaining the curls. When dried, you'll be left with defined, voluminous curls cascading down from your roots. Your fingers act as magic wands, weaving this enchanting hairdo in no time.
The sustainment of this style is like a breeze. You can preserve the curls overnight by loosely pulling them back into a satin or silk scarf. The delicate fibers of these materials prevent frizz and maintain the shine and bounce of the curls. With the Finger Coils style, not only do you get to sport a chic hairdo, but you also save ample time without compromising your look.
ALSO READ: 17 Gorgeous Fulani Braids Variations That Will Inspire Your Next Look
Regardless of the event, finger coils provide an opportunity to show off your natural curls in a sophisticated yet effortless way. It's a quick fix that highlights the best of your hair without requiring hours in front of the mirror. Truly, Finger Coils are a shining example of simplicity and elegance merging together, all at your fingertips.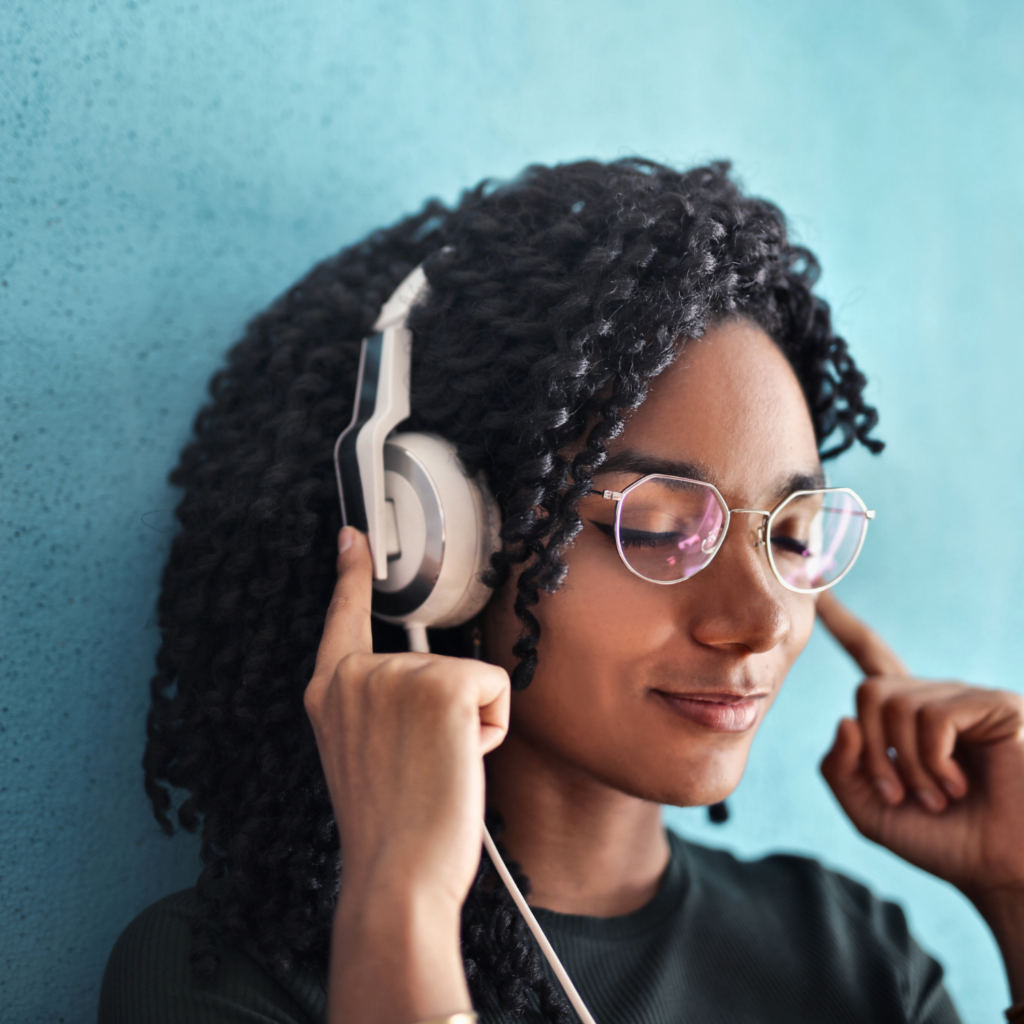 Puff Hairstyle
The Simplicity and Versatility of the Puff
The puff natural hairstyle is a practical and versatile everyday choice. Simple yet elegant, this hairstyle is achieved by gathering your hair at the top of your head and securing it with a hairband, an elastic band, or even a scarf.
Who Can Wear the Puff?
One of the reasons the puff hairstyle is so popular is that it works amazingly well with all types of natural hair, whether it's curly, coily, or kinky. Moreover, it doesn't matter what your hair length is — if you have enough hair for a ponytail, you can create a puff!
Benefits of the Puff Hairstyle
Beyond aesthetics, the puff offers a number of benefits that make it a prime choice among folks with natural hair. For one, it helps to protect the hair's moisture, which is crucial for maintaining the health and vitality of natural locks.
The Quickness of the Puff Hairstyle
The puff is also a time-saver, making it ideal for those who are always on-the-go. All you need is a few minutes to gather your hair at the top of your head and secure it. Voila! You're good to go!
Puff Variations
While the puff is beautiful on its own, you can also opt to enhance your look by adding various accessories like hairpins, headbands, or flowers. Moreover, you can create double or even triple puffs if you're looking for a playful twist.
ALSO READ: 3 Natural Hairstyles You Can Try Without Looking Like An Amateur
Puff Maintenance
Maintenance for the puff is also a breeze. It's typically easy to sleep in — you can just throw on a satin scarf or sleep cap to protect your hair overnight. In the morning, a little fluffing might be needed, and you're ready to face the day looking effortlessly stylish.
The puff hairstyle captures the beauty of natural hair in a way that's comfortable for everyday wear, easy to maintain, quick to style, and versatile in its looks — truly a go-to style for people with naturally curly, coily, or kinky hair.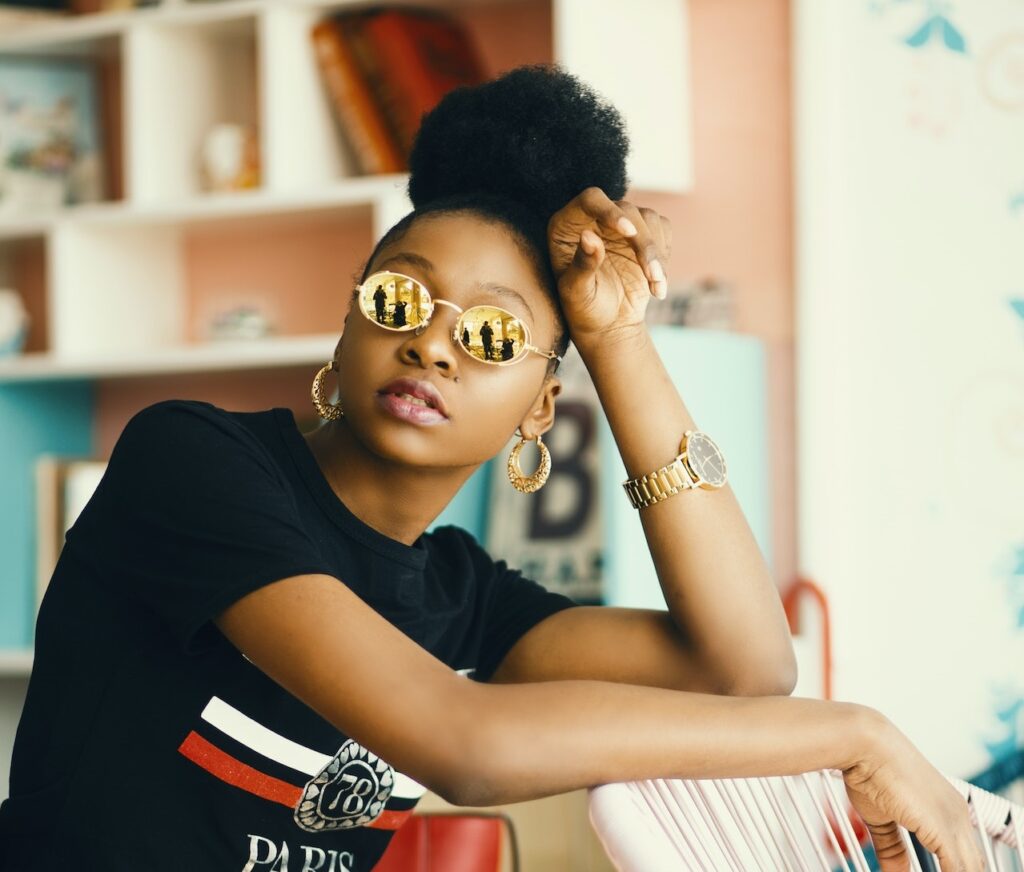 Flat Twists
Embrace the Versatility of Flat Twists
Flat twists are not just a protective hairstyle, but also a versatile one that can be perfect for any occasion. Whether you're going to the office, attending a formal event, or just hanging out at home, this hairstyle gives off an air of understated elegance that's hard to ignore.
Master the Technique
To create flat twists, you first need to divide your hair into sections. The size of the sections can vary depending on your preferred thickness of the twists. Each section should then be further divided into two subsections or more. These subsections are then twisted around each other, resembling a rope. As you continue the twist, keep adding new hair into it, which gives the 'flat' impression.
The Allure of Flat Twists
Flat twists are not just gorgeous; they're also functional. They keep your hair away from your face and are less prone to tangling, reducing the risk of hair damage. Plus, they can last for about a week or two with proper care, saving you the daily hassle of styling your hair.
Styling Flat Twists
Don't limit your creativity when it comes to styling flat twists. You can wear them down for a simple look, tie them up in a ponytail for a sporty style or pin them up in a bun for an elegant updo. You can even accessorize them with colorful ribbons, hair pins or beads for added flair. Remember, the aim is to find a look that makes you feel comfortable and confident.
ALSO READ: 17 Gorgeous Fulani Braids Variations That Will Inspire Your Next Look
Making Flat Twists Last
To ensure your flat twists last, it's advisable to sleep with a silk or satin scarf. This protects your hair from tangling and frizzing, thereby maintaining the shape and neatness of the twists. During the day, keep your hair moisturized and use minimal products to avoid excessive build-up.
Flat Twists: An Unbeatable Choice
Whether you're a seasoned naturalista or new to the game, flat twists are always an unbeatable choice. They're not just easy and quick to create; they also exude a simple elegance that's fit for everyday wear. Consider flat twists the next time you're in search of a practical and stylish hairstyle.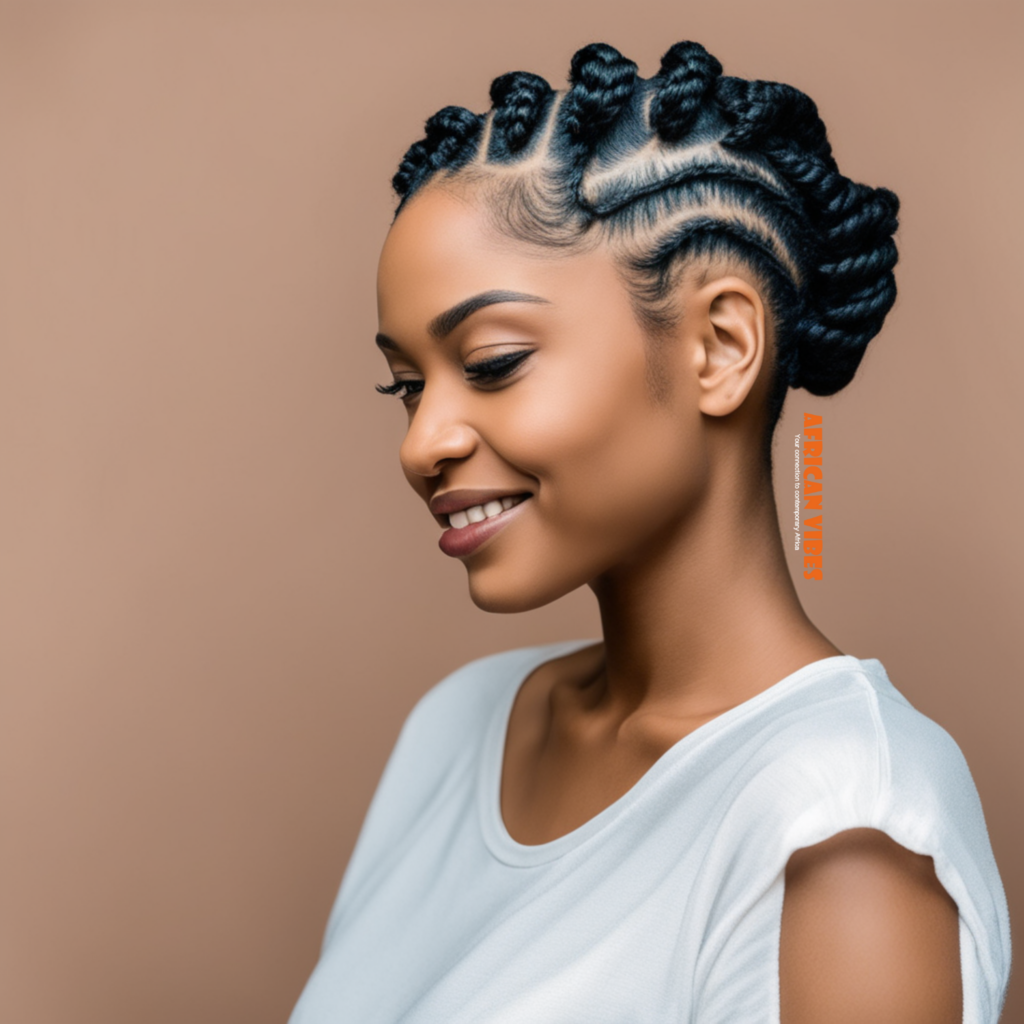 Two-Strand Twist Out
The Simplicity of the Two-Strand Twist Out
For those searching for a hairstyle that blends ease with style, a two-strand twist out might be the perfect solution. This look begins by applying a curl cream to damp hair. The cream helps to enhance the hair's natural texture and provides just the right amount of hold to keep the hairstyle in place all day.
Next, part your hair into various sections, depending on how large or small you want your twists to be. Then, begin twisting two parts of hair together. It's recommended to twist the hair all the way down to the end to prevent any frizz from developing. If your hair starts to dry during this process, spritz it with a little water to keep it damp – this will make the twisting process easier and the end result more defined.
As for the length of time your hair should stay twisted, it varies. Some women leave their twists in for a few hours, while others keep them overnight. The important thing is to make sure the hair is completely dry before the twists are taken down.
Unraveling and Styling
When you're ready to show off your stunning curls, carefully unwind the twists. To prevent frizz, apply a little oil to your fingers before you start this process. The oil will give your hair extra shine and make the twists easier to separate.
After all twists are undone, use a pick to gently lift and fluff the roots of your hair, giving your look some volume and fullness at the base, while maintaining the definition and shape of your curls.
ALSO READ: 15 Rubber Band Hairstyles Getting Everyone Crazy
Versatility and Ease of Maintenance
The two-strand twist out also serves as a protective style, meaning it shields the hair from environmental aggressors which can lead to damage. Plus, this hairstyle can last for several days, especially if you pineapple your hair at night or sleep on a satin pillowcase.
Add some funky hair accessories or a headscarf for a different vibe in an instant. This simple yet versatile natural hairstyle is suitable for any occasion, be it a casual day out or a classy event. It's also perfect for individuals who are newly natural and still getting used to managing their hair.
Perfecting the two-strand twist out
might take a few tries, but once you've got it down, it can become a go-to style that offers a chic, textured look with minimal effort.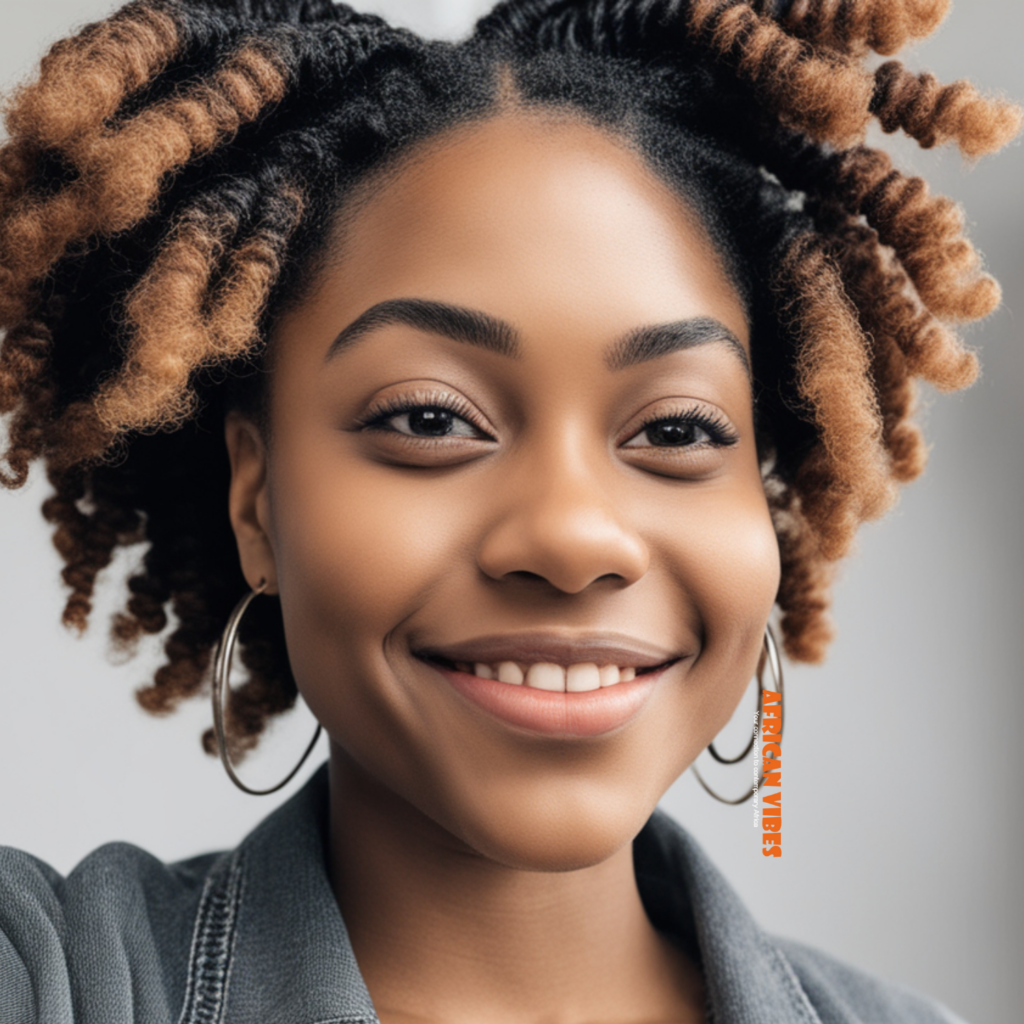 Pineapple Updo
The Effortless Chicness of the Pineapple Updo
Often associated with its tropical namesake, the Pineapple Updo is a prime choice for those desiring a natural hairstyle that is both chic and easy to create. It not only oozes style but also delivers practicality, making it a perfect option for everyday wear.
The Pineapple Updo does not require intense preparation or intricate techniques. Start by gathering your hair at the top – the 'crown' – of your head. Ensure the position is comfortable yet firm enough to maintain the updo throughout the day.
ALSO READ: Which Of These Would You Consider An Unprofessional Hairstyles If You Saw It At A Corporate Job Interview?
If you want to add an extra touch of personality to your style, don't be afraid to leave some of your curls loose at the top. This not only adds depth and texture to your hairstyle but also gives that carefree, natural feel – creating an effortless look that certainly does not hint at the minimal effort it takes to achieve.
Next, to assure that your updo stays in spot, secure your gathered hair using a satin scarf or band. Satin is gentle on hair, helps to reduce frizz, and prevents excessive moisture loss, making it a smart choice for any natural hairstyle.
One of the best aspects of the Pineapple Updo is how easily adaptable it is. Whether you're heading to work, running errands, or meeting friends for brunch, this versatile style can easily transition from casual to sophisticated, depending on your outfit and the accessories you choose.
So, give the Pineapple Updo a try. In just few minutes, you can transform your natural locks into a hairstyle that's both stylish and functional, a perfect mix for the everyday hustle and bustle.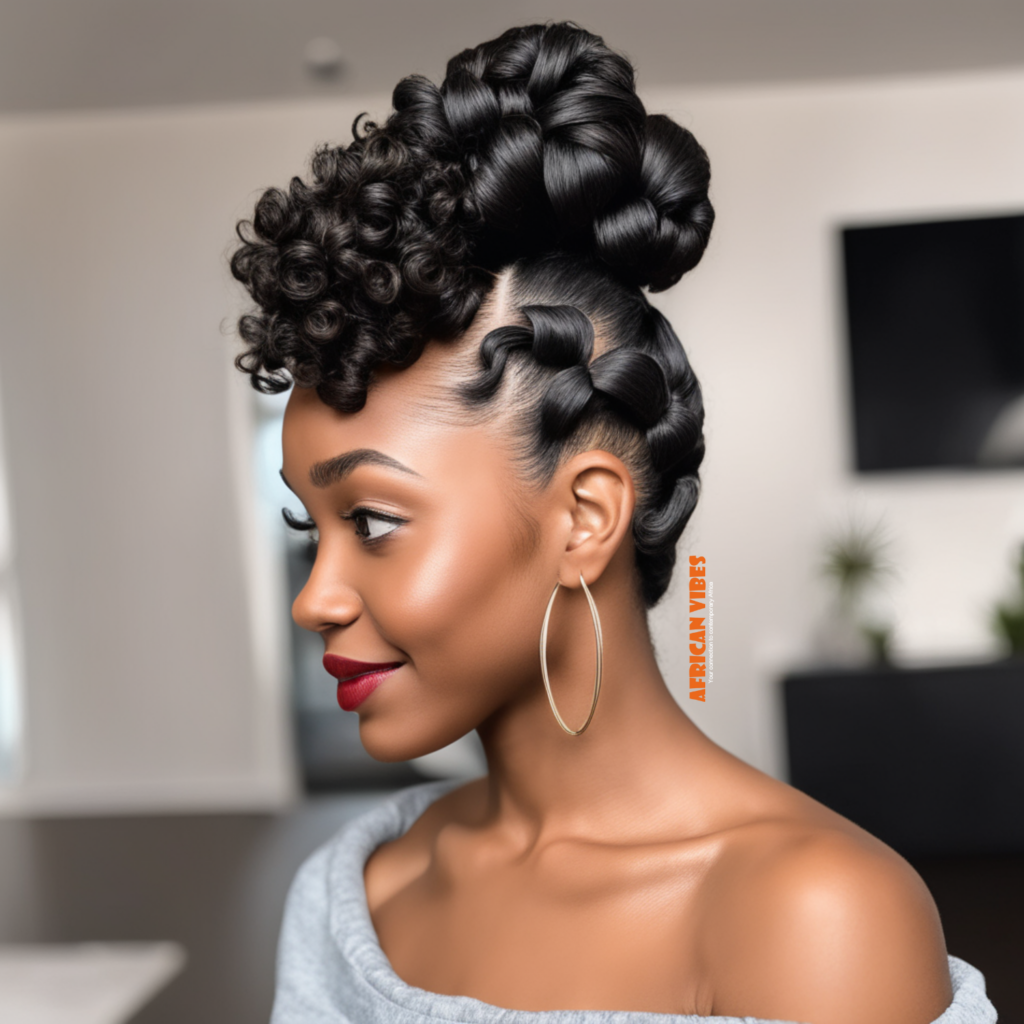 Shingling Short Natural Hairstyles
Enter the World of Shingling
While some may shy away from their naturally curly hair, embracing your unique ringlets can add some extra flair to your daily style. Shingling is a method that fosters your hair's natural texture to form defined curls. And the best part? All you need is curling cream or gel and a comb, or even just your fingers.
Step-by-Step Shingling: Simple and Quick
First, ensure your hair is damp. It's not necessary for it to be soaking wet, just slightly moist. This makes the application of the curling cream or gel much easier and helps the product to evenly distribute throughout your hair.
Next, apply your chosen curling cream or gel throughout your hair. Do this by gently massaging the product into your hair from roots to ends. This action fortifies each strand of hair with essential nutrients and promotes a smoother texture.
If you want to get more defined curls, then ditch the comb and use your fingers instead. Finger combing, as opposed to regular combing, can help reduce frizz and adds extra definition to each curl.
After massaging the product in, work your way through your hair, section by section, scrunching as you go to form and define your curls. If you find any stubborn or frizzy areas, apply a little more curling cream or gel and redefine them.
ALSO READ: The Ultimate Guide to Understanding Your Natural Hair Type
Low-Maintenance Natural Beauty
Shingling is somewhat therapeutic and a testament to the beauty of embracing your natural curls and textures. It's an easy hairstyle that takes little time to create and once complete, it doesn't require daily styling – you can just wake up and go.
Remember, shingling is not a one-size-fits-all technique. You can customize this method to work best for your hair type and preferred level of curl definition. Experiment with different products or the amount you use until you find what best suits you.
No heat, no damage, just a quick, easy, and natural way to style your hair. Shingling can be an empowering method, allowing you to express and accentuate your natural beauty every day.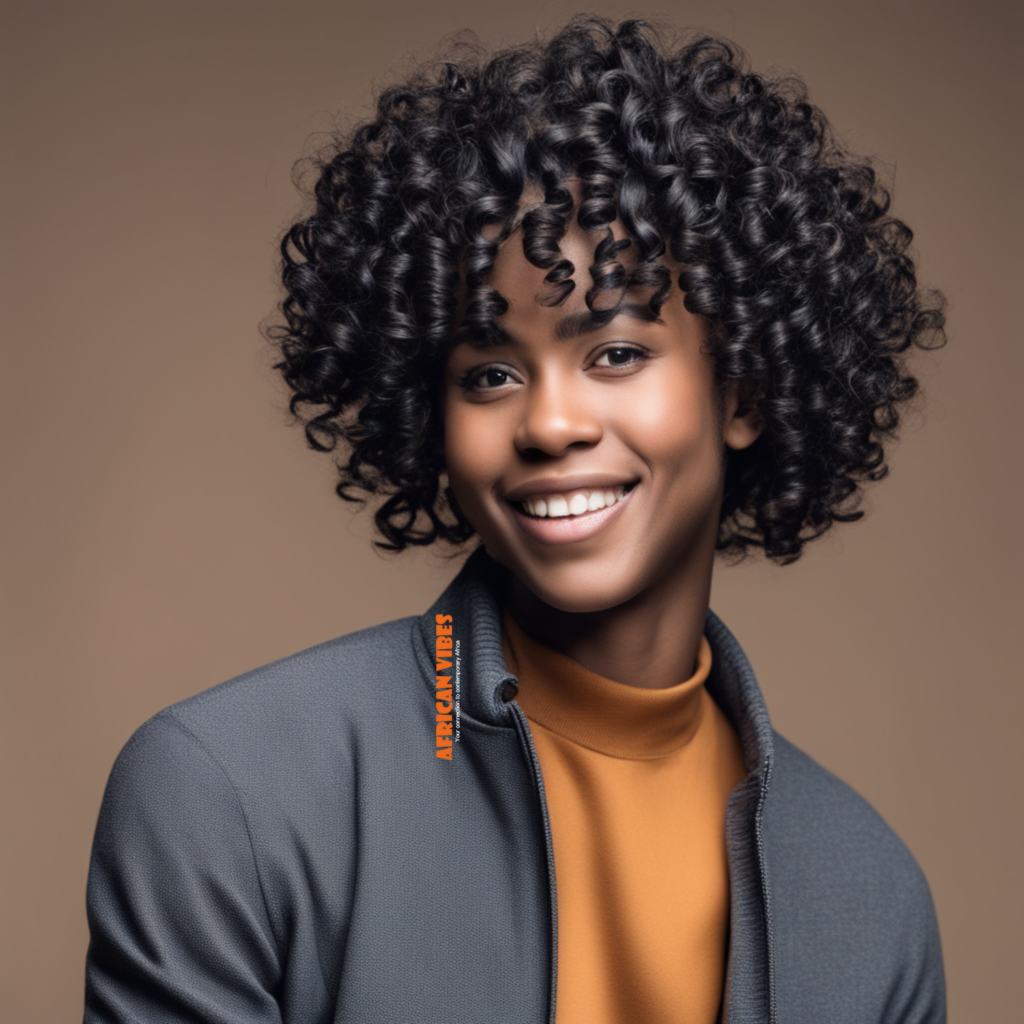 Afro Puffs Short Natural Hairstyles
Embrace the Simplicity of Afro Puffs
A go-to and one of the more classic short natural hairstyles is the Afro Puffs. Ideal for shorter hair lengths, Afro Puffs indicate a style that is both timeless and versatile. Whether you're looking for a carefree casual look or going for a more chic style, Afro Puffs are adaptable to any occasion and keep your natural curls intact.
To create this simple hairstyle, start by parting your hair down the middle into two equal sections. Depending on your hair texture and volume, opting for a wider or thinner partition may provide the best results.
Upon partitioning your hair, gather each section carefully, making sure to smooth out any bumps or knots with a comb or your fingers. This step ensures your puffs meet at the right points for a balanced look.
Securing Afro Puffs
Once each section of your hair is neatly gathered, securing each into a puff is as easy as tieing a hairband around them. For added security and less strain on your hair, consider using a thicker or silk-textured band.
While securing your puffs, it's crucial to make sure they are neither too tight nor too loose. A band that's too tight may cause unnecessary tension on your scalp, while a band that's too loose may subject your hairstyle to potential dishevelment.
Afro Puffs don't just offer a stylish way to wear your shorter natural hair; they also serve as a protective, low tension, and low manipulation hairstyle that promotes hair growth. Plus, the hairstyle's simplicity allows for quick touch-ups or style changes throughout the day. It's a winning solution for those seeking style and convenience.
ALSO READ: Step By Step Guide To A Fabulous 10 Minute Natural Hair Style
Amplify Your Look
Even with its basic approach, there are many ways to amplify your Afro Puffs. Styling options can include accessorizing with headbands, flowers, or colorful hair ties. Alternatively, you could also braid your loose hair before forming the puffs for an intricate appeal.
No matter how you choose to wear and accentuate your Afro Puffs; their timeless charm will always shine through, making them a practical yet stylish option for your everyday short natural hairstyle.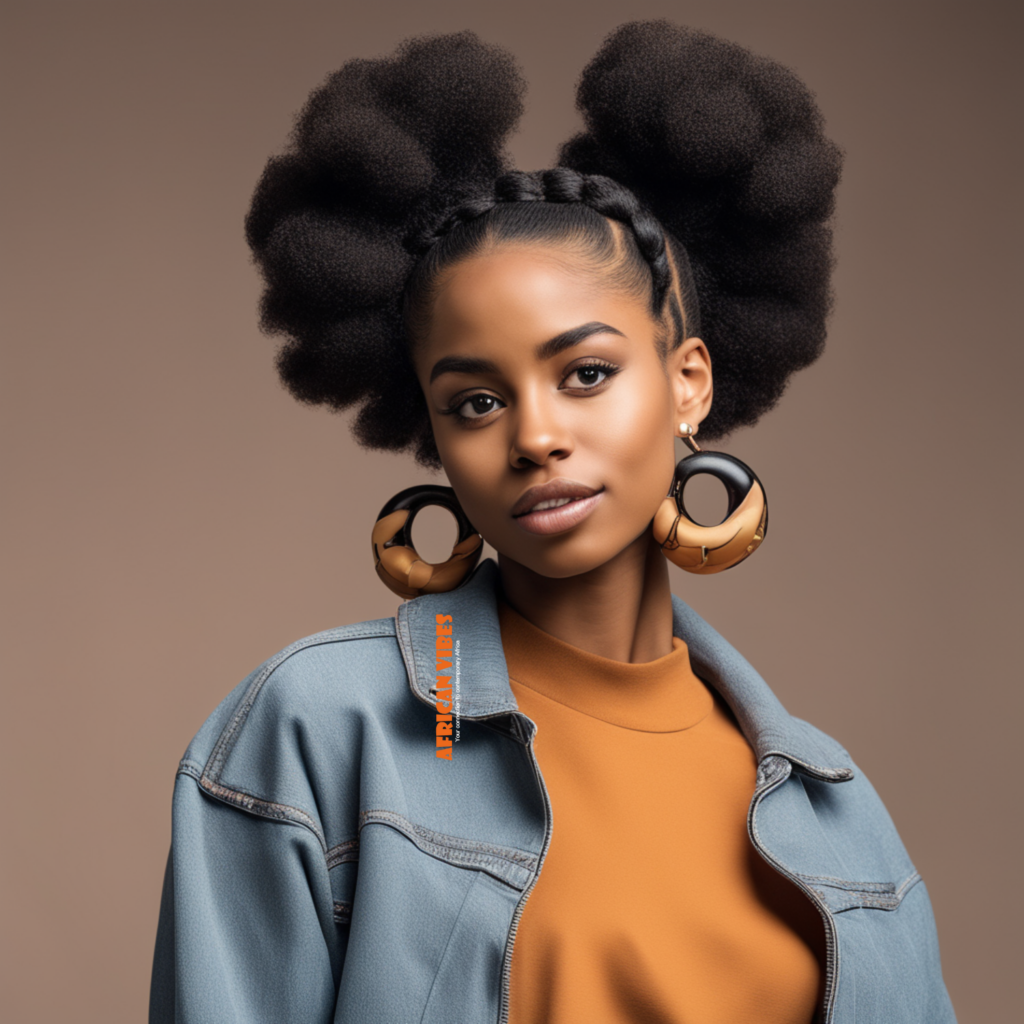 Wash and Go
Wash and Go: A Perfect Everyday Hairstyle
Conditioning is the first and fundamental step in the effortless wash and go technique. It is essential to keep your natural curls hydrated, as dry hair is often synonymous with frizz and breakage. Whether you prefer a hair mask or a leave-in conditioner is entirely up to you. Both will hydrate and nourish your hair, although a hair mask usually gives a deeper level of hydration.
Detangling is the next step in this process. The goal is to detangle your hair in a manner that does not cause breakage or pull at your scalp. A wide-toothed comb is highly recommended because it is gentle on your curls, while your fingers can also do the job. Use the comb or your fingers to gently undo any knots or tangles, starting at the ends and working your way up to the roots.
Once your hair is detangled, apply a curl-defining product. This is the key to letting your natural curl pattern shine. Look for products that promote elasticity and bounce, as these will enhance your curl pattern without making your hair feel crunchy or stiff. Examples of such products include curl creams, curl smoothies, or even a simple curl-enhancing gel.
Now, all you've to do is let your hair dry and avoid touching it to prevent frizz. You can choose to air dry, or you can use a diffuser attached to your blow dryer if you want to speed up the drying process. However, it is essential to exercise caution when using heat on your hair to avoid damaging your curls. If you choose to use a diffuser, always use the lowest heat setting.
ALSO READ: Knotless Braids: The Essential Guide to Mastering this Chic Hairstyle
Incredibly versatile, the wash and go can be styled further once your hair is fully dry, if desired. You can choose to wear your hair loose or maybe pull it back into a half-up, half-down style. With a carefully chosen accessory, you can add some extra style points to your hairdo. Regardless, your curls will be the star of your look.
Indeed, the wash and go hairstyle is probably the simplest method of maintaining and showcasing your naturally curly hair on a daily basis. Not only does it keep your hair healthy, hydrated, and tangle-free, but it also allows you to flaunt your unique curl pattern in all its glory!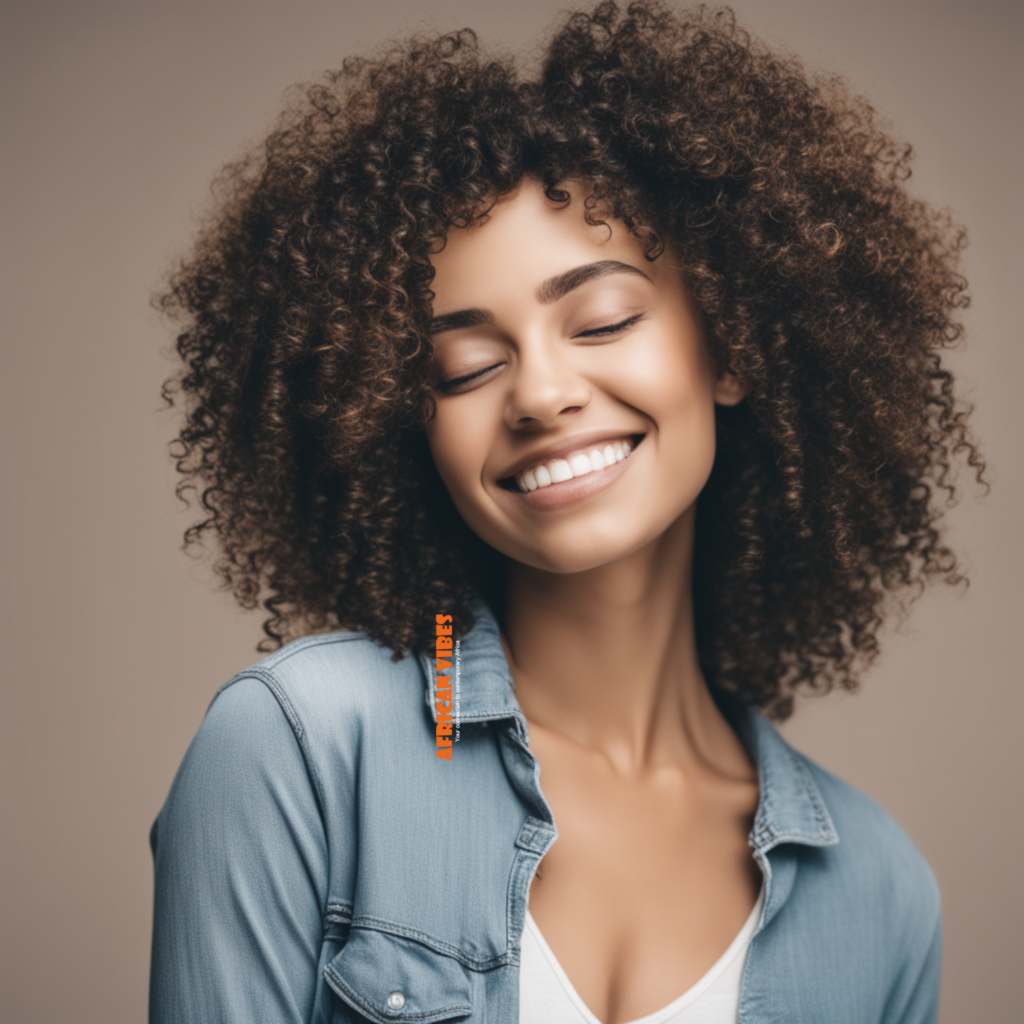 Whether it's the bold TWA, intricate Bantu Knots, playful Finger Coils, or the effortless Wash and Go, each of these hairstyles is a celebration of natural texture and unique personal style. Moreover, the accessibility and simplicity of these styles make them perfect for day-to-day wear, without having to compromise on elegance or splendor. The versatility offered by these natural hairstyles truly is a testament to the beauty and adaptability of all types of hair. Giving them a try is not just about fashion, but also a nod towards embracing natural beauty and self-expression.