Transitioning to Natural Hair: A Step-by-Step Guide for the Beginners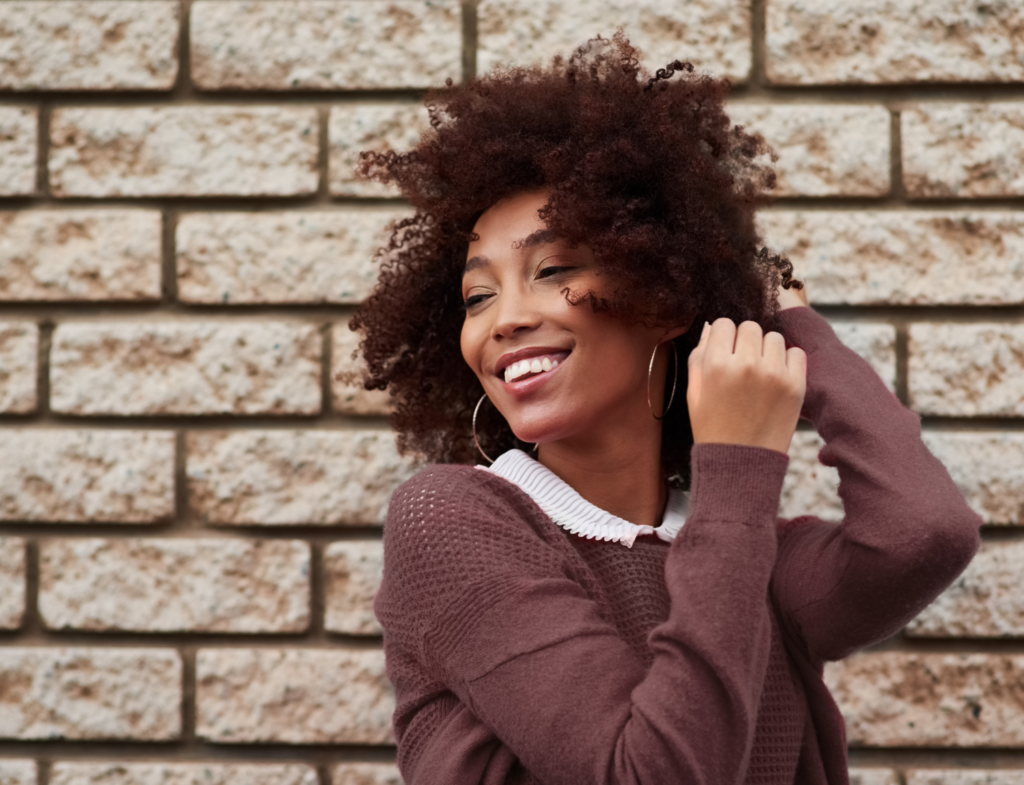 Transitioning to Natural Hair – Embracing your natural hair can be a liberating experience, marking a journey of self-discovery and acceptance. However, the transition to natural hair, especially for beginners, can often be daunting and filled with uncertainty. This guide aims at demystify the process, providing you useful insights to start your journey confidently. It embarks on understanding the types of hair textures and patterns, emphasizing the unique needs of your hair type. Furthermore, we delve into the different transition styles and techniques that will aid your natural hair journey, exploring the 'Big Chop', 'Long Transition', protective styling, and more. Lastly, a comprehensive knowledge about the array of natural hair products in the market, their ingredients, uses, and effects on varying hair types is integral to this transition.. Developing a personalized hair care routine that suits your hair requirements and lifestyle is the ultimate key to a successful transition.
Understanding Hair Types
One of the first steps in transitioning to natural hair is understanding your hair type. Hair types are often categorized into four main types: straight (type 1), wavy (type 2), curly (type 3), and coily or kinky (type 4). Each type further branches off into sub-types. These categories provide a basic understanding of hair management, but you must also consider other factors like porosity, density, and thickness.
Understanding Hair Texture
Hair texture refers to the natural shape or pattern of your strands. If you're not sure about your hair type and texture, observing the hair after washing can help. In its natural, product-free state, you'll notice that your hair falls into a certain pattern. Straight hair falls flat from the root, wavy hair forms an 'S' shape, curly hair spirals like a corkscrew, and coily hair forms tight curls or zigzags from the root.
Understanding Hair Porosity
Understanding your hair's porosity can inform you about its ability to absorb and retain moisture, which is an essential aspect of natural hair care. High porosity hair often feels dry and absorbs moisture quickly but also loses it just as fast. On the other hand, low porosity hair struggles to absorb moisture but retains it well once achieved. Medium porosity hair strikes a balance between absorption and retention. You can roughly determine your hair's porosity by dropping a single strand into a glass of water and observing how it behaves.
ALSO READ: 10 Quick and Easy Short Natural Hairstyles for Everyday Wear
Transitioning to Natural Hair – Knowing Your Hair's Unique Needs
Every hair type has its unique needs. Straight hair usually needs a boost in volume and can handle heavier products, while wavy hair needs a balance of hydration and protein to define its pattern. Curly hair often requires plenty of hydration and may benefit from styling products that reduce frizz and add definition. Coily hair craves deep conditioning treatments and protective styles due to its unavoidable exposure to damage and dryness.
Preparing for Transition
Understanding your hair type is crucial when preparing to transition. This comprises identifying the right products to use and managing your expectations in terms of time and effort required for the transition. Hydration is key to any hair type, so investing in a good-quality hydrating conditioner and a leave-in product is a good start. For protein treatments, be aware that excessive protein can lead to breakage, especially in hair types 3 and 4. Therefore, the treatments should be used in moderation.
Taking the time to understand your hair type and its needs will prove beneficial throughout your natural hair journey. It lays a sturdy foundation for maintaining healthy hair and discovering the right products and treatments for your specific hair type, leading to a successful transition.
Transition Styles and Techniques
The Big Chop Transition Method
"The Big Chop" is a popular way to transition to natural hair. This technique involves trimming off all the chemically treated or damaged hair at once, leaving only the new, natural hair growth. This method allows you to get right to enjoying your natural texture. However, it does require you to part with a significant amount of hair at once. To successfully do the big chop, you will need a professional hairstylist who can guide you on the right cut that will flatter your face shape. After the big chop, maintaining moisture is key to keeping your new natural hair healthy.
Long Transition Technique
For those who are not ready for a drastic change like the big chop, the long transition method might be a better fit. This method allows you to gradually trim off the treated hair while growing out the natural hair. It is slower than the big chop, requiring several months to a couple of years based on the original hair length. This also allows you enough time to learn to care for and style your natural hair. The key to this method is patience and regular trims to gradually remove the chemically treated hair.
ALSO READ: Knotless Braids: The Essential Guide to Mastering this Chic Hairstyle
Protective Styling for Transitioning Hair
Protective styling is a crucial technique when transitioning to natural hair. These hairstyles help keep the ends of your hair tucked away and minimize the manipulation of hair which ultimately helps reduce breakage. Popular protective styles include braids, twists, weaves, wigs, or updos. However, remember not to wear these styles too tightly or leave them in for an extended period since this can backfire and cause more damage. It's recommended to leave styles in for 1-2 months at most, then take a break before using protective styles again.
Stretching Hair to Minimize Breakage
Another common technique is hair stretching which helps to minimize hair breakage. This can be done via braiding, twisting, or banding the hair when it's wet and allowing it to dry fully before removing the restraints. This technique helps to elongate the hair shaft and reduce the tension between the natural hair and the chemically treated hair, thus minimizing the chance of breakage.
Remember, the transition to natural hair is a personal journey and will be unique for every individual.
It involves learning what works best for your hair and its specific needs. Try out different methods and find the best one for you. Be gentle with your hair and yourself in this journey. It may take time, patience, and lots of learning, but the results can be incredibly satisfying.
Product Knowledge and Hair Care Routine
Exploring The Range of Natural Hair Products
The market is flooded with a vast array of natural hair products that you can incorporate into your daily hair care routine. These range from shampoos and conditioners to oils, serums, leave-in conditioners, and styling products that can help you maintain your natural hair texture. Dig into the wide range of products while paying attention to the ingredients listed on the product labels, as these are crucial to the way the product works on your hair. Look for products with natural ingredients like shea butter, argan oil, jojoba oil, and aloe vera, as these are often suitable for most hair types.
ALSO READ: Step By Step Guide To A Fabulous 10 Minute Natural Hair Style
Understanding Product Ingredients
Product ingredients vary widely, hence their impact on different hair types. Some ingredients like sulfates and silicones, frequently found in conventional hair products, can strip natural hair of its moisture and cause dryness or brittleness. Natural ingredients like oils (coconut, almond, olive) moisturize and nourish the hair from the roots to the tips. Other key ingredients, such as shea butter and aloe vera, have healing properties and are effective in repairing hair damage.
Choosing Products According to Hair Needs
Analyzing your hair's unique needs is a prerequisite to choosing the right natural hair products. If your hair is dry, opt for hydrating products rich in nourishing oils. If your hair is prone to breakage, look for protein-rich products to strengthen your hair. If your hair is frizzy or has split ends, choose products with smoothing ingredients like argan oil and shea butter. You may need to experiment with various products to find what suits your hair best.
Building Personalized Hair Care Regimen
A personalized hair care regimen should reflect your hair's needs and fit seamlessly into your lifestyle. Begin with a basic routine of shampooing, conditioning, and moisturizing your hair regularly. Regardless of your hair type, moisture is a crucial aspect of natural hair care and should not be overlooked. Depending on your hair needs, you may also consider deep conditioning, protein treatments, or hot oil treatments. Always remember to be consistent with your regimen once you establish it for the best results.
Lifestyle Integration of Hair Care Routine
Integrating a hair care routine into your lifestyle requires discipline and consistency. If you are frequently out in the sun or in a polluted environment, you need to consider using protective hairstyles or wearing a hat to protect your hair from damage. If using heat styling tools is an integral part of your styling routine, try to minimize the use or opt for heatless styles. Additionally, healthy eating and drinking lots of water can also significantly enhance the health and shine of your natural hair.
Remember, transitioning to natural hair often demands patience along with experimentation to find the best products and routines for your hair. The key is to listen to your hair and give it the love and care it needs.
ALSO READ: 10 Best Back To School Naturalista Hairstyles
Here's a List of Natural Hair Products to Consider.
Keep in mind that everyone's hair is unique, so it's essential to determine which products and ingredients work best for your hair type and needs. Always read the labels and be wary of any personal sensitivities or allergies:
Shampoos:
Shea Moisture Raw Shea Butter Moisture Retention Shampoo: This shampoo contains no sulfates, parabens, phthalates, paraffin, or mineral oil. It's great for dry or damaged hair.
Alikay Naturals Black Soap Shampoo: A clarifying shampoo that helps relieve dry and itchy scalp conditions.
Conditioners:
Giovanni Smooth As Silk Deeper Moisture Conditioner: This conditioner is designed for damaged hair and aims to smooth frizz and create silky hair.
Aussie Miracle Moist Conditioner: While not 100% natural, this product does contain aloe and jojoba oil for added hydration.
Leave-In Conditioners/Treatments:
Kinky-Curly Knot Today Leave-In Conditioner: This product helps to smooth the hair cuticle and detangle naturally curly hair.
Camille Rose Naturals Curl Love Moisture Milk: A creamy leave-in that offers hydration and manageability.
Oils & Serums:
Jamaican Black Castor Oil: Known to support hair growth and strengthen hair.
Coconut Oil: Provides deep moisture, but be sure to use sparingly as it can weigh down some hair types.
Argan Oil: Lightweight and excellent for frizz control.
Styling Products:
Eco Styler Olive Oil Styling Gel: Alcohol-free gel suitable for slicking back hair or defining curls.
Cantu Shea Butter for Natural Hair Define & Shine Custard: This provides a high shine and lasting hold for defined styles.
Deep Conditioners & Hair Masks:
TGIN Honey Miracle Hair Mask: Infused with raw honey and olive oil for deep hydration.
Shea Moisture Manuka Honey & Mafura Oil Intensive Hydration Masque: Excellent for very dry and brittle hair.
Hair Butters & Creams:
As I Am Double Butter Cream: Rich daily moisturizer.
Qhemet Biologics Amla & Olive Heavy Cream: A nutrient-rich moisturizing cream suitable for very dry hair.
Detanglers:
The Honest Company Conditioning Detangler: Lightweight and leaves hair feeling soft.
Mielle Organics Pomegranate & Honey Curl Smoothie: Helps to define curls and reduce frizz.
Remember, while these are marketed as natural products, always read the ingredients to ensure they meet your personal definition of "natural" and that they are appropriate for your hair type. It's also a good idea to conduct a patch test or strand test before using any new product extensively.
Conclusion
Transitioning to natural hair doesn't have to be a stressful process. With a solid understanding of your hair type and its specific needs, you can embark on this journey armed with the right knowledge and confidence. Exploring different transition styles and techniques will provide you the freedom to find what works best for your hair during this transformation, while a well-informed selection of natural hair products will ensure you are nourishing and caring for your hair appropriately. Remember, this is more than just a physical transition; it's a journey to embracing your authentic self. So embrace it, enjoy it, and remember that patience and consistency are your best allies on this hair journey.